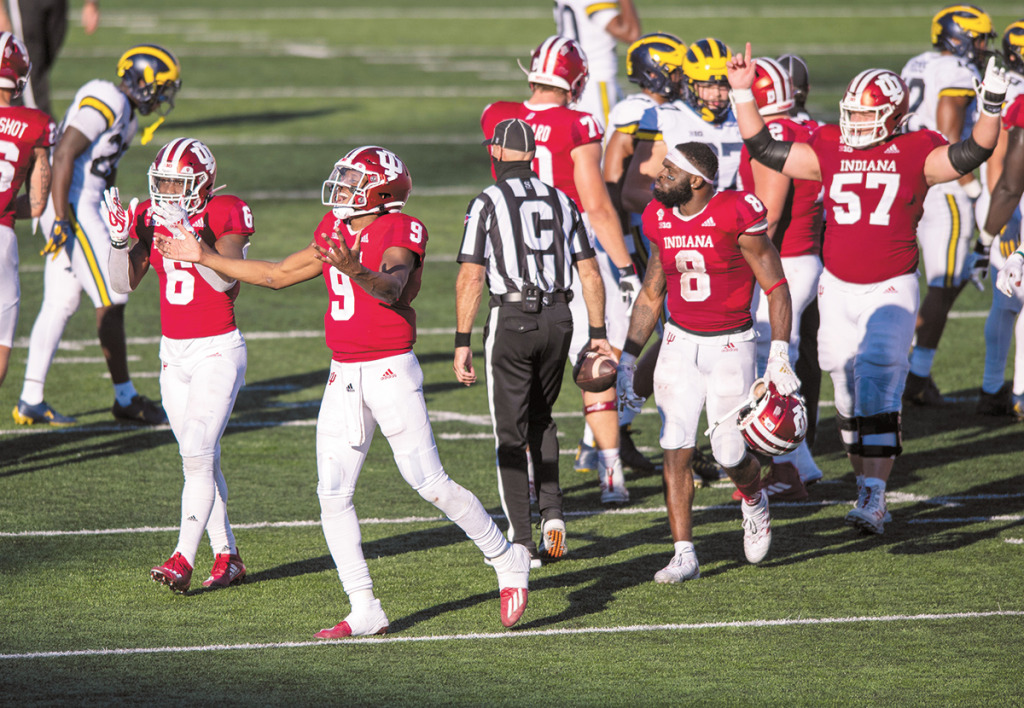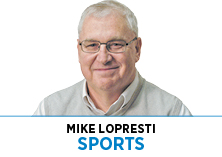 Here in the alternate universe of 2020, something strange is happening in Indiana. Never mind sugar cream pie, breaded tenderloins or that game with the orange round ball. Hey, we're the center of the college football universe! Well, nearly.
Let the record show that as of Veterans Day, 2020, Indiana and Purdue were a combined 5-0 in the Big Ten, while Penn State, Michigan, Michigan State, Iowa and Nebraska were 3-11.
Let the record show that going into this week, the four FBS programs in the state were 12-1, and might have been 13-0 had not Ball State swerved into the wall in the last turn at Miami.
Let the record show that in the latest rankings, IU is a top-10 team.
Toto, I don't think we're in Indiana anymore.
To get a feel for what's going on in this football Oz, we took a little tour of an extraordinary weekend of football in the state. Last weekend. These are some of the signs we came across that show how the world is very, very different:
◗ The Mid-American Conference football season beginning on Wednesday, Nov. 4, like a long-delayed flight finally landing at O'Hare. Only friends and family members of the teams are able to get in to see Ball State play at Miami, 346 days after the Cardinals' last game.
The sign welcoming fans at the main gate at Miami: By visiting our facility you voluntarily assume all the risks related to exposure to COVID-19. Come on in, folks. Ball State, which suffered three consecutive defeats in the last 65 seconds last November, has the ball in the final minute of a 31-31 tie with the defending league champions, but throws an interception, and loses on a Miami touchdown with 10 seconds left. Some things haven't changed.
◗ Zionsville's winning its 5A sectional championship Friday night 2-0. In other words, by forfeit, because McCutcheon has too many players in quarantine.
◗ Indiana coach Tom Allen sitting in row 33 of the end zone section Saturday afternoon while the Hoosiers are playing Michigan. Wait a minute. That's not Allen, that's his cutout figure, among all the others filling seats as a substitute for live fans. Memorial Stadium is so quiet at the north end, you can hear the maize-and-blue language coming from the Michigan sideline down below.
One concession stand is open on the west side of the stadium, and prime parking spots normally filled by deep-pocketed boosters sit vacant.
IU band hats are stationed on seats in three empty sections, spelling out LEO. Love Each Other—Allen's "build-the-Hoosiers-into-something-special" mantra.
Indiana leaving the field a winner against the Wolverines. The last time that happened in 1987, gas was 89 cents a gallon, the Colts were in only their fourth season in Indianapolis and Allen was a player at New Castle High School. "I'm 50 years old now," he says. "So that wasn't yesterday."
This updated stat from 1967: In the 53 years since, 16 teams have been added to the NFL, 12 men have walked on the moon, 10 men have served as U.S. president … and two Hoosier teams have now beaten Michigan.
No joyous rushing of the field after the IU victory, since there are hardly any fans in the stadium to do it. But you can hear roars from students in front yards down the street from the stadium. "They would have torn down both goal posts," Allen says.
Indiana 3-0 in the conference. Put that in perspective. There have been 85 times in league play where the Hoosiers didn't win three conference games all season.
Only four teams in the nation are 2-0 against Associated Press top-25 opponents: Alabama, North Carolina, Cincinnati … and Indiana. Our Indiana.
◗ A dark and silent Camp Randall Stadium in Madison, Wisconsin. Too many virus positive tests force the Badgers to scrub their game with Purdue, which for the Boilermakers is like getting to skip out of a midterm in quantum physics.
◗ Quarterback Trevor Lawrence, having gone from Heisman favorite to a positive virus test, standing on the sideline in a mask for Clemson's first visit to Notre Dame since 1979.
Clemson is facing 3rd-and-5 near the Notre Dame goal line … and the next thing we see on television is Kamala Harris at the microphone, followed by Joe Biden. You think a president-elect has the new clout for extra Secret Service? That's nothing compared to being able to preempt Notre Dame in prime time.
The Irish saving the day in the final 22 seconds of regulation—a last-ditch 91-yard drive that Joe Montana would be proud to own—and then winning in two overtimes. Never mind the other team's backup quarterback passes for 439 yards.
Ian Book, a quarterback who started his Notre Dame career as a fourth-stringer, improving to 27-3 as a starter.
The program whose difficulties against top-5 opponents had grown as conspicuous as the Golden Dome—10 losses in a row, and 1-18 since 2000—knocking off No. 1. The last time that happened, it was Lou Holtz over Bobby Bowden and Florida State in 1993. One of those Games of the Century. Last century. "We proved something to ourselves," coach Brian Kelly says on Saturday.
The Notre Dame students pouring onto the field in an act of green-clad joy and mass defiance of social distancing, in a state that reported 5,000 positive test results Saturday. Somewhere, Dr. Fauci can't be happy.
Neither is Rev. John L. Jenkins, president of Notre Dame, who promptly sends out a stern email to the students chiding them for their behavior and ordering strong testing protocols. The players should be OK because they had scurried off the field. Part of a confident Kelly's game preparation in this Year of the Virus was how to avoid any post-victory crowd—and all its possible microbes. By the way, this is the same Rev. Jenkins who tested positive after sitting maskless at the White House Amy Coney Barrett ceremony that became a superspreader event. Really, some of these things you can't make up.
Notre Dame atop the standings of a conference, a place the Irish have never been, and there has been football in South Bend since 1899.
The strong probability that Notre Dame and Clemson will meet again in the ACC title game—and maybe a third time in the playoffs.
◗ The Associated Press rankings on Sunday, where Indiana football is ranked above names such as Georgia, Oklahoma, USC and Auburn. And Purdue is getting votes—but defending national champion LSU is not.
◗ Thirteen teams in the nation 2-0 or better as of last weekend, and three of them, 23%, are from Indiana.
◗ Would you, could you believe two unbeaten teams in the Old Oaken Bucket game? Well, let's see. Look at Purdue's next four opponents: Northwestern, Rutgers and Nebraska at home, and a trip to Minnesota. All seemingly getable. But then Indiana would have to win at Michigan State (not easy), Wisconsin (very hard) and Ohio State (are you kidding?). This tape from Mission Impossible will self-destruct in five seconds.
Then again, this is 2020.•
__________
Lopresti is a lifelong resident of Richmond and a graduate of Ball State University. He was a columnist for USA Today and Gannett newspapers for 31 years. His column appears weekly. He can be reached at mjl5853@aol.com.
Please enable JavaScript to view this content.