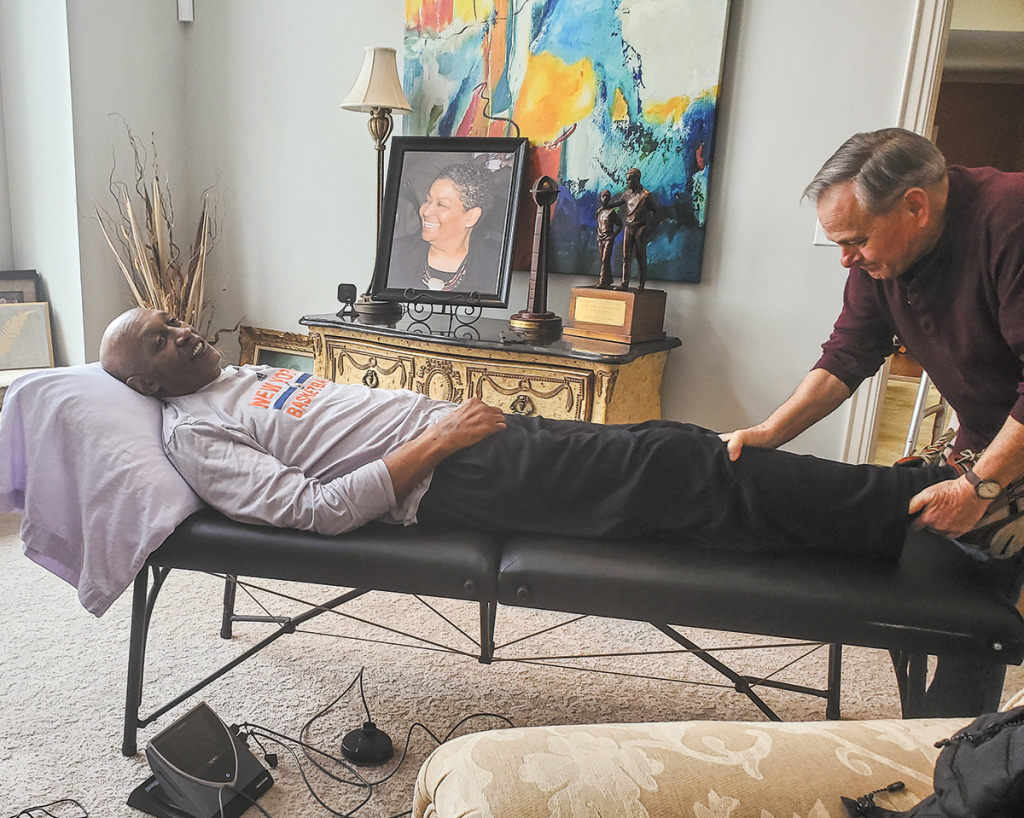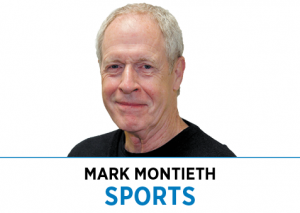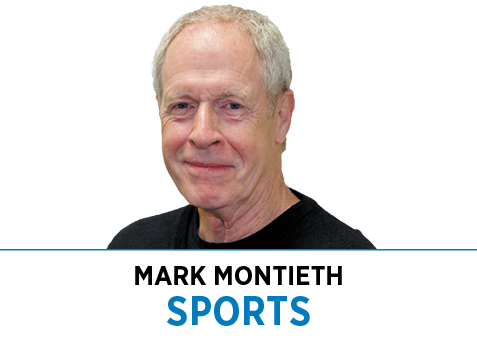 Life demands reinvention. Time passes, circumstances change, fate intervenes, new challenges arise and what happened in the past—no matter how glorious—becomes as irrelevant as yesterday's sunrise. Which is why George McGinnis is laying on a portable table in his living room while David Craig tries to help him walk again.
They are bound by time and history. McGinnis played for the Pacers from 1971-75 and again from 1980-82. Craig was the team's trainer for all of those seasons and 35 in all. Both have crossed the threshold of 70 years but remain united by mutual need. Namely, McGinnis' physical need to become more mobile and Craig's emotional need to help people do just that sort of thing.
Both are executing comebacks, you might say.
For those who watched McGinnis rumble across basketball hardwood back in the day, it has been disconcerting to see him struggle for so many years with the most basic of physical feats: walking without pain. He was one of the most naturally gifted athletes ever to come out of this or any other state, one seemingly kissed by Mother Nature as he was sent off into the world. Possessed of a chiseled physique that didn't require weight training and blessed with an uncommon combination of strength, quickness and agility, he put together an athletic career like few others have enjoyed.
He was widely regarded as the best prep player in the country coming out of Washington High School in 1969 after leading the Continentals to an undefeated season and the state championship. Two years later, he became the first sophomore to lead the Big Ten in scoring (29.9) and rebounding (14.7) in his only collegiate season at Indiana University. Signing with the Pacers following that season in 1971, he was an instrumental part of championship teams in his first two professional seasons, played in three ABA All-Star games and was the league's co-most valuable player with Julius Erving in 1975. He then jumped to the NBA, where he played in three more All-Star games and was a first-team all-league selection once.
His induction into the Naismith Basketball Hall of Fame in 2017 felt more overdue than unexpected.
But that's only part of his resume. He was a two-time, first-team all-state football player and a second-team Parade Magazine All-American as a tight end and defensive end. Even during his lone varsity basketball season at IU, when he was preparing to turn pro, NFL scouts were known to drop by the basketball office to see if he might have a change of heart.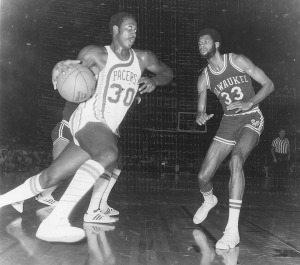 He could run, too. On his first day of training camp with the Pacers, coach Slick Leonard lined him up against a fellow rookie, the longer and leaner Darnell Hillman, for a 100-yard dash. McGinnis, at 6-foot-8 and 235 pounds, barely held off a surging Hillman to finish in 10.2 seconds, a time corroborated by Craig, who held the stopwatch. That's only 7/10th of a second slower than the all-time state record for that distance by a high school sprinter, Brebeuf's Clyde Peach. Keep in mind that McGinnis ran in basketball shoes. On a cinder track. After practice.
McGinnis fell quickly from his athletic peak, however. One year removed from an All-Star season with Denver, when he averaged 22.6 points and 11.4 rebounds, he was in decline by the time he was traded back to the NBA Pacers during the 1979-80 season. He averaged just 4.7 points in his 11th and final season, 1981-82, and was cut in training camp the following October.
Injuries were mounting by then, including back problems that were exacerbated by a degenerative condition, stenosis, a narrowing of the spine that puts pressure on nerves in the lower back. His father, Burnie, was showing signs of it before he died in a construction accident in 1969. Burnie's brothers had it as well, as did his older sister, Bonnie.
By the time he was inducted into the Hall of Fame, McGinnis was bent over at the waist, walking with a cane and in constant pain. Also by then, his wife Lynda was fighting a losing battle with cancer. An innovative spine-straightening surgery was available to him, one in which titanium discs are stacked within the vertebrae in the spine, but he had put it off—partly because of a grueling experience several years earlier when he developed a staph infection after another back surgery and partly because he wanted to be with his wife through her ordeal.
Finally, her will prevailed.
"She said, 'I want you to have that operation because I want to see you walk into a room straight up and talk to me before I die,'" McGinnis recalls. "She stayed on me and on me. She said, 'Please, do it for me.'"
McGinnis did it. His sister took the plunge first and provided a preview of what was in store, but that didn't make it easier. The surgery, performed by Dr. David Schwartz of OrthoIndy, was a two-day event, lasting eight hours from his front side on a Monday and nine hours from his back side three days later. McGinnis recalls it as a "ruthless" procedure. The recovery kept him laid up and limited for several weeks, but he had satisfied Lynda's request.
"I missed a month and a half of her life," he says. "But when she came into the hospital room and saw me standing up, she was in shock."
McGinnis has remained upright since Lynda passed away in March of 2019, but he still needs a walker to get around. He hopes eventually to walk without assistance, or at least require only a cane. He considers this his greatest athletic challenge.
"I'm OK standing up, but if I take a step my hip locks for some reason," he says. "They keep telling me it's going to pop, but it hasn't popped for two years. I'm still in some pain, but not the kind of pain that makes you lay on the floor and hurt 24 hours a day."
More than 50 years after meeting McGinnis, Craig is still playing a major role in the rehabilitation process. He lugs his table and equipment to McGinnis' Geist area home once or twice a week. He lays hands on him, attaches him to stimulating devices and puts him through routines to strengthen and stretch his back and legs. He doesn't have to do it, of course, but it's part of his own regeneration process. Released by the Pacers in 2005, he rejected the options of bitterness, stagnation and retirement and began expanding his horizons.
Within two weeks of his exit from the Pacers, he enrolled in courses in the School of Osteopathic Medicine at Michigan State University. The following week he was in California, studying a new approach to treating pain via the sacroiliac joint, which connects the spine to the pelvis.
"That's what makes life interesting, when you never quit learning," he says. "It gives you a reason to get up every day. It makes every day a new revelation. I learn a lot from my patients, too."
Craig, 73 going on 53, still works with professional athletes in their off-seasons, helping maintain their careers. He also volunteers his services to events such as senior track and field meets and the NCAA Final Four, where he treats the referees. They're athletes too, of course, but older than the players and lacking the same access to treatment facilities. But he has widened his scope to include men and women with modest and fundamental physical ambitions. Some pay for his services, some don't pay enough, some choose not to pay at all and some simply can't. But he carries on, working nearly a full-time schedule.
"I still enjoy being an athletic trainer, but it doesn't have to be a professional athlete," Craig says. "What's nice is, I've taken all my years of experience with professional sports and I share it with everybody. I don't care if it's a 78-year-old lady or an 80-year-old man. It's amazing how they all correlate. They still have the same problems."
McGinnis, a 70-year-old man with a war-torn body, just happens to be one of them. It's a humbling experience for a former world-class athlete, but he has no regrets. He led teams to championships in high school and in the ABA and has experienced Hall of Fame-caliber individual glory, too. Four back surgeries, a couple of staph infections, the persistent mobility issues and ongoing rehabilitation processes … they've been a small price to pay for what he got to experience.
"I loved playing. I loved all of it, really. The games, the friendships. … I was so lucky coming to the Pacers. David knows. It was such a great group of guys," he said. "They accepted everybody, no matter who you were or what your reputation was. I had been a star at IU and in high school, but all of a sudden, I come here to the Pacers and I'm looking at all these great veterans. That put a lot of pressure on me. But after five or six practices, I got comfortable because the guys started talking to me and telling me stuff."
Pleasant memories relieve pain, too.
McGinnis and Craig have plenty to draw from as they continue their evolutions.•
__________
Montieth, an Indianapolis native, is a longtime newspaper reporter and freelance writer. He is the author of three books: "Passion Play: Coach Gene Keady and the Purdue Boilermakers," "Reborn: The Pacers and the Return of Pro Basketball to Indianapolis," and "Extra Innings: My Life in Baseball," with former Indianapolis Indians president Max Schumacher.
Please enable JavaScript to view this content.