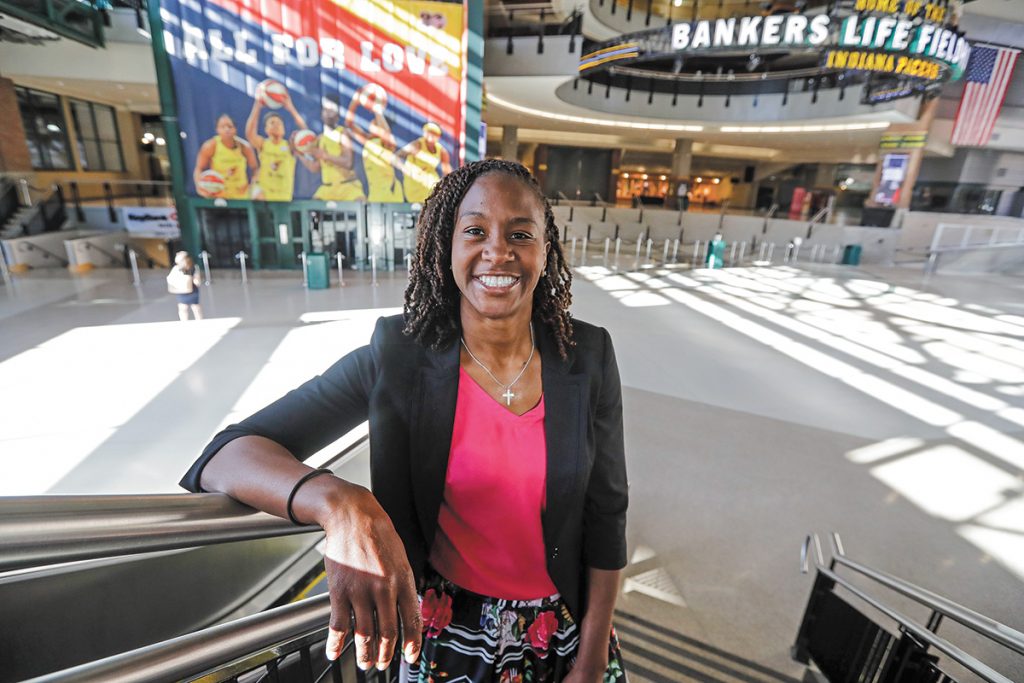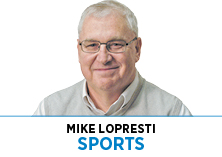 Father's Day. So here's Tamika Catchings—Indiana Fever icon, new Hall of Famer— living one of the most rewarding years of her life. You wonder what might be going through her mind, with her dad back in Houston, still recovering from an August heart transplant.
Maybe she'll remember what Harvey Catchings told her when she was a little girl: "You pick your friends; don't let your friends pick you."
"When I was younger, I didn't quite understand it," she said the other day. "But what I learned as I was playing sports and getting better and better was, really making sure I had a solid group of people that were around me, to help me accomplish my goals and dreams."
Maybe she'll recall his words years after she told him her goal in life was to be a professional basketball player: "At some point one day, your passion might shift, and that's OK. As you start thinking about other things you want to do, just realize it's time to move on."
When she retired from basketball, feeling the call to spend more time on her foundation for children and being a community leader, she heard her dad's voice. "Even thinking about what we're dealing with now. My father fought for equality and fought for rights and fought for a lot of the things that we're still fighting for. It's interesting, when I look at my life … my dad helped to instill in me the confidence of being proud of being black and who I am."
Maybe she will think back to her college days at Tennessee, by then an All-American and national star, and no longer hearing the question that had always been there for an NBA player's child: "You're Harvey Catchings' daughter, aren't you?"
"When he came to Tennessee," she said of Harvey's visits, "it was, 'You're Tamika Catchings' dad, aren't you?' It was the other way around."
And maybe she will think of the picture her stepmother sent this past April—a father with a new heart, sitting on his couch at home, waiting to hear if his daughter had made the Hall of Fame.
"My dad and I, our relationship, we've had the highs and lows like any parent and child would have," Tamika said. "But talking to him after [the announcement], he almost started crying."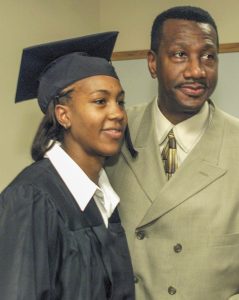 Harvey and Tamika Catchings. Given his long NBA career and her greatness, they're certainly among the most dynamic father-child combos ever in sports. Here's something else to notice on this Father's Day: Looking at others who belong on the list, it's striking how many have a touch of Indiana in their stories.
Who is the only family with a Pro Bowl quarterback for a father and two Super Bowl champion quarterbacks as sons?
Easy one. Archie, Peyton and Eli Manning. You probably remember Archie nearly always being around for Peyton's glory days with the Colts. You might not know one reason why. When Archie was 20, his own father committed suicide. Archie came home to find the body.
"The biggest thing I noticed as far as the way [the suicide] affected my life," Peyton once said in a Newsday interview, "is that, once my brothers and I got to that age of 20, my father—who had always been very active in our lives—became ever more active, more supportive, probably because that was the age he lost his father."
Who are the only father and son to homer back-to-back in the same major league lineup?
Ken Griffey Sr. and Jr. did that for Seattle on Sept. 14, 1990, against the California Angels. The elder Griffey had a couple of big years as an Indianapolis Indian in the 1970s.
Who's the only Grand Slam tennis champion to watch his son cut down a national title net in basketball?
Yannick Noah, whose son Joakim did it twice for the Florida Gators—the first time in Indianapolis in 2006. When the game ended, Joakim raced into the RCA Dome stands and hugged his father, just like Yannick had embraced his own father after winning the French Open.
Who are the only father-son Indianapolis 500 champions?
Al Unser and Al Jr. Six between them, meaning they've won 5.8% of all the Indy 500s ever run.
Who really, really, wishes they were a father-son Indy 500 champion duo?
Mario and Michael Andretti—20 races and 987 laps led between them, one checkered flag.
What family had a father and son won rookie of the year, in different sports?
Calvin and Grant Hill. Calvin went from Yale to the NFL Pro Bowl, a pretty rare feat itself. Grant went from helping Duke win two national championships to the NBA. One of his greatest moments was Duke's upset of unbeaten UNLV in the Final Four. In Indianapolis.
What Olympic triple-jump gold medalist produced a son who helped make Indiana high school basketball history?
Mike Conley Sr. beget Mike Conley Jr., who teamed up with Greg Oden in Lawrence North's mighty three-peat state championship run in 2004-2006. Then he went on with Oden to nearly win the national championship at Ohio State, then on to the NBA.
What baseball family sent three generations to the All-Star Game?
The Boones. Grandfather Ray, father Bob, sons Bret and Aaron. On June 19, 1997, Bret and Aaron played in the same lineup—for the Indianapolis Indians. Bret started at second base and had a hit and RBI in a 4-2 win over Louisville in Victory Field. Aaron was at third and had two hits with a stolen base. Aaron left for the Cincinnati Reds the next day. Aaron played parts of three seasons in Indianapolis, Bret only three games.
What father and son were their teams' leading scorers in winning the national basketball championship game, 29 years apart?
Scott May for Indiana in 1976, Sean May for North Carolina in 2005.
What father managed his own son for two major league teams?
Felipe Alou, who had Moises in Montreal and San Francisco. The road for both curved through Indianapolis. Felipe was Indians manager in 1985; Moises played 15 games here in 1990. Thirteen years later, Moises would find a most peculiar way to co-star in a baseball legend. Playing left field for the Cubs, he was chasing a Florida Marlins foul in a playoff game at Wrigley Field—until a fan named Steve Bartman reached over to interfere.
Indiana is all over this list, then, and none more poignant this Father's Day than the woman who became the face of the Indiana Fever, and whose father rests back in Houston with a new heart. Had Tamika's Hall of Fame induction ceremony gone on as scheduled Aug. 29, it would have been the exact one-year anniversary of Harvey's surgery. It might have been risky for him to attend. The coronavirus postponed the event to 2021.
"We've had a tough year," Tamika said. "In a selfish way, I'm a little happy that's it been pushed back, so now hopefully my dad can get through a year of being 100% healthy.
"I told him God gave him another round of life. Hopefully, God willing, we'll get through Aug. 29 and keep it rolling."•
__________
Lopresti is a lifelong resident of Richmond and a graduate of Ball State University. He was a columnist for USA Today and Gannett newspapers for 31 years; he covered 34 Final Fours, 30 Super Bowls, 32 World Series and 16 Olympics. His column appears weekly. He can be reached at mjl5853@aol.com.
Please enable JavaScript to view this content.