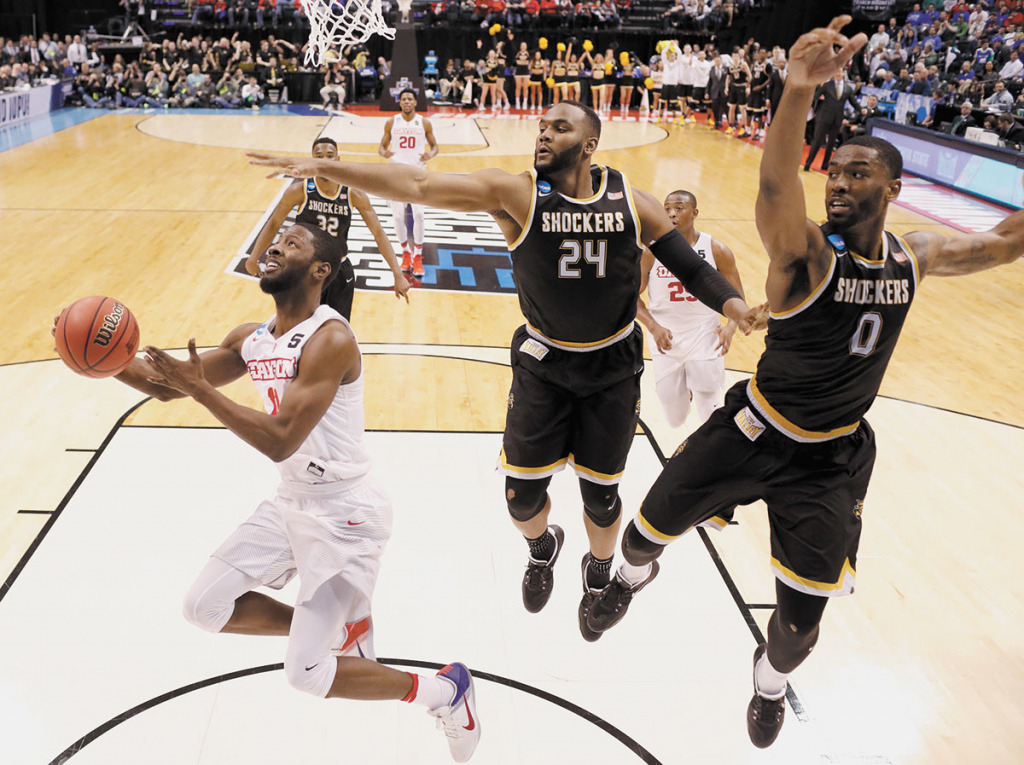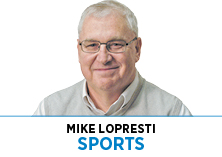 Consider downtown Indianapolis in the late 1970s. We're talking the prehistoric world when it comes to this city and the NCAA Tournament.
Market Square Arena is still something of a new face. There's a Hook's drugstore and sausage plant near the corner of Washington and West streets, a scrap-iron company in the 500 block of South Capitol, a business machine firm in the 100 block of South Pennsylvania, and a liquor store and paper company in the 700 block of West Washington. The NCAA Tournament is a stranger, having been here but once, and that was nearly 40 years earlier at Butler.
And now it has come to this.
Everyone ready? The entire March-Madness-speaking world is now focused on Indianapolis, with 68 teams flying and busing this way. Look around. Near where Hook's once called home is the ginormous tournament bracket on the side of the JW Marriott that will be updated daily, once the jump shots begin next week. Lucas Oil Stadium guards downtown from where the scrap-iron company stood; Bankers Life Fieldhouse fills the space once devoted to business machines. Instead of a liquor store on West Washington is the headquarters of the NCAA, where they hatched this idea. Market Square Arena is a memory.
Ninety-four NCAA Tournament games have been played downtown since 1978. Forgive the personal aside, but I regret to admit at being so old as to have covered 91 of them. The only miss was the 2009 regional, when duty called at another site. With 67 more games coming in the next three weeks, permit a quick trip back through some it-happened-in-Indy moments.
I was there in 1978 when Indianapolis really got into the March business. The first tournament game ever played downtown was a classic upset as Miami of Ohio knocked out No. 3-ranked and defending national champion Marquette in overtime. Miami was the Redskins then and Marquette the Warriors, and neither is true anymore.
A regional was here in 1979. Sitting behind the Notre Dame pre-game huddle before the Irish went out to play Magic Johnson and Michigan State, it was easy to hear Digger Phelps exhorting his No. 1 seed Golden Domers: "Start fast and seize the day! This is your moment!" Something like that, anyway. Then they lined up for the toss, the tip went to Magic, who flipped the ball behind his head to Mike Brkovich, who slam-dunked three seconds into the game. Michigan State never looked back.
I was there for Indy's inaugural Final Four in 1980, when Purdue beat Iowa. In the third-place game. Funny, the things you remember. Hours before Louisville won the championship over UCLA, broadcasters Al McGuire and Billy Packer were having a game of H-O-R-S-E on the Market Square Arena court and McGuire kept irritating Packer by invoking screwball New York City rules.
The Hoosier Dome's first tournament games were in 1987, when IU blew past Fairfield and Auburn by scoring 91 and 107 points on its way to the national championship. The first round in 1989 was a sensational day, with Ball State upsetting Pittsburgh, No. 1 seed Illinois barely holding back No. 16 seed McNeese State by six points, and Arkansas winning a 120-101 track meet with Loyola Marymount that saw 179 shots taken in 40 minutes.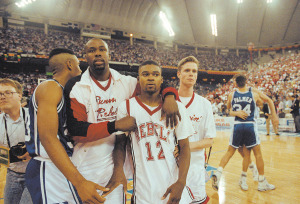 This was where 10th-seeded Texas upset No. 2 Purdue in 1990, which left Gene Keady wanting to keelhaul a couple of officials. And where Duke stopped the unstoppable UNLV Rebels and their 34-0 record in the 1991 Final Four.
I was there for the remarkable first round in 1996 when Eastern Michigan beat Duke in the afternoon with the damage done by a 5-5 guard named Earl Boykins, and Princeton shocked UCLA in the last seconds that night, with maybe its 500th back-door pass of the game. The Bruins returned in 1999 and lost to 12th-seeded Detroit. By then, UCLA probably sent an anywhere-but-Indianapolis request to the NCAA selection committee.
I was here in 1997 when Arizona played Kentucky for the national championship. That morning, Arizona's Miles Simon sat by himself in a McDonald's near the Hyatt, which seemed kind of strange. Maybe he was just getting himself ready with a Big Mac. He scored 30 points that night. That was 24 years ago, and it's still the last time a team from the western half of the United States won the title.
Indy is also the last place the Big Ten won the title. That was Michigan State in 2000. In the semifinals, the Spartans won ugly, and Wisconsin lost even uglier in a 53-41 game that was so retro, it should have had peach baskets.
This was where George Mason showed up in the Final Four in 2006. Hard to imagine a better Cinderella story—until four years later when the Butler Bulldogs attended class in the morning and nearly beat Duke for the national championship at night.
I was there in 2013 when Louisville's Kevin Wade shattered his leg in one of the most shocking sights ever seen on a college basketball court. And the next year, when eighth-seeded Kentucky barged into the Final Four by beating Michigan in the last seconds. And the year after that, when the Wildcats were here for the Final Four, unbeaten and all dressed up for the history books—until they went splat against Wisconsin. Come to think of it, the two teams who seemed ripe to be replacing 1976 IU as the last perfect champions—1991 UNLV and 2015 Kentucky—were both derailed in Indianapolis. Must be a moral in there, somewhere.
Duke beat Wisconsin for Krzyzewski's fifth national championship in 2015. He was still something of a young coach when Duke shocked UNLV here in 1991 but by 2015 was holding up his grandkids after the title game. Kind of hit home, you know? He has played 11 NCAA tournament games in this town and lost only twice, but Duke probably won't even be here next week.
Then there was Bankers Life Fieldhouse in 2017, when Wichita State put down a Dayton team coached by Archie Miller. Just guessing, but he probably wouldn't mind going to the tournament this year and losing to Wichita State.
And now, the tournament has pitched a historic tent downtown. The Indiana Convention Center was around in the 1970s but in its junior size. It has been expanded four times since and is about to be the epicenter of this basketball earthquake with 12 practice courts. The hotels and arenas will be busy, but the ICC will be the only venue in history used by all 68 NCAA Tournament teams on the same day. It has seen everything from a funeral directors' convention to Miss Gay America but never a week like this.
In 1985, the 500 Ballroom in the Convention Center hosted Olympic officials from the United States and Soviet Union, signing an agreement of cooperation, seeking to avoid any more boycotts. The Indianapolis Accord, they called it, and the ballroom had the atmosphere of a nuclear-arms pact. This week, it'll be turned into weight rooms for the NCAA teams. Times have changed, and downtown Indy with it, always ready for its next big moment.
But never imagining anything like this.•
__________
Lopresti is a lifelong resident of Richmond and a graduate of Ball State University. He was a columnist for USA Today and Gannett newspapers for 31 years; he covered 34 Final Fours, 30 Super Bowls, 32 World Series and 16 Olympics. His column appears weekly. He can be reached at mjl5853@aol.com.
Please enable JavaScript to view this content.