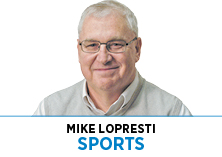 Gaze around the state of Indiana landscape in Division I basketball. Find the one and only program voted to win its league this season. And not just picked to win, but picked by a nearly unanimous landslide …
The IUPUI women.
Conference players of the year don't grow on Indiana maple trees. Now find the graduate student who has managed it three times. That'd be Macee Williams of …
The IUPUI women.
Look at the first week of the women's basketball season. Ranked teams went 46-0 against unranked opponents, nearly all of them blowouts. The one exception was No. 11 Michigan having to claw through overtime on its home floor to get past …
The IUPUI women.
Bottom line: Do many people out there understand what has been going on with the IUPUI women?
"Unfortunately, no," coach Austin Parkinson said. "But one thing that we've always had at IUPUI is a lot of mature kids. We don't get a lot of kids who are worried about Instagram followers and social media likes."
Time, then, for some introductions.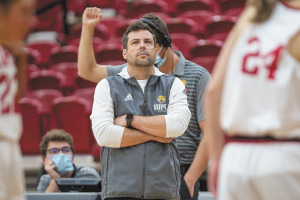 Meet the coach. Parkinson is a basketball lifer who led the Big Ten in assist-turnover ratio when he was a Purdue guard. He still follows the Boilermakers, which is why "the players know—we have satellite on the bus—if there's a Purdue game on, we're watching it."
Parkinson has built the Jaguars program from dust, going 4-24 his first season in 2010-2011. He still remembers a preseason scrimmage that first year at Division III DePauw. "They had 30 players on the roster and we had, like, seven. And they really hammered us," he said. "I was sitting with my brother [Trent] afterward at Wendy's, and it was a sunny day, and I remember looking at him and saying, 'Can we do this?'"
Meet the inside-out combo. That's senior guard and Zionsville's own Rachel McLimore putting up 21 points at Michigan, coming off a season in which she was second-team all-Horizon League. And there's the 6-2 Williams, IUPUI's all-time leading scorer who, when she wants to take a break from her pursuit of a master's degree in elementary education, can look at the three Horizon League player of the year trophies on her desk. A fourth would put her in very, very rare air.
"I appreciate it every year, but I think it's just how I am, that I feel like I'm not the best player on the team," she said. "I feel like my teammates make me look good."
Which brought a swift response from McLimore: "That's partly why we're so good. She's so humble."
Parkinson said Williams "has as good a post move as anybody in the country." She's worked on her shooting range, which should help when the WNBA starts considering draft prospects. It's a long way from the days at Fountain Central when she was rather casual about basketball.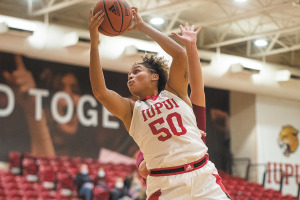 "I feel like I appreciate the game more now," she said. "When I was in high school, I didn't really have much thought in playing college ball. But once I came here, I fell deeply in love with the game."
She could have elected to leave after last season with diploma and three Horizon POY awards in hand. "I didn't give her an option," McLimore said. After discussions with Parkinson, Williams understood there were parts of her game that needed upgrading. And something else drew her back.
"I want to get to the NCAA Tournament."
Which brings us to March 2020. The Horizon League tournament was in Indianapolis at the Indiana Farmers Coliseum; the Jaguars won it, and the elation made the walls rattle. First NCAA Tournament bid in program history. They were all living a dream—and looked it.
Two days later, Parkinson was on the phone doing an interview when the texts of anguish started rolling in from his players. They had just heard the news: No NCAA Tournament because of COVID. Dream snuffed not by a loss, but a virus.
They had been looking so forward to the selection show, the trip to a first-round site, the chance to knock off a big name. They were on a tear, having won 17 of 19 games, with the two losses by a combined six points. "To go from thinking you're going to have all of that to … nothing," McLimore said.
The next morning, the team huddled together, brought in some food from Mo's Southwest Grill and talked through the joys of the season and the pain that ended it.
"That was our celebration," Parkinson said. "Then we dismissed those kids and we didn't see them again until August."
They were back to try again last season, but COVID wouldn't leave them alone. They were on another surge, having won their first six Horizon League games by an average of 26.2 points and played Notre Dame to the wire in South Bend. Then someone on the edge of the program—not a player—came down with the virus and the program had to shut down for three weeks. No practice, no individual workouts, no anything.
The Jaguars never regained their A game, nor, in Parkinson's mind, their conditioning. They technically had the best record in the league by percentage at 11-3, but because teams played an uneven number of games due to all the pandemic stoppages, a rather baffling ranking system had them officially fifth. Anyway, when they wilted in the fourth quarter of the Horizon championship game against Wright State, Parkinson wondered if that was still the shadow of the shutdown. What he did know—what they all knew—was that another chance had slipped away.
"Two years, we were so close," Williams said. "It was a huge heartbreaker for us."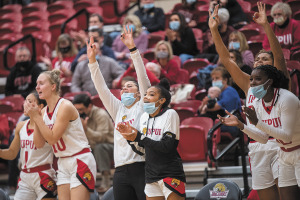 Any questions why this program is so hungry this season?
"Our players had back-to-back years of COVID kind of hitting us in the face," Parkinson said. "But you can't overcome the last two years in one fell swoop. We're really trying to emphasize that we're playing to a certain standard regardless of the score. Because that outside noise can creep in and be kind of overwhelming at times If you start worrying about what happened two years ago or last year."
Along with Williams and McLimore, Lawrence North's Destiny Perkins is a veteran guard. Iowa State transfer Madison Wise (from Greenfield-Central) and Rachel Kent (second in scoring last year for Saint Louis) add to the cause. A road win at Bowling Green and the near-miss at Michigan quickly suggested this team might have a very high ceiling, though Parkinson said, "We walked into that locker room afterward [in Ann Arbor] saying, 'We didn't come up here for a moral victory.' We thought that we could win that game."
They intend to win a lot more. Then get to March. Then stay a while.
"One of our goals is to put IUPUI on the map," McLimore said. "We've proven ourselves and how good our team is, but we feel like there's so much more. Obviously, we want to get in the tournament, but we don't want it to stop there. We want to show we belong."
Williams seconded that. "We haven't yet reached where we want to get."
It would seem fate owes IUPUI a break. After two years when the proverbial COVID cigar blew up in their faces, "I really hope our players just get the chance this year," Parkinson said. That's not asking a lot, for a program Indiana should know about.•
__________
Lopresti is a lifelong resident of Richmond and a graduate of Ball State University. He was a columnist for USA Today and Gannett newspapers for 31 years; he covered 34 Final Fours, 30 Super Bowls, 32 World Series and 16 Olympics. His column appears weekly. He can be reached at mjl5853@aol.com.
Please enable JavaScript to view this content.