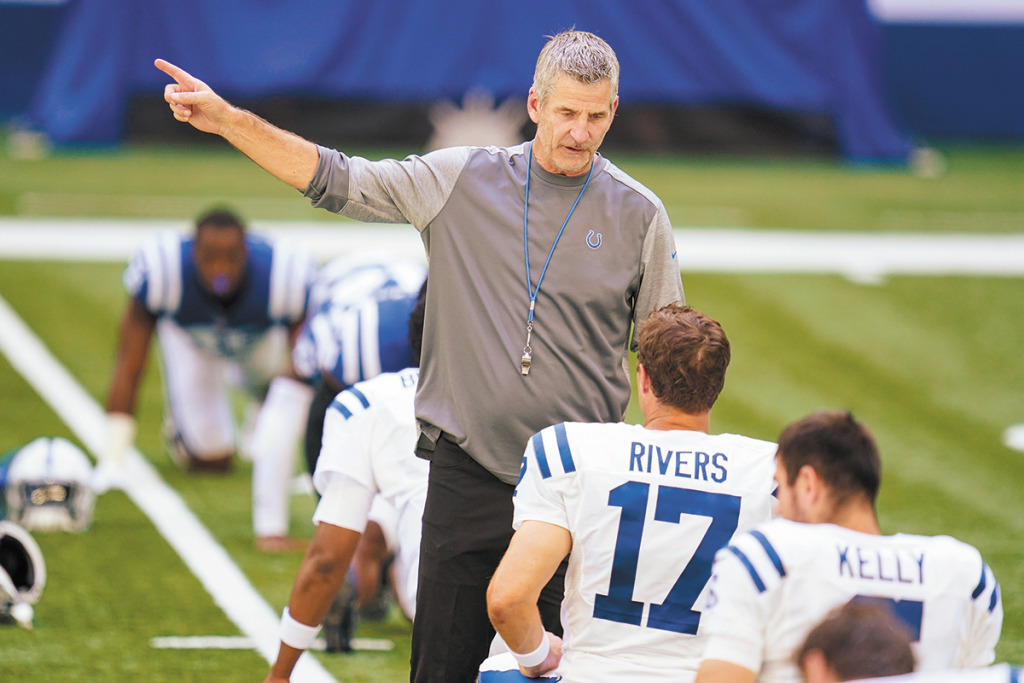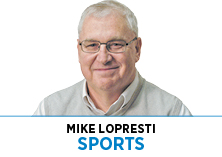 And so begins a Colts season like none other, with its empty seats, its artificial NFL-approved crowd noise, its masked referees with electronic whistles, and its virus test results followed closer than quarterback ratings.
The road to the Super Bowl, or wherever this road goes, has never looked stranger. And that's without even mentioning the old pain-in-the-horseshoe Tom Brady, now wearing a Tampa Bay uniform. Or the Washington Football Team.
When last we saw the Colts play a game, they were finishing the 2019 season in the same place they will begin this one, Jacksonville. The crowd was over 58,000. A search of national media outlets that late December weekend found the only mention of global health worries was a measles outbreak in Samoa. Nine days later, The New York Times would carry a story with the headline about 60 people getting sick on the other side of the planet: "China grapples with mysterious pneumonia-like illness."
You know the world is different, but how different for the Colts this opening weekend? Here are 20 reasons large and small why 2020 should be unusual and unpredictable—and, in some cases, unprecedented.
◗ Since the Jaguars have a long list of woes, the Colts should win their first game, and wouldn't that be a nice break in the routine? They haven't been 1-0 since 2013, when they were led by a second-year quarterback named Andrew Luck. The six-game losing streak in openers is the longest in the AFC, by a lot.
◗ The crowd for the Sept. 20 home opener against Minnesota, per social-distancing requirements, will be 2,500—or about 16 people for every Lucas Oil Stadium concession stand, if all of them were open. Which they won't be. In case you're wondering, the last Colts home crowd under 30,000 was Dec. 18, 1983—the team's final game in Baltimore.
◗ When it comes time to kick a field goal, it won't be Adam Vinatieri jogging onto the field. The last Indianapolis opener without Vinatieri was in 2005. Lucas Oil Stadium didn't exist. Frank Reich was a pastor in North Carolina. And Rodrigo Blankenship was 8 years old. Now, the rookie in glasses is the new kicker. By the way, he originally walked on at Georgia, wore pink cleats, ended up trying 200 PATs, and didn't miss any.
◗ The Colts will be hoping the first touchdown pass of their season opener is thrown by the same guy who put up the first touchdown of their opener last year. That'd be Philip Rivers. Of course, he did that against them last season as a Los Angeles Charger.
◗ Flash back 12 months. In 2019, the Colts were stunned that their 29-year-old quarterback would retire so early. Goodbye, Andrew Luck. A season later, they're just hoping their 38-year-old quarterback hasn't waited to retire too late. Hello, Rivers. The last time Indianapolis sent out a quarterback his age to start the season was Kerry Collins in 2011. He went 0-3, then called it a career.
◗ The last time Indianapolis started a quarterback who was the father of nine kids was, well, never. No wonder Rivers appreciates that $25 million paycheck this season. Look how many birthday and Christmas presents he has to buy.
◗ The Colts haven't opened the season with a road game against a division opponent since 2011, and that didn't turn out so well. They lost 34-7 at Houston. Matter of fact, they haven't won a season opener at a division opponent in 18 years.
◗ Indianapolis could win the AFC South. If such a phrase seems oddly unfamiliar, that's because it is. For a franchise that once owned the division lock, stock and Houston Texans, it's rather sobering to note the last Colts South title was six years ago. Twenty-one teams in the NFL have won their division since the last time Indianapolis did.
◗ You'd think false starts for road teams might be at a historic low. Why? Vastly reduced hostile crowd noise to muck up the count.
◗ Here's a question the NFL has never faced before. What happens if a team has an outbreak of virus positives and a game must be called off? This ain't baseball, where they can just play doubleheaders.
◗ Minnesota and Green Bay will both visit Lucas Oil Stadium this year, and neither has come to town for a regular-season game since 2012. This is not a popular NFC North stop, and no wonder. Together, the Vikings and Packers are 0-7 in Indy.
◗ On Dec. 13, the Colts will boldly go where no Colts have gone before. They'll play a football game in Las Vegas.
◗ It's a very odd sports-scheduling landscape the NFL will be sharing. The Colts play at Chicago the same day as Game 3 of the NBA Finals. They'll play at Tennessee the same day as the first round of the Masters.
◗ There are lots of new faces with unusual roads traveled, and not just the kicker in goggles. Indianapolis now has a Pro Bowl defensive tackle, DeForest Buckner, who grew up in Hawaii, 23 miles from Pearl Harbor.
◗ They have a tight end—once Trey Burton gets back from injury—who has thrown one more touchdown pass in the Super Bowl than Andrew Luck or Philip Rivers combined. Burton tossed one yard to Nick Foles on a trick play for a Philadelphia touchdown in Super Bowl LII.
◗ They have a cornerback, T.J. Carrie, who needed open-heart surgery at the age of 15 to correct a defect.
◗ They have a defensive tackle, Sheldon Day, who once upon a time was a Warren Central Warrior.
◗ They have a rookie running back, Jonathan Taylor, who left Madison, Wisconsin, with 6,174 yards rushing, 55 touchdowns and co-ownership of four Toppers pizza franchises.
◗ They have a rookie offensive lineman, Danny Pinter, who is as Indiana as sugar cream pie. Grew up in South Bend, went to Ball State, and now the Colts. Two things about his Ball State days: He was named most outstanding player of the team as a senior, and how many times does that happen for an offensive lineman? And his 3.7 grade point average put him on the MAC all-academic team four years.
◗ The schedule presents an unusual chance at a good start. Let's count the teams they play before Nov. 8 who had a winning record last season. Minnesota. That's it. One.
So let it begin, with no cheerleaders allowed on the sidelines, coin toss representatives limited to one person a side, and teams requesting lower floors at their hotels so they can stay out of elevators. This is the 50th anniversary of the AFL-NFL merger, and you could make the case that season provided the most significant changes to the sport in the past half-century.
Until this one.•
__________
Lopresti is a lifelong resident of Richmond and a graduate of Ball State University. He was a columnist for USA Today and Gannett newspapers for 31 years; he covered 34 Final Fours, 30 Super Bowls, 32 World Series and 16 Olympics. His column appears weekly. He can be reached at mjl5853@aol.com.
Please enable JavaScript to view this content.