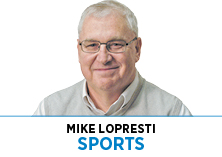 Please welcome our guest columnist this week, Mr. Victory Field, who turned 25 the other day. He gets this space to present his take on the gala occasion. Take it away, Vic.
Hi, everybody. Did you miss my birthday party? That's too bad; I had a pretzel with your name on it.
I'm happy to be another year older because, to be honest, the past 12 months were kind of screwy. I sat pretty much alone last year because of COVID. Poison ivy patches get more foot traffic.
This summer has been a little odd, too. The concession supply chain is still fouled up by the pandemic. The Indians had to use a private courier to bring in chicken tenders for last weekend's games, as if they were a jewel collection. Peanuts have also been a problem. And don't even ask about imported beer.
But I'm starting to feel like my old self. I know things are getting back to normal when I feel peanut shells being crunched on my walkways. Funny, the things you miss.
I was just thinking how I'm the senior citizen among the downtown sports venues. I'm three years older than Bankers Life Fieldhouse, and nobody's ever told me I had to change my name. I'm 12 years older than Lucas Oil Stadium, who gets all the ink with big events. But I still have cheaper hot dogs.
So, to mark the big 2-5, here's how I've spent my time in 2021.
Remember how the NCAA Tournament used me for recess in March? Folks stuck pickleball-net poles in my outfield and played touch football on my grass and ran so many laps on my warning track, my dirt turned red. I thought I had been turned into summer camp. But I was glad to give the bubble occupants a place for fresh air before they started throwing hotel chairs out of windows.
Now about my baseball team. At my birthday party, the governor threw out the ceremonial pitch. In the dirt. But a lot of pitches by guys in Indians uniforms that night didn't go so well, since Omaha swept a doubleheader. Omaha also hosted the Indians for a six-game series early in the season and won them all. You seldom see six-game sweeps. The Storm Chasers have become a real pain.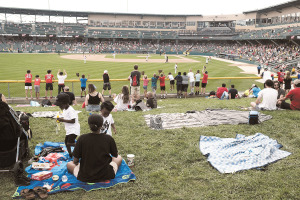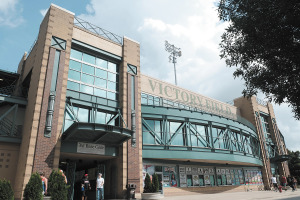 As for the Indians, they've been the very epitome of … OK. As this week began, they were 34-36. The day had ended 38 times this season with them either at .500, one game above or one game below, including 17 in a row in one stretch. They had six walk-off wins and six walk-off losses, scored 307 runs and allowed 319, hit 71 homers and gave up 76. They were 25-2 when leading after eight innings and 0-27 when trailing. They were 6-7 during the day and 28-29 at night. Seventeen home games had been decided by one run.
The State Fair won't have thrill rides that up and down. The Indians started the season in Iowa and put up the first Opening Day shutout in 23 years. Five days later, they were no-hit by four Iowa pitchers.
There was incoming phenom Travis Swaggerty. He homered in his first at-bat in the opener at Iowa. Then he homered in his first at-bat here. Then he injured his shoulder diving back into first base and was lost for the season.
But, hey, I have an infielder, Cole Tucker, dating a famous actress—Vanessa Hudgens—who has more than 38 million Twitter followers. Dodger Stadium can't say that, and it's just down the freeway from Hollywood.
I have a shortstop, Dee Strange-Gordon, who has played in more than 1,000 major league games with the Dodgers, Marlins and Mariners.
I have a hitter, Christian Bethancourt, who has won four games this season with walk-off singles.
I have a pitcher, Shelby Miller, who was the first of four Iowa hurlers on that no-hitter against Indy. Then the Cubs released him and the Pirates organization picked him up, so he was on my mound in an Indians uniform on July 4, pitching for the team he helped no-hit two months earlier.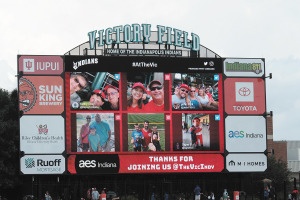 I have another pitcher who knew me when he was a kid growing up in Indianapolis. Dillon Peters joined the Indians just last week after tours in the Marlins and Angels organizations. "My mom was just telling me she's going to have to send in baby pictures; I've got Indians hats on at 3 or 4 years old," Peters said about his early days at the ballpark. "You always dream about being a big leaguer [in a home city] and you've got your friends and family there. This is darn close."
I knew he looked familiar. He pitched two state-championship games for Cathedral in my friendly confines in 2010 and 2011. Could it be his senior season was the last time he was in Victory Field before now? "Yes. We lost," Peters said. Matter of fact, the Irish were beaten both years, by Carroll.
What else? I had not seen the Iowa Cubs in 24 years and had never seen the Memphis Redbirds, but both visited this summer. The Indians won 3-2 against the Redbirds despite striking out 17 times in 11 innings. Memphis' hitters whiffed 13 times, so that made 30 strikeouts in 77 at-bats. I could feel the breeze of swings and misses all evening.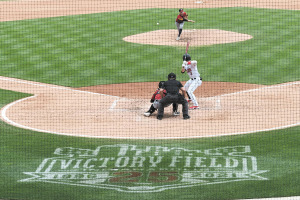 My poor ticket department. It's been like working in a rocking canoe. Those folks had to change their on-sale game plan four times. There was limited attendance at the start, then more fans allowed, then full attendance. Then the baseball brass decided the minor league season should be extended into October. I'll be open for business with an Indians home game on Oct. 3. They haven't played that late since 1949.
Finally, there was the saga of Will Craig. Sigh. Surely, you heard what happened to him. He played first base here until the Pirates called him to Pittsburgh. Good for him. I always thought he seemed like a decent guy, and he could hit. But against the Chicago Cubs, he landed himself in one of the bloopers of the millennium.
Pulled off the first-base bag by a throw after a Javy Baez grounder, Craig could have just gone back to step on the bag and retire Baez to end the inning. Instead, Craig got it in his mind that he needed to tag Baez and chased after him. During the needless pursuit—not every day you see a rundown between home plate and first base—a run scored. The replay got more TV time around the nation than "The Bachelorette." Little League first basemen grimaced.
That was in May. By July, Craig was back here, but he figured his position had become pretty crowded in the Pirates organization. Besides, he needed to get away from memories of The Play. Like, 7,000 miles away. He left one night for the Kiwoom Heroes in the Korean baseball league.
So, yeah, I've seen some pretty unusual things lately. But I'm 25, and no wrinkles yet. Lucas Oil can only hope it looks so good at this age.•
__________
Lopresti is a lifelong resident of Richmond and a graduate of Ball State University. He was a columnist for USA Today and Gannett newspapers for 31 years; he covered 34 Final Fours, 30 Super Bowls, 32 World Series and 16 Olympics. His column appears weekly. He can be reached at mjl5853@aol.com.
Please enable JavaScript to view this content.