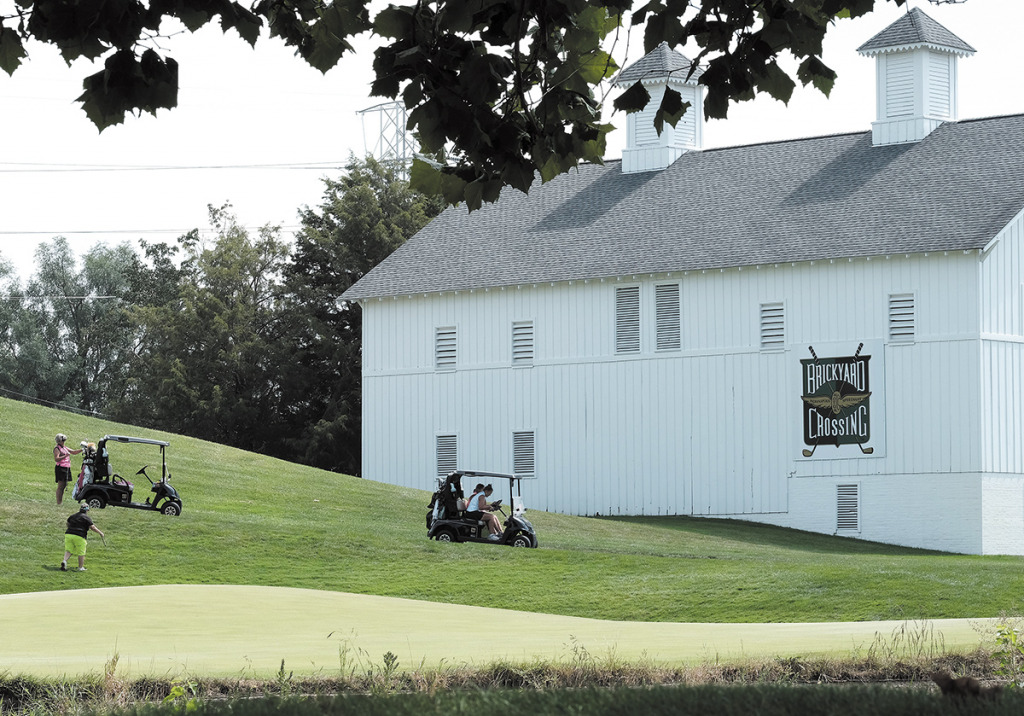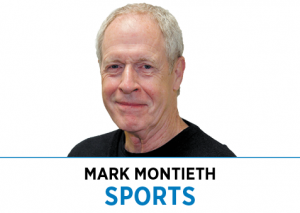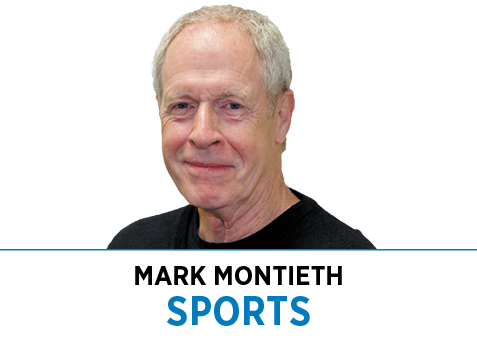 Golf has always been a boom-or-bust sport for players and course owners alike. Players hope to hit a few great shots to erase the memory of all those balls sailing into the pond, while owners hope to keep their heads above water during slow periods.
It just so happens that golf is booming this summer, locally as well as nationally, because of the COVID-19 virus that has drastically shifted leisure activities and spending into the great outdoors.
"I think COVID has brought people back to golf and made them realize what a serene game it can be out there," said Jeff Williams, director of golf at Brickyard Crossing Golf Course. "It can be peaceful; it can be calming. We need something like golf and fishing and outdoor activities where we can clear our minds right now. Because the stress on our minds is real."
Golf isn't alone in benefiting from the virus economy that has damaged or destroyed so many businesses. Bicycle stores can't keep merchandise in stock. Recreational vehicle sales were up 170% over last year in May, according to the RV Industry Association. Take-home alcohol sales have increased dramatically, and even drive-in movie theaters are making a comeback.
Golf, though, attracts the widest demographic, encompassing most age groups and all races, genders and income levels. Perhaps golf has benefited most of all. Courses were shut down nationwide in the early stages of the pandemic, but most began opening in May. According to a Bloomberg report, the number of scores posted to the U.S. Golf Association's Golf Handicap Information Network rose 22% in May over the previous year.
With so many summer youth sports and traditional adult activities such as concerts canceled and with travel restricted and less desirable because of transmission concerns, local courses have thrived. Small wonder. The game is played in wide-open outdoor spaces. It's a natural for avoiding close contact with other people as every golfer who has hit a wayward shot can attest.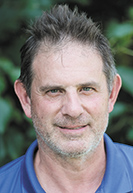 "A golf course is perfectly made for a pandemic and having to social-distance," said Brad Beck, director of golf at South Grove Golf Course. "There's 85-90 acres here, so you can space out pretty well."
Local courses have followed strict sanitation protocols, although some are easing. Carts are thoroughly cleaned after each use, flagsticks are left in the cup with an insert to keep the ball from falling all the way into the hole where other hands have been, masks are required in the clubhouse, ball washers and bunker rakes have been removed, and tee-time intervals have been widened to further reduce congestion.
"We thought we were just golf professionals, but all of a sudden we had to become disease experts," Williams said. "It was a huge responsibility.
"We overdid it. You have to. We'll continue to do that."
'Absolutely loaded'
The turnouts indicate golfers are feeling safe at the courses.
Scott Casey, head professional at River Glen Country Club, a public course, said it is having its busiest summer since at least 2013. Located in Hamilton County, the course did not have to close in April as those in Marion County did. Weekend mornings have been booked solid most of the summer, and Casey said overall play is up significantly.
South Grove, just north of West 16th Street along the White River, has seen a 35% to 40% increase, according to Beck, and just completed its busiest August in recent memory. The course, which opened in 1902, has also benefited from the closing of the neighboring Riverside course last fall. Although rumors have circulated that it will close this year, South Grove's contract with Indy Parks runs through 2024. The favorable current climate could enable it to stay open beyond that.
"I'm hoping our numbers going up will make a difference," Beck said.
South Grove is one of the least expensive courses in the city, with greens fees ranging from $10 to $37, depending on the day and time. That has enabled it to attract golfers who have been laid off during the pandemic and have more free time.
"We're seeing a lot of new faces here, and that's a good sign," Beck said.
Brickyard Crossing, a high-end public course adjacent to the Indianapolis Motor Speedway, remained closed until July 6. That provided a temporary boost for other public courses in the area, but the Brickyard has made up for lost time. Williams said the course is drawing 200 to 240 players a day who pay a greens fee that peaks at $115 and was booked solid for 11 straight hours on one recent weekend day. He estimates overall play to be up 20% to 30% from last summer.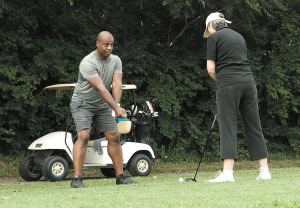 That has countered the loss of revenue from corporate outings, banquet catering, wedding receptions and convention-related business. Williams said the Brickyard lost 24 outings in May and 16 in June. It has five scheduled for September, when normally it hosts about 20.
"But we're absolutely loaded on all the days we're open to the public," he said.
The outings the Brickyard has hosted have done well, attracting golfers eager to socialize. Indiana State University recently conducted its annual alumni outing and drew its largest field ever. On Aug. 31, Nextech forged ahead with its annual outing that had been rescheduled from May and drew 26 foursomes. That was down from its usual full field of 144 players but better than anticipated.
"We were wondering if we would only get about 40 players," said Stephanie Zircher, the company's vice president of education. "We had a lot of last-minute registrants."
Will it last?
The tentacles of the boom have reached teaching pros as well. Sam Foley, a full-time instructor in Indianapolis for the past 30 years, said he's given twice as many lessons as last year and more than in any summer over the past decade.
He teaches at Shortee's Golf, a driving range and 18-hole, par-three course, as well as at Brendonwood Country Club. Shortee's, he said, just completed the four best months in its 20-year history after being closed in April. Its week-long instructional camps in June and July all were at maximum capacity of 16 students. Some weeks they squeezed in a few more.
Youth golf leagues are flourishing, too, with some other sports having to shut down. Zircher said a league had to be added on Mondays and Wednesdays in Carmel because the one that has been operating on Tuesdays and Thursdays was overflowing.
"It's insane," Foley said. "It's a shame COVID had to drive people to what they love to do."
But what about next summer? And the summer after? Someday, presumably, life will return to something resembling normal and people once again will have the full gamut of recreational options at their disposal. Can golf maintain most of the clientele it gained this summer, or will it go back to pre-pandemic levels?
"It's incumbent on us as industry professionals to do what we need to do to make sure everyone comes back," Foley said. "We know there are golfers out there who are just choosing to play golf instead of something else.
"Providing a good service and a good product is the way to keep them coming back."
Williams is optimistic the boom will last longer than the rest of this season. He said continued demand could even justify higher greens fees at the Brickyard next season, which would have the ripple effect of convincing less-expensive courses in the area to follow suit and ease financial pressures.
That would be fine with Beck over at South Grove. The emergence of Tiger Woods in the late 1990s created a boom that inspired widespread course development. The Indianapolis area is arguably overbuilt, which has created a player's market rather than an operator's market. That, in turn, inspired discounting practices to lure bargain-seeking golfers, whom Beck refers to as "coupon golfers."
"It's taken a long time to get away from that mentality," he said.
Perhaps the virus will do it, and improve the health of golf-course bottom lines.
'I'm very pleased for all the golf courses around central Indiana," Williams said. "Maybe some that may have been struggling before this will get a new life. I think it will flow over to next year, I really do. People will be comfortable with playing and there's no guarantee [the virus] is going away anytime soon."•
__________
Indianapolis native Mark Montieth is a longtime newspaper reporter and freelance writer. He is the author of three books: "Passion Play: Coach Gene Keady and the Purdue Boilermakers," "Reborn: The Pacers and the Return of Pro Basketball to Indianapolis," and "Extra Innings: My Life in Baseball," with former Indianapolis Indians president Max Schumacher.
Please enable JavaScript to view this content.