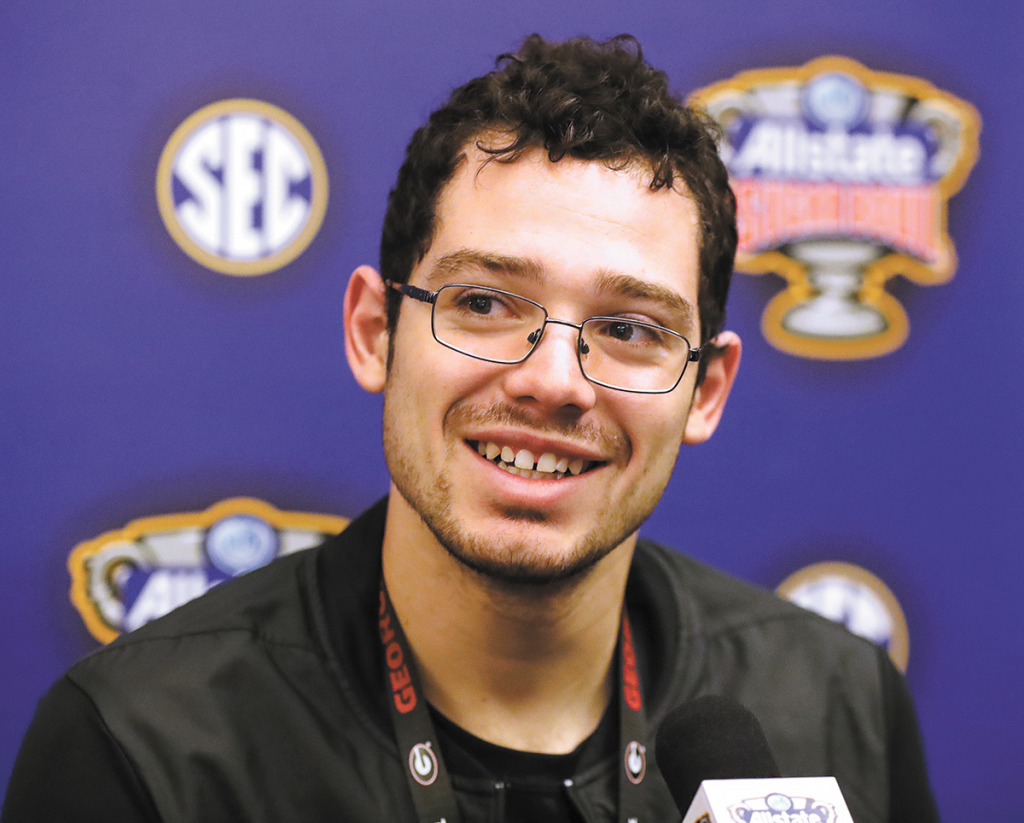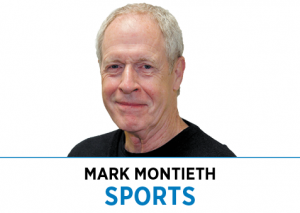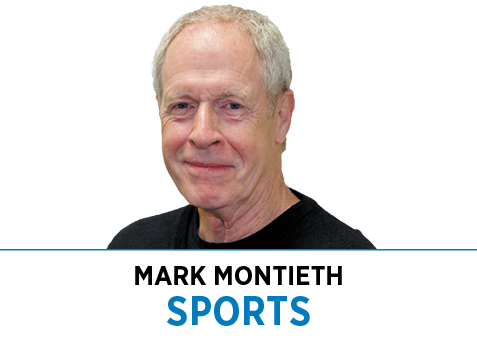 Turns out the Colts' new kicker likes to play with Legos. Reads comic books, too. He's a "Star Wars" freak as well, not to mention a fan of superhero characters.
"All that kind of sci-fi, nerdy, geeky kind of stuff," he says without shame.
Welcome, Rodrigo Blankenship. You'll fit right in around here.
Indianapolis' professional franchises have done well with nerds like this bespectacled kicker, who looks like he took a wrong turn while riding a scooter to the Gen Con Convention and wound up in the Colts locker room. Five games into his rookie season, he's poised to join the short but impressive list of "nerdy, geeky" local athletes who proved brains can blend with brawn like a classic wine pairing and that being quirky can be the ultimate form of cool.
Quirky? After hitting a game-winning field goal that lifted his University of Georgia team over Kentucky as a freshman, Blankenship conducted an on-field television interview with his helmet on. After taking heat from his teammates for that, he doubled down by doing so again when he met with reporters following the next practice. He told them his only ambition for his sudden fame was to become verified on Twitter.
Now he's more famous than ever. Blankenship is the NFL's leading scorer, having converted 15 of 17 field-goal attempts and all 11 extra points. He partially owes that accomplishment to the Colts' struggle to score touchdowns in the red zone, but that's not his worry. All he can do is kick.
And inspire nerds everywhere.
How could he not? He's the NFL's ultimate example of casting against type. He was a walk-on at Georgia but wound up winning the Lou Groza award as the nation's top collegiate kicker as a senior. That wasn't enough to get him drafted, but the Colts signed him as a free agent, and he won a closely contested preseason duel for the place-kicking job.
He figures to be around a long time, which will place him firmly in the company of other local legends who established their own brand of superhero by being fearlessly peculiar.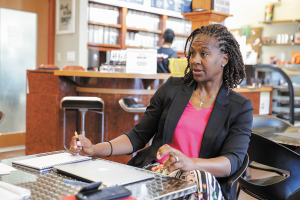 Tamika Catchings
She had nerd-dom thrust upon her as a child because she was born with a hearing disability and a related speech impediment. That gave the other kids in school plenty of ammunition for teasing. As a third-grader, she became so angered by the insults caused by her obtrusive hearing aids that she threw them as far as she could into a field. Then she was forced to go without because her parents couldn't afford to immediately replace them.
A Chicago Tribune article described her as "the nerdy kid with the big glasses always sitting in the front row of class or asking the teacher for help on something she couldn't hear."
She channeled her frustrations into basketball. She had the good fortune of genetics inherited from a father who played in the NBA—an advantage to which she added supreme dedication. She was a four-time All-American at Tennessee and then became the most decorated professional player in Indianapolis history through her 15 seasons with the Fever. She was the WNBA Rookie of the Year, a 10-time All-Star, a five-time Defensive Player of the Year selection, the league MVP in 2011 and led the Fever to the championship in 2012. She was voted into the Naismith Basketball Hall of Fame earlier this year, but the induction ceremony has been delayed to 2021 because of the pandemic.
And what did she do after retiring in 2016? She took over a local tea store and cafe, called Tea's Me.
Perfect.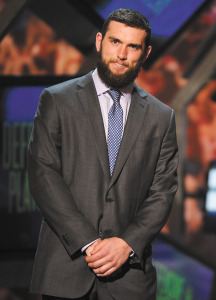 Andrew Luck
The neck beard, the awkward laugh, the flip phone … everything about him screamed "nerd!" And, hey, what possibly could have been nerdier than a four-time Pro Bowl quarterback retiring at the age of 29 while still in his prime, as Luck did during the preseason in 2019?
That was actually a practical decision based on the desire not to cause further ruin to his body and have to live the rest of his life crippled by football injuries. Make no mistake—Luck was tough, and the pain was real.
His inner nerdiness probably saved him from a bleak future. He was smart enough to know what was happening to his body and the future price to be paid if he continued, and he had enough interests outside of football to enjoy his life. Most pro athletes hang on until they've wrung every droplet of blood and sweat from their body. Luck was a step ahead, as was often the case in and out of his football career.
How many other elite quarterbacks do you know who started a book club? Probably as many as have a degree in architectural design from Stanford, which Luck earned in 2012. Dubbed "the NFL's unofficial librarian" in a Wall Street Journal article, Luck began his book club in 2016 and still operates it in retirement. It's an online venture open to anyone. He recommends two books per month, one for young readers and one for adults. They are rarely sports-related works and often socially relevant.
Luck, who was co-valedictorian of his high school class, proved his love for reading with the odd bits of knowledge he dropped on teammates during his six-season playing career, not counting 2017 when he sat out with a shoulder injury. He didn't talk football on bus rides, just architectural trivia and the like.
"Sometimes I find it interesting; sometimes I just want to be like, 'Beat it, nerd,'" offensive lineman Quenton Nelson once said.
Had he been an ordinary player, Luck would have been an outcast in the locker room. But you just don't tell a Pro Bowl quarterback to get lost.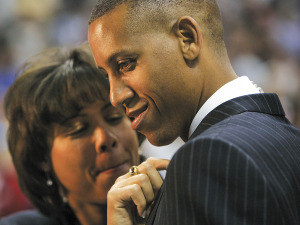 Reggie Miller
As with Catchings, his nerd-dom was largely thrust upon him. His ears protruded because his mother, Carrie, was told to stop pushing during delivery and he got stuck briefly on his entrance into the world. He also had deformed legs that required metal braces for a couple of years of his childhood.
When you're a tall, gangly, shy kid with big ears and a soft voice and an older sister who can embarrass you on the backyard court and you have struggled with a physical handicap, you're not going to wind up LeBron James.
Unable to dominate physically, he learned to antagonize. His sister Cheryl once described him as the little pest you wanted to smack. He grew into an NBA player who loved getting under the skin of fans as well, whether by hitting crowd-hushing three-pointers on the road or by staring down hecklers. And while no official stats have been kept, he's undoubtedly the Pacers' all-time leader in technical fouls because of all his yapping at officials. His autobiography was titled "I Love Being the Enemy" for a reason.
As cool as he was in clutch moments, Miller mostly played a nerdish game fueled by trash talk, fakes and flops. But his cerebral approach also included disciplined preparation and offseason training that helped get him through 18 productive seasons and into the Naismith Hall of Fame.
Miller wasn't the guy who strolled into the locker room an hour before tipoff and went out and dominated. He was the first guy in on game nights and proceeded through a detailed routine dotted with superstition. He sometimes watched film in the locker room while his teammates dressed, and he had the scouting reports down cold. His mental approach was what you might expect from a history major who sometimes took books with him on road trips—real books that would have made Andrew Luck proud, such as one on Kennedy's assassination.
He liked superheroes, too, twice donning a Superman T-shirt for pre-game warmups in a first-round playoff series with Milwaukee in 2000 to inspire his teammates.
It's something Blankenship would love.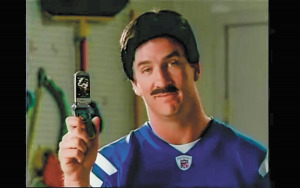 Peyton Manning
As the privileged son of an NFL quarterback with no physical handicaps to overcome, he wasn't forced into the nerd world like Catchings and Miller. So, he decided to play one in television commercials.
He's known to many as much for his commercials as for football. The variations of the Nationwide jingle, the we're-kids-again spats with younger brother Eli, the silly banter with the kids in Peyton Manning Children's Hospital and, of course, "Cut that meat!"
His schtick as a dimwitted 21st century Gomer Pyle offered note-perfect displays of self-deprecation for a five-time NFL Most Valuable Player who quarterbacked a Super Bowl title for both the Colts (2007) and Denver (2016). He is among the nominees for the next Pro Football Hall of Fame class, to be announced on the Saturday before the 2021 Super Bowl, and is a lock to earn selection.
All those socially awkward bits in the commercials didn't exactly call for professional-grade acting, though. Manning was awkward. He never looked quite right in a football uniform, he ran like a wounded duck and he didn't really have a laser-rocket right arm, contrary to his claim in one advertisement. All of those golly-gee facial contortions reminded nobody of Joe Namath or Brett Favre. And what was up with all that "Omaha" stuff in his snap counts?
Truth was, he was as cerebral as any quarterback in league history. His dedication to preparation was deadly serious. He inhaled playbooks and game plans, came closer to coaching his coaches than being coached, earned the freedom to call his own plays and knew precisely what to do on nearly every play. Fellow University of Tennessee quarterback Todd Helton, who went on to play Major League Baseball, dubbed him R2-D2 after the robot in "Star Wars."
Blankenship could appreciate that, too.•
__________
Indianapolis native Mark Montieth is a longtime newspaper reporter and freelance writer. He is the author of three books: "Passion Play: Coach Gene Keady and the Purdue Boilermakers," "Reborn: The Pacers and the Return of Pro Basketball to Indianapolis," and "Extra Innings: My Life in Baseball," with former Indianapolis Indians President Max Schumacher.
Please enable JavaScript to view this content.