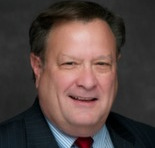 Indianapolis Republican Sen. Michael Young has been removed from the Indiana Senate Judiciary Committee and replaced with Sen. Rick Niemeyer, R-Lowell.
Senate President Pro Tem Rodric Bray made the move public Monday in the latest chapter of a rocky relationship with Young.
Bray spokeswoman Molly Fishell said Young was removed because he wasn't attending the committee meetings.

Young also hasn't attended several Senate Family and Children Services committee meetings.
He left the Senate Republican caucus last summer during a special session so that he could offer an amendment removing exceptions for rape and incest from a proposed abortion ban.
Since then, Young has also lost his chairmanship of the Senate Corrections and Criminal Law Committee.
Additionally, Young's longtime chamber seat surrounded by fellow Republicans was moved to the corner by the Democrats.
He declined to talk about the matter with the Indiana Capital Chronicle.
Please enable JavaScript to view this content.