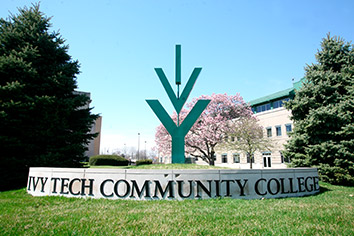 State employees can go back to school and pay no upfront costs in a new deal with Ivy Tech Community College, announced Thursday.
"This is an investment in our state employees that provide them with more flexibility to pursue education opportunities that ultimately contribute to a stronger workforce," Gov. Eric Holcomb said in a news release. "We are grateful for this partnership with Ivy Tech that will ease the up-front financial burden for our employees to enroll in courses."
Indiana is joining Ivy Tech's Achieve Your Degree program. Under the agreement, state employees can start taking classes without paying tuition upfront. Indiana will pay Ivy Tech directly—and with a discount of up to 5%—after an individual employee successfully completes a class.
State employees can already be reimbursed for educational costs of up to $5,250 annually under a recent policy change; Ivy Tech's full-time in-state tuition is about $4,500. The higher reimbursement amount went into effect in March's "Next Level" package of employee benefits, aimed at improving state hiring and retention in a tight labor market.
All Ivy Tech campuses are participating in the program. State employees can earn associate degrees, short-term certificates and industry-specific certifications.
The public community college system also said it provides free textbooks to students for required classes through spring 2023 under its Ivy+ Tuition and Textbooks model, along with flat-rate tuition for those who enroll in more than 12 credits worth of classes.
"The State of Indiana is once again leading by example, this time by providing tuition assistance to employees, making it easier for individuals to pay for higher education," Ivy Tech President Sue Ellspermann said in a news release. "Programs like Achieve Your Degree can help businesses build their own talent pipeline through recruitment of individuals without a degree and helping those individuals learn the skills necessary to advance."
To qualify, employees must have worked full-time for the state for at least 12 months before submitting, be at least 12 months out from a disciplinary action before the end of a course, and have passed the class with a "C" or higher.
The Indiana Capital Chronicle is an independent, not-for-profit news organization that covers state government, policy and elections.
Please enable JavaScript to view this content.