Steven James Braun, a former member of the Indiana House of Representatives and commissioner of the Indiana Department of Workforce Development, died Friday due to cancer.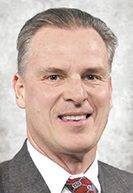 A resident of Zionsville, Braun was 63. He was the brother of U.S. Sen. Mike Braun of Indiana.
A native of Jasper, Braun graduated from Jasper High School in 1978 and earned a degree in economics from Harvard University. He established a career in technology consulting and founded Braun Consulting in the early 1990s in Chicago.
He took the company public in 1999. By 2001, the company had 13 U.S. offices and more than 700 employees. The company remained headquartered in Chicago, but Braun operated out of the Indianapolis office.
In 2004, Minneapolis-based Fair Isaac Corp. acquired Braun Consulting for about $30 million. Braun stayed with the company for two more years to manage its worldwide consulting group.
Braun represented House District 24, which includes parts of Boone and Hamilton counties, from 2012 to 2014. A Republican, Braun was appointed commissioner of the Department of Workforce Development by. Gov. Mike Pence in 2014. He resigned in 2017.
He unsuccessfully ran for Indiana's 4th Congressional District in 2018 in a three-way Republican primary. He filed paperwork to run in the 2020 GOP primary for Indiana's 5th Congressional District but suspended his campaign due to undisclosed health issues in October 2019.
He is survived by his wife, Jennifer; his brother, Michael; his sister, Janet Ostendorf; five children; and 10 grandchildren.
Please enable JavaScript to view this content.