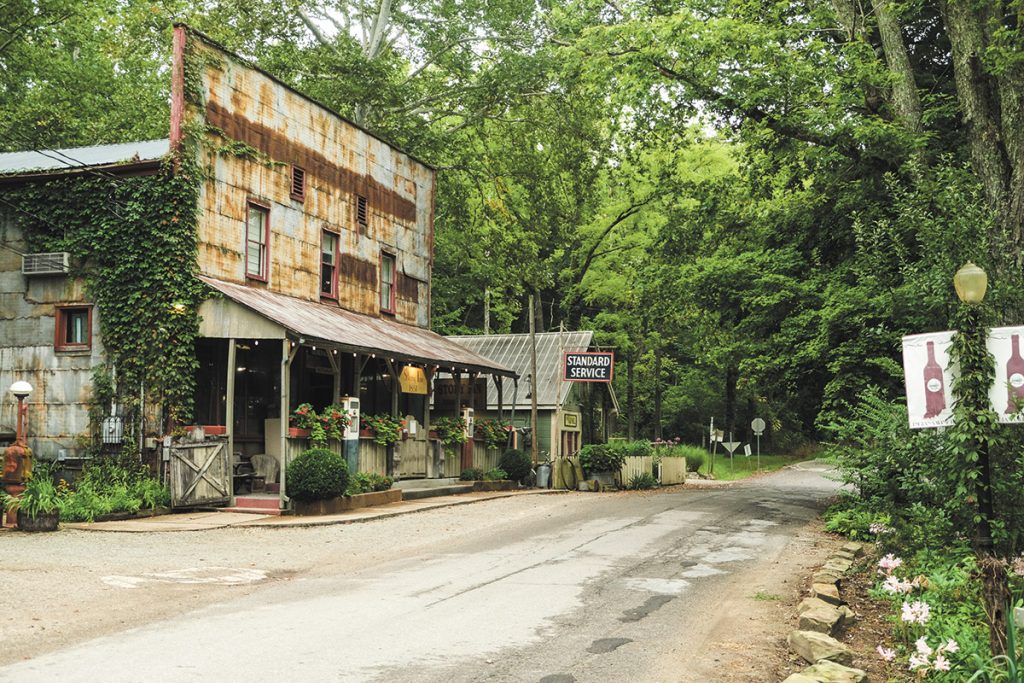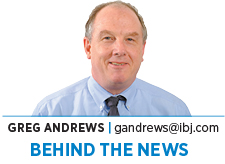 The owner of the historic town of Story in Brown County—known for the Story Inn, a bed and breakfast and gourmet restaurant—died this month, putting the off-the-beaten-path attraction at a crossroads.
Rick Hofstetter, an Indianapolis securities attorney who bought Story in 1998 and turned it around, for years was the public face of the town. His quirky personality was reflected in the annual Village Idiot competition, which identified the local resident who'd made the biggest blunder in the past year.
Hofstetter died Oct. 1 at age 63 from a gunshot to the head, said Rich Hofstetter, the youngest of his four children. He said his father had been facing stresses, including health problems.
Hofstetter spent four days at St. Francis Hospital last October after he became gravely ill with intestinal bleeding, according to a lawsuit he filed in April accusing insurers of failing to fulfill their coverage obligations.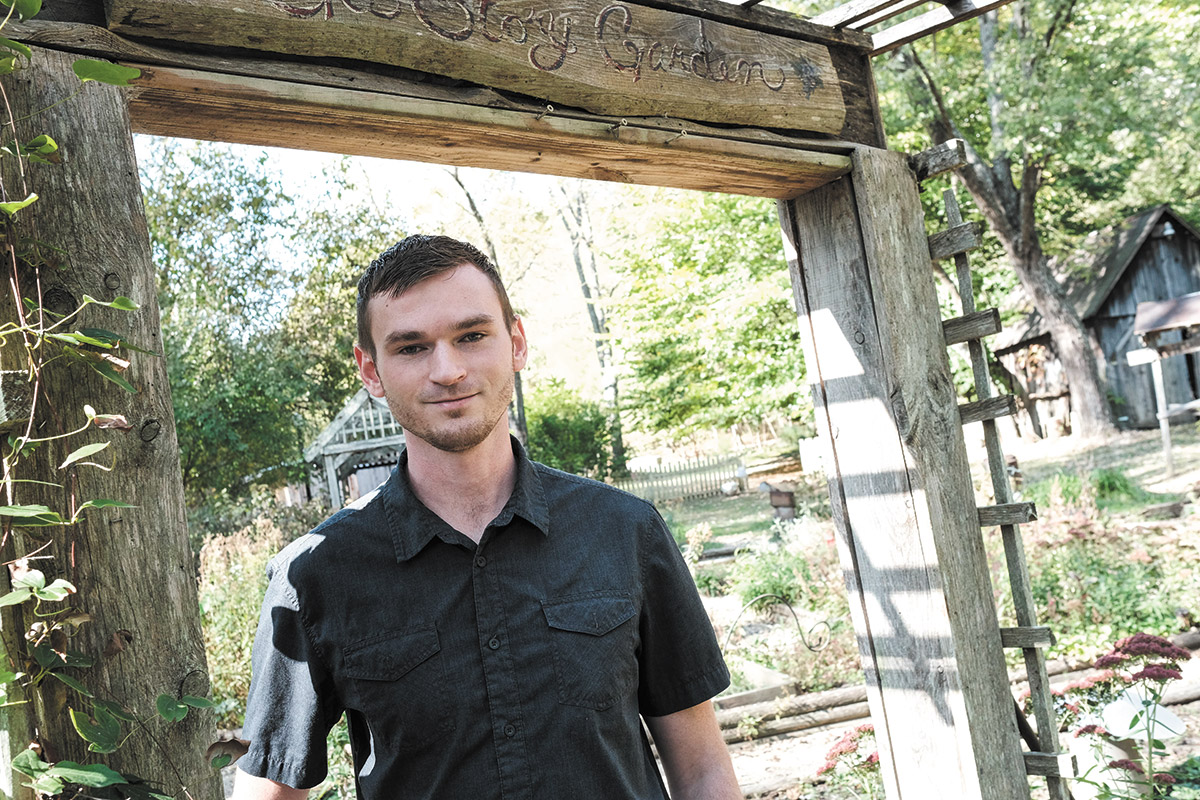 Fortunately for the regulars from Indianapolis who have found their way to Story over the years—braving the nine-mile trek once they turn off State Road 46—Hofstetter's shocking demise appears unlikely to jeopardize the future of one of the state's most unique tourist attractions.
That's because General Manager Jacob Ebel and his wife, Kate, have been performing much of the heavy lifting at Story in recent years. They've been employees since 2015, with Jacob amassing 22% ownership of the business.
And it's also because Rich—who under his father's will is inheriting the remainder—shares his passion for it.
So much so, in fact, that he already has quit his job as an accounting manager for a printing company in Seattle to move to Story.
"We want to continue to invest and build a better business model," he said, one that further increases revenue from special events, such as weddings and corporate outings, and draws visitors year-round.
He also has an emotional connection to the town.
"It was a great place to grow up, and I would like to raise a family down there," said Rich, 29, whose LinkedIn page lists a stint as the Story Inn "improprietor" in 2008, when he was in his late teens.
Jacob Ebel, 35, said he thinks he and Kate, 31, and Rich are on the same page.
"Rich is our age," he said. "Rick was my father's age. Rich is ambitious, he has the energy and time, and his goals align with ours. He has expressed support to push the place forward."
Storied history
The town of Story, which dates to 1851, is nestled between Brown County State Park and the Hoosier National Forest. It spans 17.4 acres and includes a general store, an old grain mill, barns, rental cabins and outbuildings.
The property this March won inclusion as a historic district on the National Register of Historic Places. Fifteen buildings in the district are deemed to be contributing to that historic character, with the Wheeler-Hedrick General Store being most prominent. It was built in 1916 after fire destroyed its predecessor.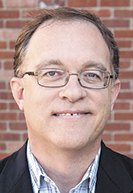 "It is not that the buildings are of some grandiose architectural style some wealthy individuals would have created," said Mark Dollase, Indiana Landmarks' vice president of preservation services. "What the National Register is recognizing is the late-19th century small-town environment that exists."
Story is a popular destination for weddings, though, with just 14 cabins or general-store rooms available for booking, it doesn't have the space to sleep full wedding parties.
A key attraction is the gourmet restaurant, with such entrees as Fischer Farms pork chops with pommes puree and herb salsa for $29 and blackened scallops with collard kimchi and cheddar grits for $34. Entrees come with vegetables from the Story garden.
The town began as a land grant by President Millard Fillmore to local physician George Story. It boasted a large settlement and two general stores from 1880 to 1929, when the onset of the Great Depression decimated the town.
Another setback occurred in 1960, when the U.S. Army Corps of Engineers flooded nearby land to create Lake Monroe, which cut off easy access to Bloomington.
Rick Hofstetter, who had a long history of pursuing historic preservation, bought the property at a sheriff's sale in 1998.
In an interview with IBJ in August, Hofstetter said prior owners had run a restaurant that was not well managed, and it brought the town down with it.
Though at the time Hofstetter said he planned to remain involved for at least three more years, he expressed the utmost confidence in the Ebels to carry on Story Inn far into the future.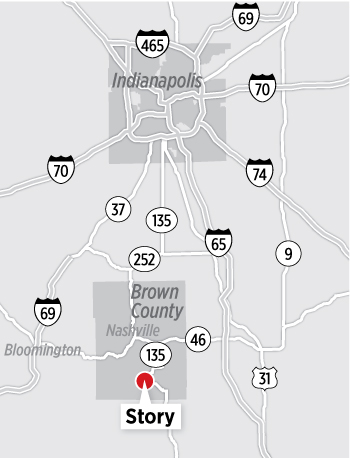 "I don't think there are two better-qualified human beings to run the Story Inn than Jacob and Kate Ebel," he said. "Both have culinary training and management experience. They love it, and they are totally committed."
Jacob is from Columbus and worked as a sous chef at the Story Inn as his first job after culinary school. He and Kate met while he was working at a resort in Alaska. They later decided to return to his home state.
Exit strategies
At the time of the interview, Hofstetter was working on a plan to exit the business.
He said he'd put his life savings into renovating and stabilizing Story and that the sale would pave the way for his retirement.
A key component was separating ownership of the real estate from the operation of Story Inn, which would rent its space.
Toward that end, Hofstetter in April put the town up for sale for $3.8 million—a move that garnered statewide headlines.
After that did not yield a deal, he explored an even more unique approach, selling the town to investors in an offering that would raise $2 million to $5 million.
He said a successful offering also would generate proceeds that could be used to build additional rental cabins that fit with the look of what's already there.
In August, Hofstetter filed proposed paperwork for the offering with the Indiana Securities Division of the Secretary of State's Office. But after a Securities Division staffer expressed concerns and raised questions, Hofstetter didn't pursue it.
The offering circular said each membership unit in the company that owned the real estate would cost $10,000, and each would come with a $500 annual "fun dividend" investors could apply to their meals or other expenses.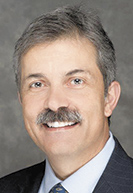 George Farra, a principal with Woodley Farra Manion Portfolio Management who reviewed the offering circular at IBJ's request, said he wasn't impressed.
"It just did not seem like something a sophisticated investor would want to undertake and put a significant amount of money in," he said. "I wouldn't have done it, and if a client had called me, I would have said, 'Don't do it.'"
Looming debt
Before buying Story, Hofstetter was part of the legal team that launched the initial public offering for insurer Conseco, now known as CNO Financial Group and headquartered in Carmel.
Hofstetter also is known in Indianapolis for being the first president of the Athenaeum Foundation, which saved the iconic Michigan Street building downtown from possible demolition in the early 1990s.
Under his leadership, the foundation also separated ownership of the building from the operation of its best-known occupant, The Rathskeller restaurant.
In his August interview, he said he had wanted to do the same thing with Story for a long time. After all, he noted, "Macy's doesn't own the mall."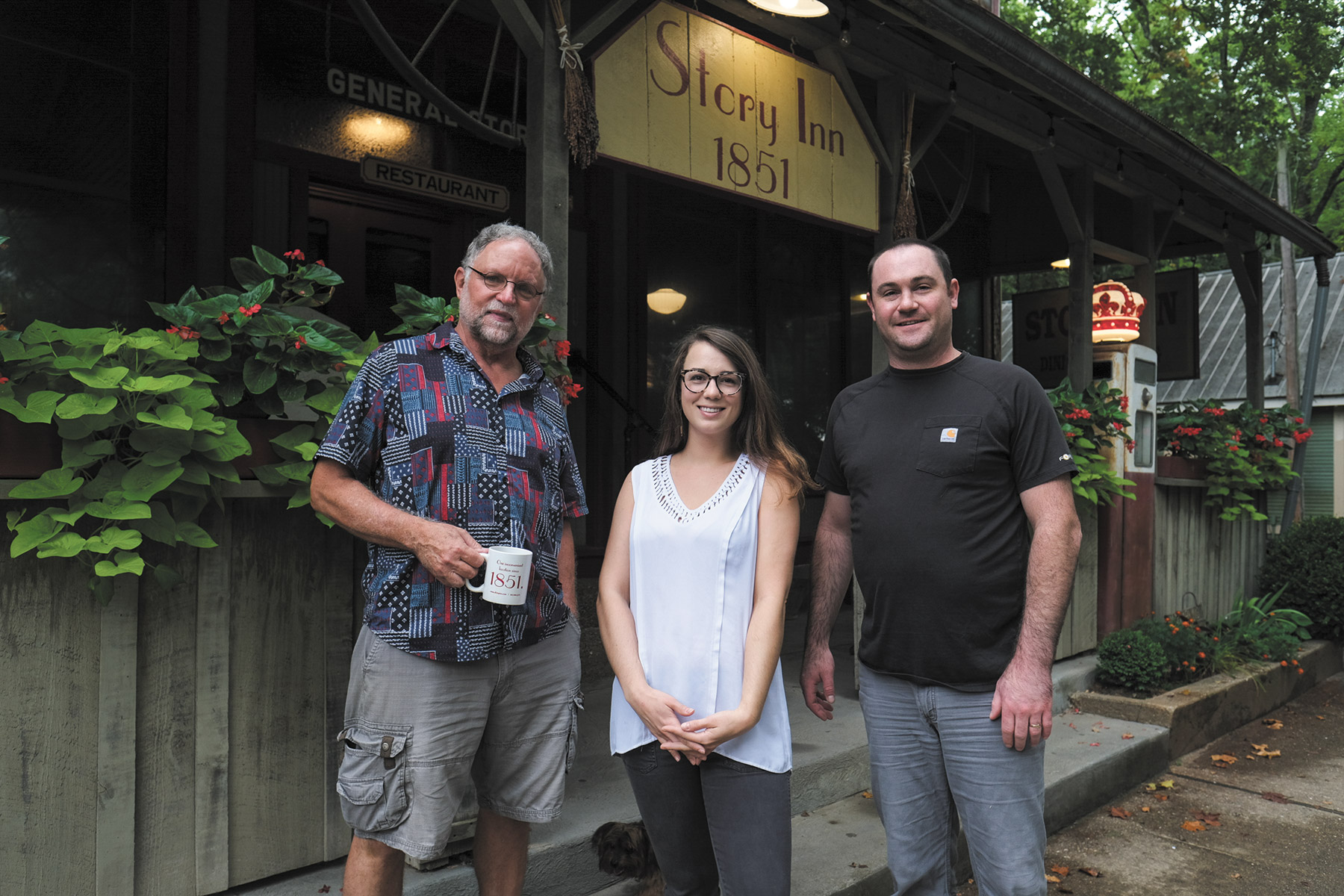 However, Jacob Ebel and Rich Hofstetter said their initial focus will be on nuts and bolts operations rather than moving forward with that separation or building additional cabins.
Rich—who has an MBA from William Howard Taft University and once wrote software applications for Microsoft—said one of his concerns is the business' nearly $1 million in debt.
He noted that would be chopped roughly in half if a life insurance policy his father purchased pays out. The policy earmarks $500,000 for the mortgage and additional money for the estate.
The Marion County Coroner's Office told IBJ it had not reached a final determination on Hofstetter's cause of death.
Rich said the policy doesn't have a clause canceling payment in case of suicide, but he doesn't know what the future holds.
"We are going to file a claim. It could take years" to get a payout, he said.
Regardless, he said, "It is an important issue to get the town to be debt-free. I want to keep better track of finances, the seasonality of the business, and where we are."
Ebel said he viewed the debt as manageable, noting that "the business sustains itself and has for a long time."
But he said he welcomes more meticulous planning. "It is good to have some clarity now. Rick was one to fly by the seat of his pants."
Even though Story's outlook is encouraging, the sudden turn of events is a lot for everyone—especially Rich—to absorb, said Jim Klimek, an Indianapolis attorney who did legal work for Rick Hofstetter.
"You are some sort of a tech guy in Seattle, and all of a sudden you own a town in Indiana," he said. "So he is a little hesitant about the whole thing. But who could blame him?"•
Please enable JavaScript to view this content.