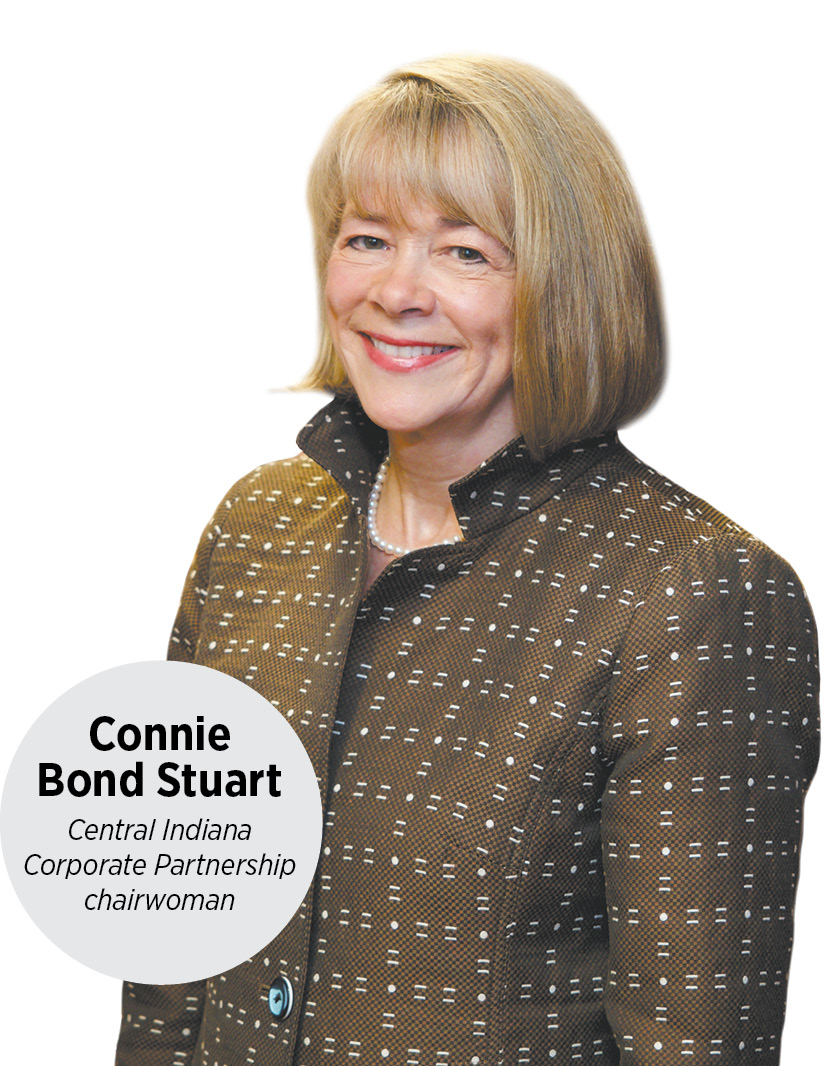 Connie Bond Stuart, PNC Bank's regional president of central and southern Indiana, was tapped in October to fulfill the remainder of Jack Phillips' term as chairman of the Central Indiana Corporate Partnership.
And this month, she was elected to continue in that role into 2020. A native Hoosier, she's been active on several boards in central Indiana and has served on the CICP's board since 2011.
Being chair of the CICP is not your full-time job. Tell us about your work.
I've been with PNC for 39 years. They recruited me out of IU, and I moved back to my home state in 2011.
This is my second role within PNC as a regional president. … I knew that my primary goals were to get familiar with our customers and employees and identify areas where I can be of help in the community. And it was great coming back here. We were starting to gear up our focus on early childhood education, which is a huge focus for PNC right now, but we also focus very much on economic development and making sure that we foster a healthy community. That's where the appeal of getting involved with CICP came into play.
You touched on this a little bit, but why did you first join CICP?
My PNC predecessor was involved in the very beginning of the CICP formation, and so when I moved back to Indiana as the regional president, it was natural for me then to step into position on the board as CICP representative for PNC. … I believe in being selective about the nonprofit organizations that I engage with and go deep with them rather than spread myself too thinly and not perhaps add as much value. For the past several years, I've served as treasurer for CICP, which gave me a great opportunity to get insight into each of the initiatives within CICP's organization and understand what their functions are.
For those unfamiliar with the CICP, can you explain what it does?
CICP is unlike any other organization in this country. It's not a business roundtable. It's much more than that. The board is made up of the heads of major companies, not only in central Indiana. For example, CenterPoint Energy in Evansville as well as Notre Dame … are also members. And so you have major universities, major hospitals, major corporations and major foundations behind this extraordinary organization which just celebrated its 20th anniversary this year. And it was really started with a group of people who are trying to identify ways to keep Indiana at the forefront of economic opportunity, not only in the U.S. but internationally.
CICP is conducting a multi-dimensional study of Indiana's economy. When will it be done and what can we expect of it?
Finding skilled labor right now is a challenge nationally and certainly within Indiana. And what we want to foster are skilled jobs that will provide people with living wages throughout the state. And so as part of that, one of the things that CICP is now undertaking is a study that's going to be done by both American Enterprise Institute and Brookings Institution. And between the two of them, they're going to look at all 92 counties, every region of the state, and identify opportunities based upon changing demographics and what is needed to take us to the next level in terms of being able to compete nationally and internationally. That study was just initiated this year … and will be released next year.•
Please enable JavaScript to view this content.