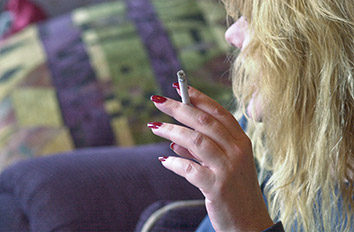 A new study commissioned by the Richard M. Fairbanks Foundation says employees who smoke cost Indiana employers an estimated $3.1 billion annually in lower productivity and higher health care costs.
The Indianapolis-based foundation said the study, announced Thursday, shows that if the state cigarette tax increased by $2 per pack, from the current 99 cents per pack, an estimated 45,000 Hoosier adults would stop smoking. Raising the tax would also provide the state with an additional $356 million in revenue, the study estimated.
The foundation said worker absenteeism due to smoking and unsanctioned smoking breaks serve as an additional "hidden tax" to businesses equaling 1.7% of total wages. Of the $3.1 billion estimated annual cost, Marion County businesses paid $609 million.
Smoking affects worker productivity, increases the number of days workers are absent and drives health care costs higher, the study said.
"We've long known that smoking severely impacts Indiana–both in lives lost and in higher health care expenses, but smoking's cost on businesses is lesser-known," said Claire Fiddian-Green, president and CEO of the Richard M. Fairbanks Foundation. "Today's report makes it clear: our state's high smoking rate also significantly impacts employers' bottom line."
Fiddian-Green said the state has made progress over the last decade to reduce tobacco consumption, but Indiana still has the eighth-highest smoking rate in the U.S. at 17.3%. The national average of 14.4%.
The annual costs for these impacts include:
$283 million for lost productivity, as Indiana smokers work between 1.9% and 4% less per year than non-smokers.
$272 million for absenteeism, as Indiana smokers are absent from work 2.5 more days than non-smokers each year.
$1.7 billion for smoking breaks that are separate from allocated break times.
$757 million that self-insured Indiana employers pay due to higher health care costs for smoking-related illnesses such as heart disease and cancer.
The foundation said the $3.1 billion annual cost to employers it likely a low estimate.
"Smoking-related costs undermine the success of employers and threaten to hinder Indiana's ability to attract and retain companies," Fiddian-Green said. "In short, high smoking rates are a drag on our state's economy.
The study was conducted by researchers at the University of Illinois at Chicago.
The report can be found on the foundation's website.
Please enable JavaScript to view this content.