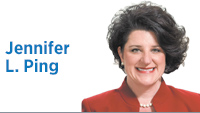 In many organizations—corporate, not-for-profit or volunteer—much of the "roll up the sleeves" kind of work is completed at the committee level. The same is true for our U.S. Congress. Media outlets tend to focus on sensational comments during press conferences outside of congressional session, but it is refreshing to know that real bipartisan work for the betterment of our country is happening in congressional committees.
Readers may understand work accomplished in the well-known House Appropriations, Transportation, or Foreign Affairs committees, but do not overlook the work of lesser known committees, such as the House Science, Space and Technology Committee and its Research and Technology Subcommittee.
Artificial intelligence is increasingly touching more aspects of our lives. The future of AI is exciting and a bit intimidating, but I am encouraged to know that our congressional committees are researching the impact on our nation's workforce.
U.S. Rep. Jim Baird of Indiana, ranking member of the Research and Technology Subcommittee, is working hard to gain greater understanding of the impact of AI., including on the current workforce and how the future workforce will need to be reskilled to thrive. In the hearing, Sue Ellspermann, president of Ivy Tech Community College, provided testimony and answered questions about training, courses and support the college provides to its current students and the curriculum for the future workforce.
Ellspermann shared that Ivy Tech is working with industry, government and academia to establish an ecosystem to address the changing demands for the skilled technical workforce by addressing the need in multiple ways. Ivy Tech has developed flexible degree outcomes, with an interdisciplinary model to address the cross-functional needs required for the industries of the future. Ivy Tech has partnered with the Smart Automation Certification Alliance, other community colleges and businesses across the country to develop certifications in these new industries.
Ellspermann outlined how Ivy Tech will fundamentally shift its approach to academics and student outcomes through its newly-created Office of Career Coaching and Employer Connections, which will prioritize a proactive approach, engaging students early and often, building sustainable, mutually beneficial partnerships with employers, and owning accountability for achieving measurable career and wage outcomes for students.
Students will utilize career exploration and clarity tools and labor market data to select a program aligned with their interests, skills and employment goals. As students make more informed choices, they will switch programs less frequently and be more likely to choose a higher wage, high-demand career path.
Students will have a Career Action Plan that will include resume development, interview preparation, regular engagement with employers, and employability-skill development. This will ensure students secure employment in an area related to their field of study, transfer status, or military enlistment by completion of their credential. Further, Ivy Tech's goal is for students to report earnings at or above Indiana's median wage by one year post-graduation.
Artificial intelligence is exciting for our technological future, but ensuring our current workforce is retrained and the future workforce has the career advice for high demand/high growth industries coupled with the right training will certainly help workers throughout the nation. We applaud the Ivy Tech and the Research and Technology Subcommittee on their work.•
__________
Ping is executive director of public affairs at Krieg DeVault and former chairwoman of the Marion County Republican Party. Send comments to [email protected]

Click here for more Forefront columns.
Please enable JavaScript to view this content.