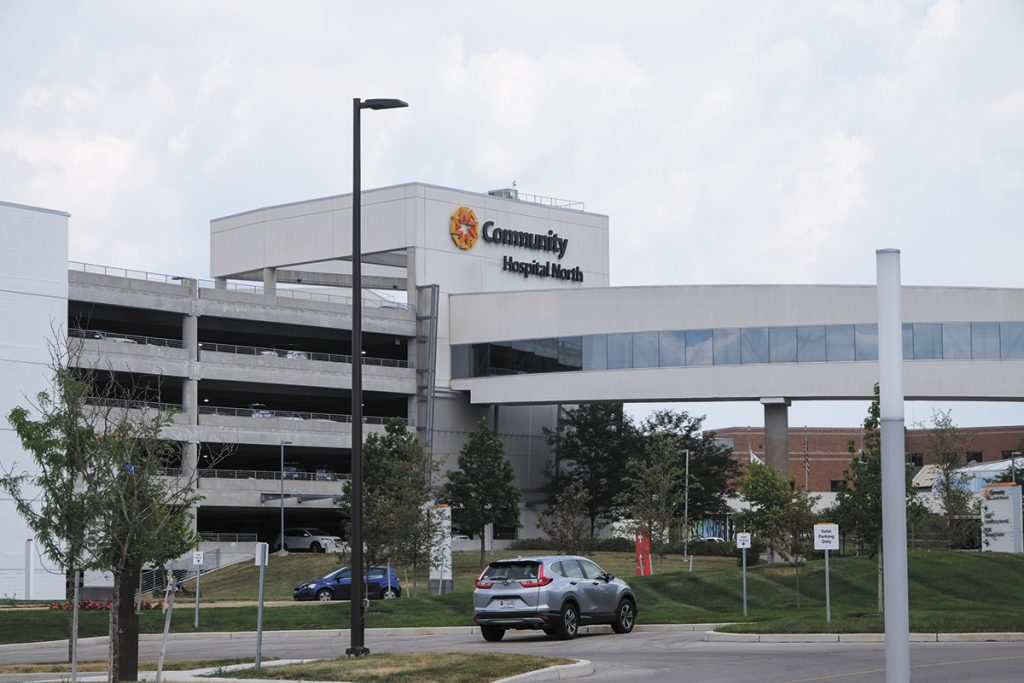 It is an unwritten law of American health care: Hospitals live and die by physician referrals. Every time a doctor orders a test or a medical procedure—from an ultrasound to a hip replacement—a health system rings up thousands of dollars in fees.
But a high-stakes lawsuit this month by the federal government against Community Health Network is putting a spotlight on the practice, raising questions about when referrals are proper and when they cross the line. At stake for Community and other health systems is billions of dollars a year in Medicare and Medicaid business.
For those found to have trampled the law, fines often amount to tens of millions of dollars and the threat of exclusion from those massive government health care programs.
"It is a big deal, because the potential liability is huge," said Robert Wade, a health care attorney for Indianapolis-based Barnes & Thornburg. "It can have a major impact on hospitals, laboratories and other health care entities."
The statute in question is the Stark Law—a three-decade-old law that prohibits doctor referrals of patients to hospitals and other facilities if the doctor might benefit financially, especially through the form of high salaries or bonuses. The Justice Department often uses the law, along with the False Claims Act and the Anti-Kickback Statute, to claw back government reimbursements and slap huge fines on top of them.
On Jan. 7, the federal government filed a False Claims Act lawsuit against Community Health, saying the Indianapolis-based system engaged in a fraudulent scheme for at least nine years to recruit dozens of physicians and pay them huge salaries and bonuses in return for referrals—in violation of the Stark Law—thus allowing the system to improperly receive money from Medicare.
The alleged scheme, the government said, was brought to light with the help of Thomas Fischer, who served as Community Health's chief financial officer from 2005 until his sudden exit in 2013.
Community Health officials denied the allegations, saying they have complied with all laws and regulations. It called the government's civil action "meritless" and promised to fight back.
They declined to make CEO Bryan Mills or other officials available for interviews. "As this matter is in litigation, we are unable to comment," spokeswoman Kris Kirschner said.
Avoiding trouble
Exactly how much hospitals are allowed to pay physicians under the Stark Law remains fairly ambiguous, some experts say. The law does not spell out a dollar amount nor provide a methodology for defining fair-market value.
"There is no bright-line test," said Wade of Barnes & Thornburg. "There's nothing that defines what is fair-market value."
In part because of that uncertainty, the Stark Law has become a huge concern for the health industry, causing officials to tread carefully and consider all the possible ramifications when they hire physicians.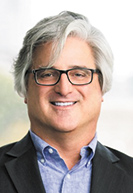 "It is enormous and has become something far larger than I think it was ever intended to be," said David Honig, a health care attorney for Indianapolis-based Hall Render Killian Heath & Lyman. "It has become an entity unto itself."
And that has come about in the midst of a huge transformation of how hospitals do business. Over the past decade, hospitals and health systems have been hiring physicians at a rapid clip to provide a steady stream of physician referrals and give them more heft in dealing with insurers and competitors. As of 2018, only 31% of the nation's physicians were independent, down from 49% in 2012, according to a survey by Merritt Hawkins, a physician recruiting firm based in Dallas.
Even as hospitals hire expensive doctors, they stand to make even more money in services and referrals. A cardiovascular surgeon with an average salary of $425,000 can generate nearly nine times that amount in annual revenue for a hospital, according to Merritt Hawkins. A family practice doctor with an average salary of $241,000 can generate nearly 10 times that much in annual revenue.
Some independent doctors say that trend is raising the cost of health care, because physicians employed by big health systems are pressured to refer the vast majority of their cases to other specialists and facilities within the network.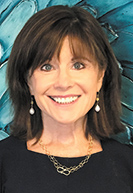 "They require doctors to do all their surgeries and order all their imaging tests inside the system, even if they know another site is less expensive or has better quality," said Marni Jameson Carey, executive director of the Orlando, Florida-based Association for Independent Doctors. If doctors refer patients outside of the system, they can get reprimanded and sometimes fired, she said.
The major health systems in central Indiana also have been on a physician hiring spree, trying to bring as many doctors in house as possible. Indiana University Health, for example, has built one of the largest physician networks in the nation, about 1,800 doctors, by acquiring one independent group after another.
IU Health officials declined to comment for this story. So did officials at Ascension St. Vincent and Franciscan Health.
Many of Indiana's health systems have faced lawsuits alleging they violated the False Claims Act, and they have paid millions of dollars to settle cases.
In 2017, IU Health agreed to pay $9 million to resolve allegations that it provided HealthNet Inc. an interest-free line of credit that exceeded $10 million to induce it to refer its OB/GYN patients to IU Health's Methodist Hospital. IU Health then billed Medicaid for patient hospital stays, tests and procedures. HealthNet also agreed to pay $9 million to resolve allegations. Neither side admitted wrongdoing.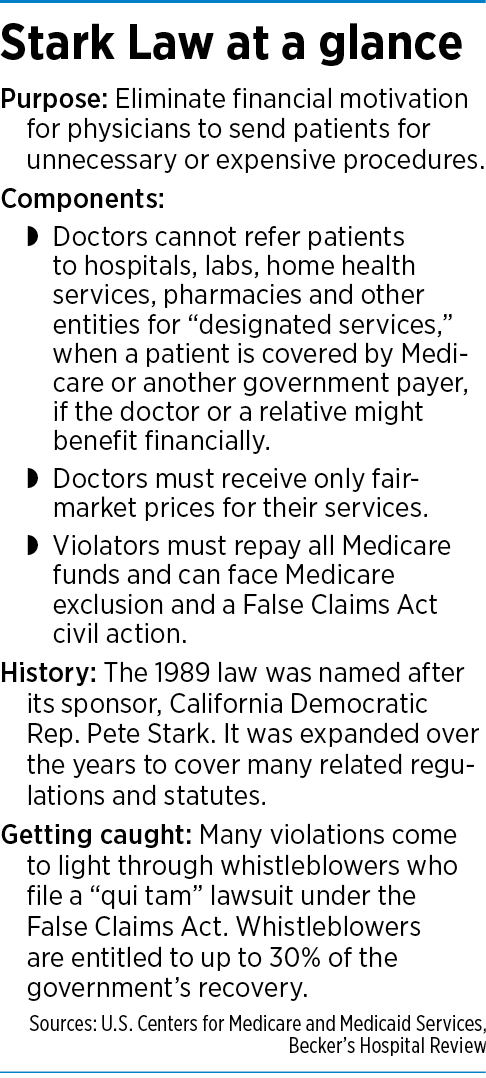 Referral litigation
Around the country, federal authorities have been filing a flurry of similar cases in recent years, from Michigan to Florida—often with the help of whistleblowers who say the hospitals improperly gave doctors compensation packages far above market rates, expecting referrals in returns. In the process, the feds have been winning hefty settlements.
Last August, William Beaumont Hospital near Detroit agreed to pay the government $84.5 million to settle allegations that it paid salaries substantially in excess of fair-market value and provided free or below-market value office space to secure doctors' patient referrals.
In September, Kalispell Regional Healthcare System of Montana agreed to pay $24 million to settle allegations it paid excessive compensation to more than 60 physician specialists, many of whom worked far less than full time.
Hospitals that fight allegations of Stark Law violations and go to trial can find themselves on the hook for judgments running into the hundreds of millions of dollars. A federal jury found in 2014 that Tuomey Healthcare System, a small, not-for-profit hospital in Sumter, South Carolina, violated the Stark Law and filed false claims, leading to a verdict in favor of the government and whistleblowers of $237 million. A federal appeals court later upheld the award.
"The penalties under the False Claims Act are so onerous that many cases get settled based upon risk, not upon guilt," Hall Render's Honig said.
And more cases keep being filed—sometimes by the government and sometimes by doctors. Just this month, an orthopedic surgeon filed a whistleblower suit against Orlando Health in Florida and three of its subsidiaries, claiming that his superiors required him to perform surgeries and make referrals within the network only, and fired him when he failed to comply.
The network declined to comment to the Orlando Sentinel, citing pending litigation. The government has declined to get involved in the case, as it does in the vast majority of whistleblower cases, leaving the surgeon to pursue the action on his own.
In the Community Health Network case, however, the government has jumped in as party in the lawsuit, raising the stakes.
The matter grew out of a whistleblower lawsuit filed under seal in 2014 by Fischer, who had worked at Community for eight years as chief financial officer. The case was unsealed this month when the government joined in with a False Claims Act lawsuit against Community.
In his lawsuit, Fischer said Community began a campaign around 2009, under Mills, to beef up the number of physicians employed by the network, to stay competitive with other health systems in the region.
Community was also concerned about defections within its own ranks, so it acted to "lock up" its referring physicians and physicians groups, and lure others, with employment and other contracts—routinely paying them "unreasonable, above-market-value rates to do so," Fischer stated in his suit.

From 2008 to 2013, Community Health nearly doubled the number of physicians it employed, from 191 to 360, the lawsuits stated, often paying them salaries that were significantly higher than what the physicians were receiving through their own private practices and "well above fair market value."
For example, the health system essentially doubled the salaries of all of its cardiovascular specialists. Community paid the doctors such high compensation packages that it lost $132 million in 2013 on its employed physicians, Fischer's complaint said.
Fischer said that he was fired in November 2013 in retaliation for asking questions about the high physician compensation. He is now living in Florida. His attorney, Kathleen DeLaney at the Indianapolis law firm DeLaney & DeLaney, declined to make Fischer available for an interview.
In a statement, Fischer said he was grateful to the Justice Department for investigating the issues he raised.
"At its core, the problems I reported are not about arcane financial dealings," Fischer's statement said. "They affect real lives of patients, hospital employees and the excessive cost of health care services in the Indianapolis marketplace."
The case against Community comes five years after it paid $20 million to settle another False Claims Act charge—this one for overbilling for outpatient surgeries. The government said that Community billed for surgeries performed at surgery centers not owned by Community as if they had been performed at its facilities.
Because the Medicare and Medicaid programs pay higher rates for procedures performed in hospital-owned facilities than in independent facilities, this practice brought extra money to Community and the owners of the surgery centers with which it had contracts.
Community officials had said that, during the time covered by the federal probe, they informed regulators how they were billing for outpatient surgeries and sought the regulators' guidance. The hospital system said it was always compliant with government rules with its billing practices.
Time for reforms?
With all the focus on the Stark Law, some hospitals and doctors and even the government are pushing to reform it. Last fall, the Centers for Medicare and Medicaid Services announced proposed changes to modernize and clarify the regulations to provide for greater certainty.
Currently, the law prohibits physicians from making a referral to an entity with which they have a financial relationship, with only a few exceptions. The new rules would provide additional exceptions for "value-based compensation arrangements" to allow for smoother transitions of patient care
The proposed changes "would, if finalized, address the longstanding concern these laws unnecessarily limit the ways in which healthcare providers can coordinate care for patients," according to the CMS announcement on Oct. 9.
The American Hospital Association sent a letter to CMS on Dec. 16, saying it was "pleased to see so many of the real-world issues and concerns" that hospitals experience addressed in the proposed rule.
"Overall, the proposed exceptions would provide latitude for hospitals and physicians," the association said, "to work together to deliver high-quality, cost-effective care with better outcomes."•
Please enable JavaScript to view this content.