Swish organizers are trying to bring back a sense of normalcy and financial security for local artists by guaranteeing they'll be paid for their involvement in the downtown festival—even if the weather thwarts their plans.
Swish, a three-week arts and culture festival running alongside the NCAA Men's Basketball Tournament in Indianapolis, canceled its outdoor performances Thursday due to the threat of thunderstorms and wind gusts nearing 60 miles per hour. Rather than let the interruption add more grief to a year of canceled gigs for most performers, Shannon Linker, vice president of artist services and engagement for the Arts Council of Indianapolis, said the council is making sure all artists are paid in full.
"It's about getting money in their pockets and keeping them going as a primary goal," Linker said. "That is our focus, because we are seeing this as a recovery effort for getting artists back on track and back out there, and getting the community used to making plans to see performances again."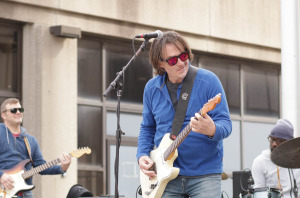 The $355,000 Swish festival was funded in part by a Lilly Endowment Inc. grant to Indiana Sports Corp. to not only show off local culture to tournament fans, but also to elevate artists who've suffered as a result of the pandemic-related restrictions placed on performance venues and galleries.
Linker said the amount more than 600 artists involved in Swish are being paid varies in accordance with their art.
The visual artists who supplied preexisting work for the vinyl installations on the windows of empty businesses throughout the downtown were paid a $250 licensing fee and a $250 participation fee, whereas artists who provided commissioned work were paid between $1,500 and $2,000 for their time and materials.
The artists behind the digital and hand-painted, interactive murals installed on Monument Circle, at Lugar Plaza, at 47 S. Pennsylvania St. and at 230 S. Pennsylvania St. were paid $6,000 for the design work and on-site and in-studio painting.
Linker gave a general estimate for the amount paid to spoken-word poets, musicians, vocalists, singer-songwriters, bands, dance troupes and other performers who have performed at the three main stage areas or one of the many pop-up sidewalk locations meant to create a more organic vibe. She said organizers have tried to make sure those performers are paid $150 per person for a baseline 45-minute set.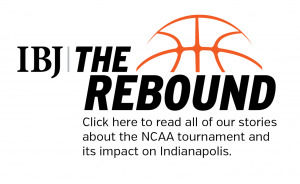 Marrialle Sellars made her Swish debut last week on the Georgia Street stage. The 2014 American Idol top-20 contestant—who compares her voice to those of Miley Cyrus, Pink or Tracy Chapman—said the experience was a light in the darkness.
Whether it was her regular gig singing every other Friday at Sullivan's Steakhouse or a group show with Jus'ta Band at Brick House Dueling Pianos in Broad Ripple, Sellars' primary source of income used to be entertaining.
Then, venues across the state limited occupancy and reduced operations to prevent the spread of COVID-19. She said she fell back on what used to be her supplementary daycare job. Her husband has continued working from home.
"It just kind of knocked me down a peg," Sellars said. "I was put in a really tough position to where I had to rely solely on one other person and I couldn't do anything about it."
At the height of those restrictions, Sellars, 25, said she dove into songwriting and diversifying her skills as she waited for gigs to come back. Though she's given virtual performances, including in the Arts Council's Art & Soul festival earlier this year, Sellars said she's had to put creature comforts on hold.
"We definitely had a very hard time going paycheck to paycheck. We weren't able to do a lot of the little extra stuff we'd been used to," she said.
Work is still spotty even though some venues are starting to open back up, so Sellars is looking forward to her next Swish performance at the Lugar Plaza stage on April 4, the penultimate day of the festival.
"Swish has definitely given me a light, an opportunity, a purpose again," she said. "With them being so generous and sensitive to how the pandemic has affected musicians, I'm just really thankful, almost speechless."
Linker said the festival's organizers are compiling attendance numbers and surveying artists to determine whether they saw additional sales, booked new gigs or saw other benefits from Swish and its association with the nationally recognized tournament.
"We, as the arts community, are going to want to open up in a big way, so we are trying to learn as much as we can," Linker said. "It's kind of a test run of what big things we can do."
Alan Bacon, co-founder of the startup cultural development firm GangGang, said his organization was tapped as the creative director of Swish's over 250 performances.
In a written statement, Bacon said the organizers have already seen a lasting need and desire for outdoor activities that will  create more paid opportunities for artists in the future.
"Swish gave a lot of amazing local artists the chance to perform again and remind the city of the incredible talent it has to show for, and as a result also gave some artists, and even organizations, the push they need to produce more showcases like this one," Bacon said.
Please enable JavaScript to view this content.