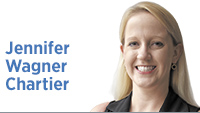 "Our history teacher told us to go home and ask if you remember where you were when the September 11 attacks happened."
Her question came out of nowhere on a recent Tuesday night, sandwiched between dinner and a conversation about roller coasters.
For a moment, we were stunned. It's not a typical tweenage topic of conversation, after all. Ultimately, I'm not sure we found the best explanation, but I do know this: I'm grateful that her teacher asked her to come home and talk with us about it.
I turned 21 the month before the attacks. I was working an extended internship at The Indianapolis Star, living at home with my parents because I wasn't sure I'd have a full-time job. I remember watching the first plane crash into the World Trade Center—the confusion, the panic, the realization that this was no accident.
Covering the news was my job, so I went to work. We put out a special edition of the paper that day; every reporter was involved. It wasn't until much later that I processed what had happened.
Or maybe I never did. Maybe I just moved from shock to the new reality of heightened security measures and monolithic federal agencies and a latent fear that we were no longer safe on our own soil.
How do you boil down something so horrific—something that so fundamentally changed our nation—for an 11-year-old who doesn't yet understand international political alliances or diplomatic differences?
She only knew the basics of what happened, and she wanted to know why thousands of innocent civilians were killed in a horrific way, but she has no reference point for something so evil. (Mass shootings in public places or schools were the closest comparison I could make, but those are still just headlines to her because they—mercifully—have not directly affected her life.)
Because her question came out of the blue, we were left to fumble around for an answer on the spot. We settled on explaining that most conflicts are settled among those who sign up or are drafted to protect their countries—often over the course of months or years. Terrorism is something different, something sudden. We've historically been good at defending our nation from such attacks, which is why 9/11 devastated all of us, not just those in New York City or Washington, D.C., on that day. It shook us to our core because we felt vulnerable.
That's why it's so important to make sure future generations understand the significance of what happened that morning.
A few years ago, I went to the 9/11 Memorial in New York City for the first time. It's a deeply moving experience to see where those towers once stood and read the victims' names, but it wasn't deeply moving for everyone there that day. I remember being irrationally angry at the teenagers who were taking selfies and cracking jokes around the edges of the reflecting pool.
It took me a minute to realize that anyone under the age of 20 had nothing but the history books to learn from. They knew what had happened, but they didn't feel what had happened.
We're almost two decades removed from the attacks, and we're still fighting the war on terror. As we mark this year's 9/11 anniversary, we should commit to talk with our children and future generations not just about the arc of history generally but about how a single act of evil can shape their everyday lives and the world we all live in.•
__________
Wagner is a lifelong Indianapolis resident and vice president of communications at EdChoice. Send comments to ibjedit@ibj.com.

Click here for more Forefront columns.
Please enable JavaScript to view this content.