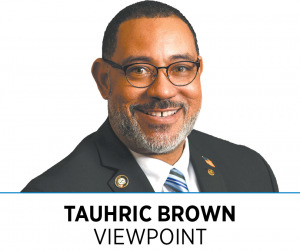 It's heartbreaking to hear stories about people like Becky Sinkovic, who was featured in the Dec. 30 edition of IBJ's Court & Commercial Record in a story written by Whitney Downard of the Indiana Capital Chronicle. Sinkovic, 33, is one of thousands of disabled Hoosiers who rely on home health aides to support their living independently at home.
States all across the country are experiencing a shortage of home-health workers. It's a problem that is not going away anytime soon. Thankfully, Indiana has been proactive in developing short-term, midterm and long-term plans to help ensure Hoosiers get the help they need, whether it's at home or in an institutional setting.
We see these challenges every day at CICOA Aging & In-Home Solutions. CICOA is the largest not-for-profit in Indiana focused on helping low-income seniors and people with disabilities live as independently as possible.
In 2018, Indiana had an estimated 43,460 home health and personal care aides, according to the Alzheimer's Association 2022 report. By 2028, Indiana will need 59,990 aides, a 37.5% increase.
We've seen the direct-care worker shortage coming, and thankfully, Indiana has been on the forefront of change. The Indiana Family and Social Services Administration knows it can't fix this problem alone and has reached out to stakeholders and partners like CICOA for input and feedback.
The American Rescue Fund Act has funneled federal money to Indiana to help address this critical issue. Here's what's happening now:
◗ Indiana made available $130 million for home- and community-based service providers to apply for funds to hire, train and retain home-health workers. We must increase salaries and/or benefits to retain and attract these essential workers who promote the health and well-being of our community. These funds are helping us do just that.
◗ An additional $176 million was invested last spring in 1,195 home- and community-based service providers (including CICOA), to hire and retain the home health workforce.
◗ An additional $511 million will be invested to create programs and mechanisms to make home- and community-based services more accessible for adults and children.
This demonstrates the commitment Indiana has in caring for our most vulnerable residents.
CICOA is using these funds to enhance our workforce, and we're also putting strategic partnerships in place to help prepare for a future in which we know there will be increased demand and greater needs to support those who want to age in place at home.
Too often, organizations look for a Band-Aid to stop the bleeding. That's not the case here. I'm proud that CICOA is working with our partners at the state to improve wages and benefits for home health workers so that older adults and people with disabilities can live their best lives at home.•
__________
Brown is president and CEO of CICOA Aging & In-Home Solutions in Indianapolis.
Please enable JavaScript to view this content.