The Indianapolis Neighborhood Housing Partnership has become one of the busiest developers of single-family houses in the city, using nearly $15 million in tax credits to build nearly 50 properties in central neighborhoods—with dozens more on the way.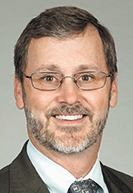 The effort began in 2017 as a way to help families looking for affordable housing that is easily accessible to downtown, where rising prices mean few ready-to-move-in houses listed below $200,000.
Joe Hanson, INHP's executive vice president of strategic initiatives, said the goal is to provide housing options for individuals and families making less than the area's median income—or about $59,000 for a family of three.
"We know that homeownership is desired by a lot of people that can't achieve it and is a great way to create wealth by building up equity and participating in the community," Hanson said.
The organization has for decades helped families secure mortgages and generally works with neighborhood development groups on a litany of development projects. It has been focused of late on transit-oriented multifamily developments near IndyGo's Red Line. But single-family units are a newer focus.
Each home INHP builds costs $150,000 to $225,000 to construct. But because the homes are each subsidized with about $75,000 in tax credits and other public funding sources, they are sold to low-income buyers at a corresponding discount, which is often less than the average sales price of $181,000 in Center Township.
Hanson said the program has so far resulted in 47 homes homes in the Crown Hill, Riverside and St. Clair Place neighborhoods, largely built with community development organizations. Another 23 houses are under construction, and even more are in early development, the organization said. It's utilizing development partnerships with groups that include Circle City Development and BWI LLC for some of those projects.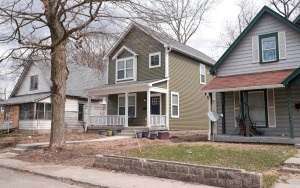 The effort, he added, is "entirely dependent" on federal New Markets Tax Credits, which the organization first received in 2017 for a $4.5 million project that resulted in 29 homes in those neighborhoods. It received another $9 million last year for 40 homes across seven neighborhoods, which are now under construction and expected to be completed by the end of the year.
The tax credits work by allowing investors (often financial institutions) to provide cash to an organization—in this case, INHP—in exchange for a tax benefit: a reduction in their federal income tax liability over seven years by an amount equal to 39% of their investment.
INHP can then use the money for its projects.
Forty-five of the 47 houses built by INHP and its partners have sold. Another 23 houses are under construction.
Pooling resources
INHP has worked closely with neighborhood groups, including the Near North Development Corp. and Southeast Neighborhood Development, to find lots and carry out the projects.
Michael Osborne, Near North's president, said his organization has taken on the role of planning and overseeing the physical development of INHP's projects there, while the housing partnership plays the role of financer.
That's how it works in other neighborhoods as well, with neighborhood groups also providing their own federal money, received through the city, to further underwrite the work.
Osborne said the goal is to create a stronger housing market overall by bringing more houses at lower price points into the fray.
"It's important to understand that, as good as the market is," he said, "we still face the same challenge, and that's that there are neighborhoods where the housing market isn't strong enough to drive revitalization on their own."
Osborne said his organization, which has built about 130 homes over the past several years, benefits from working with INHP because it creates opportunities for new approaches to addressing housing problems.
"It's been really critical to have a partnership approach, as opposed to Near North doing projects and INHP doing projects. We've come together," he said. "We can pool resources, but it's pooling expertise, too."
That's also where programs like the city's Lift Indy grant—which in December awarded $3.5 million to the Near North Corridor for housing, infrastructure and other services—come into play. For the past three years, that program has supported the construction of dozens of houses in various near-downtown neighborhoods, through more than $10 million in federal housing and community-development funds. Lift Indy funds are not dependent on new market tax credits, like INHP's projects.
Renew Indianapolis is also working with the city and various neighborhoods to remove blight and build houses throughout the areas surrounding the central business district.
INHP's Hanson said the organization hopes its houses will help narrow the equity divide and address larger racial disparities. He said the partnership "disproportionally" serves Black and other non-white households.
"That's who we expect will benefit the most from our production of new single-family homes," he said.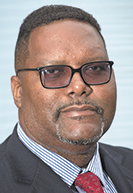 Generally, INHP sells houses to those making 120% of the area median income or lower. For a family of three, the median income is about $59,000. In some cases, such as the Lift Indy partnership in the Old Southside neighborhood, all of the homes must be sold at 80% or less of the area median income.
Typically, not-for-profits like Near North and INHP also have recapture agreements in place that prevent sellers from making an "exorbitant amount" from a resale, Osborne said.
Gary Hobbs, president of BWI, said the success so far with INHP's housing program is important for developers that do want to pursue projects that could cater to the affordable single-family market—making the most of development credits in the process.
"INHP plays a very critical role in our community—one that's really vital to [supporting] underrepresented communities," he said. "They're on the cutting edge of creative financing, like what they're doing right now to leverage New Market Tax Credits."
Other affordable projects
Hobbs said his company is pursuing multiple affordable single-family developments, including a 37-unit shipping-container project along Clifton Street, between Roache and West 29th streets. That project is backed in part by funding awarded last year by the Indiana Housing and Community Development Authority.
The houses, which would be three or four bedrooms, would largely be rent-to-own; about 80% are preleased ahead of their scheduled completion later this year.
Projects like those pursued by the partnership and by BWI are intended to minimize the impact of gentrification, which drives up prices in what were previously low-income neighborhoods, Hobbs said. That's because the use of tax credits lowers the tax assessment for each home that is awarded the incentive.
"The tactic allows for the homes to be assessed on net operating income, as opposed to kind of true sales value or construction-cost value," he said.
That keeps them more affordable for those who buy them.
It's not clear how INHP's efforts, in particular, will affect the central city's overall housing market, said Natalie Clayton, a co-founder and broker with Indianapolis-based Maywright Property Co.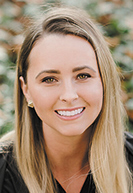 "Is it going to put a dent in the market? Maybe, but it's hard to say," because the market has been so strong of late, she said.
Clayton said that, since the start of the year, 451 houses have sold within a three-mile radius of downtown. The median sale price has been about $280,000, compared to $263,000 last year and $259,000 in 2019.
"There's still tons of places in Indianapolis that are affordable, so I think if people flex on their location, then they're going to find affordability outside of downtown," she said. "But in that two- to three-mile range, it's just getting harder and harder."
And it's unlikely a swell of affordable single-family housing will come into the core downtown market.
"In the commercial world, the area has a lot of developers who get incentivized to build affordable apartments by using tax credits or incentives," she said. "But in terms of homes for sale, it's just really hard to make that work. That's why groups like INHP and local development not-for-profits step in."•
Please enable JavaScript to view this content.