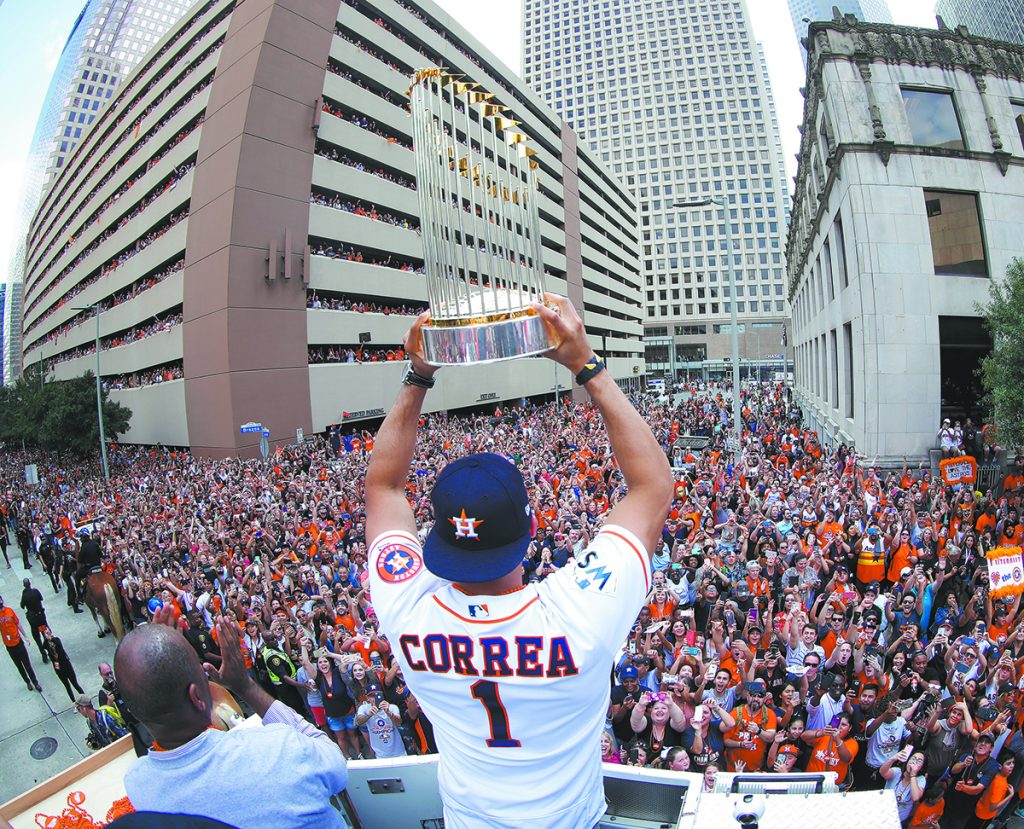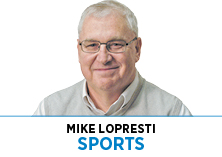 Clearly, baseball has wandered into an alternate universe.
Think about it. The formerly sad-sack Houston Astros—who lost 324 games in three seasons early last decade when they were the Lastros, offending nobody but their own customers—are now the reviled villains with this sign-stealing scandal. There's word the Boston Red Sox might be involved, too, with skullduggery in their hallowed little Fenway Park. That would push them into the hall of infamy, Green Monster and all.
And who should be among the poor victims of this morality play? The New York Yankees and Los Angeles Dodgers, haughty big-market bluebloods known for trying to buy championships. But now they're the good guys in this mess.
If there is a Twilight Zone, the major leagues are in it.
Yes, this has reached the red zone on the weird-o-meter. An ill-gotten Astros championship, swiped to the sounds of someone banging on a trash can to alert batters about what pitch is coming? And maybe clandestine buzzers hidden on the body, too? You couldn't make that up. The 2017 Astros' methods are suddenly of interest to many organizations—MLB, CNN, MSNBC, CIA, FBI. Meanwhile, the backwash from this tsunami cost three managers in three cities their jobs in 72 hours. Even the NHL doesn't get rid of head coaches that quickly.
But how to sort it all out? Since it's baseball, we'll go with nine items—one for each inning in which the Astros were apparently cheating, during home games at Minute Maid Park.
◗ First inning
Every scandal needs a proper name. Bang-gate? Malfeasance at Minute Maid? The Houston Asterisks? Houston, You Have a Problem? It'll have to be something. Think of the naughtiness of the New England Patriots, and what comes to mind first? Of course. Deflategate.
◗ Second inning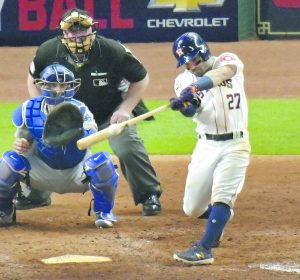 Some have called for the Astros to be officially stripped of the 2017 title. Seems impractical and ineffective. What are you going to do, demand they all return their rings and pay for the champagne they poured on one another's heads?
Besides, a championship brings two priceless intangibles—deep elation when it is won, and the powerful and lasting glow of memory and legacy. The Astros had their joy two years ago. That can't be erased. But their legacy and memories are forever tainted, and that requires no official sanction. It just is. They have to live with the fact that their glorious moment will never, ever be mentioned in any tone but one of ridicule. That's worse punishment than any commissioner could inflict.
◗ Third inning
Punish the players, too? Good luck on that one. It would require an investigation that could drag on so long, the Pirates might make it back to the World Series before it's finished and officials decide who did what. It would also put the players association into an awkward position: support the members who are being investigated, as it usually does, or support the members who got cheated?
◗ Fourth inning
This is what comes from being wed to the relentless march of technology. Video rooms and replay equipment have become an indispensable part of the clubhouse landscape. Players use them for real-time studies of their at-bats during games. Team officials use them to decide whether to ask for review of an umpire's call. Having all that electronics handy was like giving the keys to a sports car to a teenager—can't be surprised if someone clocks him one day going 80. Baseball isn't all that great at being ahead of the curve in regulating itself.
◗ Fifth inning
The Yankees lost the 2017 American League Championship Series to the Astros in seven games, with all four losses in Houston. The Dodgers lost the World Series in seven games. They certainly both look like aggrieved parties, and it didn't take long for voices from each to start sounding like victims of a Ponzi scheme.
But wait. Know how many total runs the Yankees scored in those four games in Houston? Three. Three. They were beaten by Astros pitching, not banging trash cans. Know where Game 7 of the World Series was played? Dodger Stadium. Los Angeles had home-field, trash-can-free advantage, and still went 1-for-13 with runners in scoring position. Can't blame that on stolen signs.
The truer victims, as several players have mentioned, were the pitchers trying to hold on to major league jobs, their ERAs blown up by facing Houston batters who knew what pitch was coming.
◗ Sixth inning
One of the more unfathomable chapters of this tale is A.J. Hinch saying he was not happy about this scheme, and even occasionally disabled the monitor the Astros were using to steal signs. But he couldn't stop it. Did we mention he was the manager? Who exactly was running the show, the outfielders?
◗ Seventh inning
Yeah, stealing signs and other nefarious deeds have gone on in baseball for eons. Mastery of illegal spitballs got pitchers into the Hall of Fame. But here's part of the deal: Cheat away, but if you get caught, you get whacked. No whining or self-pity allowed.
By the way, the Astros were suspected of some chicanery on the national postseason stage more than three decades ago. In the 1986 National League Championship Series, after Mike Scott threw two complete game victories and allowed eight hits and one run in 18 innings, the New York Mets accused him of doctoring the baseball. During a rain delay, with several media members in his office, Mets Manager Davey Johnson opened a desk drawer and pulled out several baseballs Scott had used, showing alleged scuff marks. Exhibits A, B, C and D. In truth, the Mets were terrified of facing Scott in Game 7. Turned out to be a moot point. They finished off the Astros in six.
◗ Eighth inning
Some of the best entertainment in the coming season will be fans' reactions when the Astros are on the road. Imagine what the Houston players will hear from the outfield seats at Yankee Stadium. Or when Astros batters go to the plate, thousands of fans pulling out miniature trash cans and banging away. Doubtful the Houston players will enjoy the line of questioning they hear from the media in spring training, either.
◗ Ninth inning
Baseball has a knack for infamous scandals. The Black Sox. The steroid era. Now this. But the guess is, this will not cost the sport TV ratings or attendance, nor Houston its trophy. People will not turn away from the game of baseball. Victory Field will still be a charming and popular place. Just like many from the steroid saga—Barry Bonds, Roger Clemens, et al.—will still end up in the Hall of Fame one day. Time heals a lot in baseball.
Unless you're Pete Rose.•
__________
Lopresti is a lifelong resident of Richmond and a graduate of Ball State University. He was a columnist for USA Today and Gannett newspapers for 31 years; he covered 34 Final Fours, 30 Super Bowls, 32 World Series and 16 Olympics. His column appears weekly. He can be reached at mjl5853@aol.com.
Please enable JavaScript to view this content.