Sharon Barner has spent a lifetime doing things that people told her she couldn't, starting with a high school guidance counselor who told her that she wouldn't succeed at a predominantly white college.
But not only did Barner graduate from Syracuse University, where she earned a bachelor's degree in psychology, she went on to earn a law degree from the University of Michigan. Throughout her career, Barner has specialized in the complex area of intellectual property law, eventually landing at Cummins Inc., where she is vice president and chief administrative officer, responsible for communications, government relations, ethics and compliance, legal and several other areas.
Barner talked with host Angela B. Freeman about the challenges she faced building her career, how she has helped others overcome similar barriers and what companies and law firms can do to increase diversity.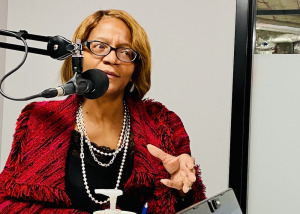 You can subscribe to The Freedom Forum with Angela B. Freeman on Apple Podcasts, Spotify, Podbean or wherever you find podcasts.
Check out these recent episodes:
The Freedom Forum: Angel Henry, author of 'Dents in the Ceiling'
The Freedom Forum: Lamont Hatcher, founder of tech firm AIS
The Freedom Forum: Attorney, author and speaker Dawn Rosemond
Please enable JavaScript to view this content.