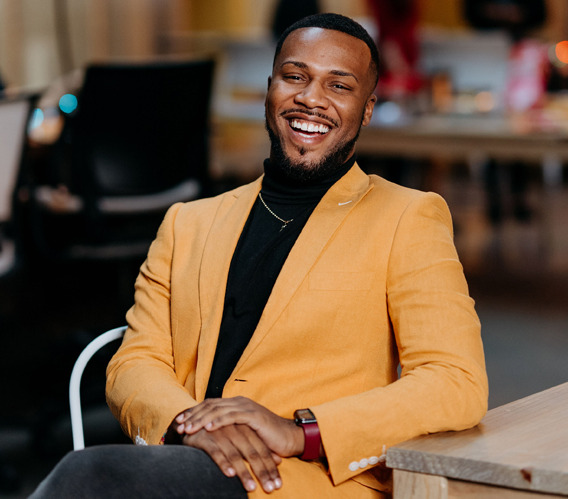 Indianapolis-based coworking space The Speak Easy has hired TJ Wright as executive director. Wright previously worked in the education sector for more than a decade, serving at the K-12 and collegiate levels.
As the organization's first Black and openly LGBTQ+ leader, Wright and his years of ecosystem-building experience are expected to help in his efforts to eliminate barriers for new entrepreneurs, The Speak Easy said.
"Under my leadership, you can expect The Speak Easy to continue to be thought leaders in our entrepreneurial ecosystem for building equitable and diverse businesses that have the support and collaboration needed to reach their full potential—especially those who've traditionally been systematically marginalized," said Wright.
Wright's background includes service on not-for-profit boards, the formation of two businesses, as well as activism for BIPOC & LGBTQ+ communities.
Most recently, Wright founded Whelhaus Co., a benefits company that helps firms build healthy workplaces through bespoke consulting in diversity, equity, inclusion, and belonging, people operations, talent optimization, and social impact and responsibility.
Kris Casey, board chair of The Speak Easy, said Wright will work with members, as well as the entire Indianapolis community, to promote entrepreneurs and remote workers.
"TJ's ability to connect with people, identify strengths, and make people feel welcome will be a significant benefit for our community," said Casey. "Lowering the barrier to entry into the entrepreneurial ecosystem, particularly for historically underrepresented communities, is a critical piece of the puzzle for The Speak Easy, and TJ's dedication to and work on diversity, equity, and inclusion initiatives will be a key component to helping The Speak Easy live up to our mission and to create a supportive environment that allows the entrepreneurs of today and tomorrow to execute their own visions."
Wright said a "community first, co-working second" ethos will drive The Speak Easy's barrier-breaking efforts and enhance the networking opportunities it propagates.
Please enable JavaScript to view this content.