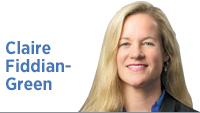 I recently visited George and Veronica Phalen Leadership Academy, a K-7 public charter school that is part of a network of four A-rated schools all located in Indianapolis. The strong academic performance of the network—where the majority of students qualify for free or reduced-price meals—is a testament to a strategic focus by the school's leadership on a rigorous approach to learning and evaluation and on maintaining a positive school culture.
But I was shocked when Earl Martin Phalen, the network's founder and CEO, told me that, since 2018, at least 20 students within the network's east-side schools have had a gun pointed at them.
One student was shot in the leg with an AR-15 assault rifle. Another was shot four times and is still in critical condition. Two weeks ago, eight students walking home from school were fired upon by other teens. "It's as if our children are living in a different world than other Indianapolis students," Phalen said. "Why isn't our community doing more to keep them safe?"
As a parent, I can't imagine the anxiety these students and their families face every day. What if these were your children? And don't we have an obligation to care for all young people in our community, even if they aren't our own?
Tragically, the Phalen network's gun violence statistics paint an accurate picture of what's happening in some Indianapolis neighborhoods. Despite improvement in Marion County's violent crime rate over the past few years, the county still has a higher violent crime rate per 100,000 people than the rest of Indiana and the U.S. In addition, firearm mortalities are more prevalent in Marion County than in the U.S.—at 23 per 100,000 people in Marion County versus 12 per 100,000 nationally.
Indianapolis' violent crimes are heavily concentrated in high-poverty neighborhoods and disproportionately affect black Hoosiers. In fact, 75% of homicide victims in Marion County are black and 15% are white. Compare that with demographic data for Marion County overall: 29% of people in the county are black and 64% are white.
These troubling facts about our city can feel overwhelming, especially when there are no clear solutions. But we can't ignore what is happening to our fellow Hoosiers. We must come together as a community and have an open dialogue about gun violence, however uncomfortable this might make us.
We must also identifyevidence-based policies proven to reduce violent crime and firearm mortalities. For example, a 2018 Rand Corp. study found that "child-access prevention laws reduce self-inflicted fatal or nonfatal firearm injuries among youth." However, the study also notes the dearth of evidence when it comes to effective approaches to gun safety. This limited evidence base is due in part to restrictions on federal funding for gun violence research.
In addition to effective gun safety policies, we should identify proven programs that involve a wide array of community stakeholders—from the police, to employers, to schools and to faith-based institutions.
While we are looking for proven solutions, let's make time to listen to the people living in the Indianapolis neighborhoods most impacted by gun violence. What are their ideas about actions we should take?
Indianapolis needs a comprehensive, cross-sector solution to address the gun violence that impacts some of our children, like the students who attend the Phalen network's east-side schools. As we bid goodbye to 2019 and enter the new year, what are we going to do to keep our children safe?•
__________
Fiddian-Green is president and CEO of the Richard M. Fairbanks Foundation and a former adviser to then-Gov. Mike Pence on education issues. Send comments to [email protected]
Please enable JavaScript to view this content.