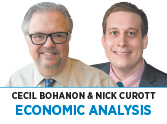 Could President Trump's decision to unilaterally escalate trade tensions with China cost him re-election? If history is any guide, it probably will.
Research shows that voters are sensitive to economic conditions. So sensitive, in fact, that one can predict the outcome of a presidential election with surprising accuracy by looking at only three variables: the disposable income of American households, the inflation rate, and the number of terms the incumbent political party has held the presidency. Data going back to 1948 shows the incumbent wins when disposable income is growing, inflation is low, and the incumbent party has not been in power for too many terms.
Politicians know this and often cut taxes and increase welfare benefits in the year before an election to increase households' disposable income and boost their own chances at re-election. The timing matters, too. Research shows voters are rather shortsighted in their economic concerns. Instead of looking at economic conditions over a president's entire term, voters focus on what's happening in the year of an election. That's why Trump's failure to come to terms on trade negotiations with China is so startling.
Tariffs are taxes paid by American consumers of Chinese goods. And just like any other tax on Americans, tariffs raise the price of U.S. goods and lower the income of U.S. households. As things stand, tariff rates are set to rise 5 percentage points this fall on $550 billion worth of Chinese goods. The additional tariffs, combined with those already in place, will noticeably increase inflation and decrease Americans' disposable income next year—right before the election. This is the perfect recipe for political suicide.
If Trump wants to maximize his prospects for re-election, he needs to ditch his penchant for using tariffs as a bargaining chip in our disputes with China. His advisers should tell him to embrace free trade and do so quickly, as the U.S. economy is showing signs of weakness.
A recent survey by the National Association of Business Economists found 38% of economists surveyed are so concerned with the president's trade policies that they are predicting a recession in 2020, and an additional 34% are predicting a recession in 2021.
In this case, the president's self-interest and the best interest of Americans are aligned. Putting an end to these trade war shenanigans is the best hope for keeping the U.S. economic expansion going.•
__________
Bohanon and Curott are professors of economics at Ball State University. Send comments to ibjedit@ibj.com.
Please enable JavaScript to view this content.