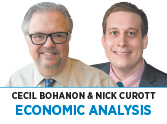 Does the current COVID-19 pandemic herald an end to globalization? We have no doubts there will be some drift in that direction. The volume of international trade will decline. Some American firms will find it in their interests to re-source some of their operations domestically. As in the 9/11 crisis two decades ago, the prospect of recurring pandemics is like recurring terrorist attacks. It makes distant operations riskier.
However, we suspect international trade will continue to be robust. Why? Because what we call globalization is nothing new. Long-distance trade is as old as humankind. Lapis Lazuli, prized deep-blue rocks from remote mines in Afghanistan, have been found in the tombs of Egyptian pharaohs.
In Adam Smith's time, transnational trade was carried by wind-powered ships. In his description of production of the common woolen coat, Smith specifically notes: "How much commerce and navigation in particular, how many ship-builders, sailors, sail-makers, rope-makers, must have been employed in order to bring together the different drugs made use of by the dyer, which often come from the remotest corners of the world." So, why were the foreign drugs (chemicals) used in the dyes? Despite "coming from the remotest parts of the world," they were superior to local alternatives.
Most of the goods we take for granted result from literally thousands of processes that are spread over the entire globe. The modern cellphone has hundreds of components that are sourced from all over the world. That all these components could be made from scratch behind the borders of one country in a way that is cost-efficient is ludicrous. The resources, technology and knowledge necessary to make the items we routinely use are trans-national, and they will continue to be after the virus has subsided.
A major impediment to long-distance trade has been transportation costs. These costs have declined over time. Modern containerized cargo ships are an order of magnitude more efficient than the old Cutty Sark. We will not go back to sailing ships because of the coronavirus.
However, what could gum up the works is government policy. Look for cries for more protection from "unreliable" foreigners. Look for arguments that industry X is in the "vital national interests" and especially look for claims that domestic production is necessary to "protect public health." Of course, surely the world should examine how to prevent and better manage pandemic outbreaks. But don't let it usher in a new era of protectionism.•
__________
Bohanon and Curott are professors of economics at Ball State University. Send comments to ibjedit@ibj.com.
Please enable JavaScript to view this content.