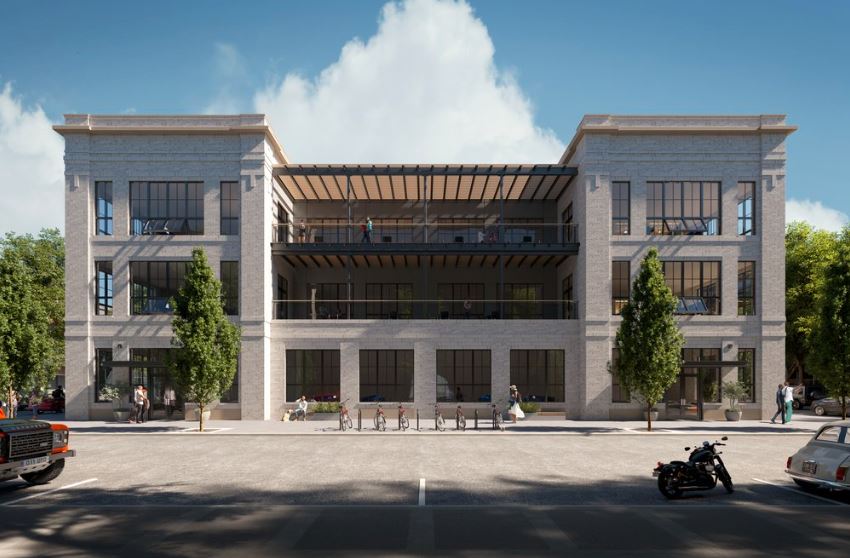 Two Carmel-based design businesses have announced plans to move into a three-story, $9 million building that will be constructed in the city's Arts and Design District.
Studio M Architecture & Planning and engineering firm KBSO Consulting LLC will co-own the 30,000-square-foot building called The Collective at Midtown at the northeast corner of Veterans Way and 3rd Street Southwest.
Indianapolis-based Wilhelm Construction will begin work on the building, which was designed by Studio M, this month. It is expected to open in the first quarter of 2023.
Studio M will occupy the second floor, while KBSO Consulting's offices will be on the third floor. The first floor will include a lobby and 8,145 square feet of retail or office space available for lease.
Founding Principal Dan Moriarty, who started Studio M in 2013 after 27 years of leadership at Indianapolis-based CSO Architects, said both his company and KBSO Consulting had expiring leases and decided in October 2021 to construct their own building.
Studio M has grown from eight employees to around 40 in the nine years since his firm moved into its current building on West Main Street in Carmel. Studio M has a second office on Westfield Boulevard in Broad Ripple.
"We love the building. We've just outgrown it," Moriarty said about the company's current Carmel facility. "[The Collective at Midtown] will allow us to consolidate everyone back into one location and with room to grow and work."
KBSO Consulting, founded by mechanical engineers Kelley Bieghler and Seun Odukomaiya in 2015, is currently based in an office suite at 1344 S. Rangeline Road. The firm has about 25 employees.
Please enable JavaScript to view this content.