What does the nation need to do to curb gun violence?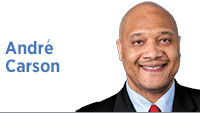 America's epidemic of gun violence is out of control. Our nation is reeling from a string of tragedies that include mass shootings at Robb Elementary School in Uvalde, Texas, a supermarket on the East Side of Buffalo, New York, and a medical building in Tulsa, Oklahoma. I am devastated by the loss of those killed—as well as every victim of gun violence—and continue to pray for their loved ones experiencing unimaginable grief and trauma.
We know that thoughts and prayers aren't enough, and faith without action is meaningless. We desperately need to enact common sense gun reform. Policies that strengthen background checks and limit the purchase of assault rifles are just a few of the reforms that can help save lives now. These changes are supported by the majority of Americans, and they are just common sense. The House of Representatives has passed bills that achieve this—twice in the last three years—and will continue to do so until our Senate colleagues vote to put this meaningful legislation on the president's desk to sign into law.
However, the vast majority of Republican senators continue to block passage of these bills. Their obstruction is unacceptable. There have already been more than 230 mass shootings in our country this year, more than the number of calendar days to date in 2022. More children have been killed by gun violence in the last two decades than on-duty police officers and active-duty military combined. I must be frank: These shootings are a direct result of Republican policies that help dangerous, angry and unstable individuals buy or own guns, as well as their party's unwavering loyalty to the gun lobby that finances their campaigns.
Of course, even one person lost to gun violence is too many. But sadly, our country has become numb to the headlines—58 in Las Vegas, 49 at Pulse Nightclub, 27 at Sandy Hook—and even our own community is not immune to this epidemic. We have experienced it here most recently at a FedEx facility and in our neighborhoods on a regular basis. The time for change is now.
This is an effort in which everyone has a vital role to play. Many times in the past, corporate America has used its influence to advocate for the greater good—that includes voting rights in Georgia, same-sex marriage in Indiana, and the ongoing fight against climate change around the world. In our state, advocates and corporations came together to form Freedom Indiana to oppose the constitutional ban on same-sex marriage. We must once again come together for change, this time for gun reform.
As our local business community continues to use its voice for change, I will keep doing everything I can to pass meaningful gun safety reforms in Washington. I want to remind my Republican colleagues that the right to bear arms is NOT more important than the right to safety and security for all. America cannot remain the land of the free when we are trapped by the fear of gun violence everywhere we go.
We can get guns out of the hands of dangerous individuals and protect the rights of responsible gun owners. We just need the political will to make it happen. Though this change should have happened long ago, it's never too late to do the right thing.•
__________
Carson, a Democrat, represents Indiana's 7th Congressional District in the U.S. House.
Send comments to ibjedit@ibj.com.

Click here for more Forefront columns.
Please enable JavaScript to view this content.