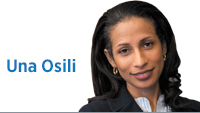 As we head into what might be called the "giving season," complex factors are at play—an uncertain economy, turbulent midterm elections and lingering COVID-19 concerns.
Many observers have asked whether a recession will occur in the months ahead.
Whether a downturn indeed lies before us and, if so, its precise implications for not-for-profits are still unclear.
The truth is, the charitable outlook for the remainder of 2022 and beyond will largely depend on the performance of economic and financial markets and whether the strength of the overall economy continues.
The good news thus far is that charitable giving has remained robust, and donors continue to be committed to the causes that matter to them. According to the latest Giving USA report, U.S. charitable giving reached a new high of $484.9 billion in 2021. A strong economy, along with record GDP growth, helped make that milestone possible. Financial markets also showed strength, with double-digit growth of the S&P 500, which strongly correlates to charitable giving.
Although charitable giving grew in nominal terms, it failed to keep pace with inflation. When adjusted for inflation, growth in donations remained flat.
The picture for the remainder of 2022 will be shaped by three key issues:
First, economic uncertainty will require not-for-profits to be prepared to adjust quickly to a fast-changing economic landscape. Several financial and economic factors will continue to shape demand for services, as well as fundraising events and end-of-year appeals for not-for-profits in Indiana and across the nation.
Overall, the U.S. economy and stock market faced significant challenges in the first half of 2022. Their performance in the first nine months has been influenced by high inflation rates, volatile financial markets, monetary policy tightening by the Federal Reserve and the ongoing effects of the Russia/Ukraine war.
Second, it is clear that not-for-profits will need new approaches to connect with diverse donors at all income levels and backgrounds.
Nearly 70% of all giving comes from individuals. The past year saw many substantial gifts from individuals. One noteworthy statistic about individual giving last year is that mega-gifts totaled $15 billion and represented about 5% of all giving by individuals.
While these mega-gifts have made a great impact, a vital task ahead is to engage everyday donors as well.
It has been encouraging to see renewed interest in community-based not-for-profits working on social change. Many grassroots organizations have seen a surge in both monetary and time donations.
Finally, corporate giving has also seen transformation during the pandemic. Overall, corporate giving has grown along with rising pretax profits, which induced an expansion in philanthropic resources.
An outstanding example of this increased creativity in corporate-giving approaches is Whirlpool Corp.'s "Feel Good Fridges" program. Whirlpool has committed to a partnership with Feeding America and local community organizations to install refurbished community fridges in historically underserved neighborhoods. It is a win-win, both for those being served and for Whirlpool and its employees.
Especially in the past two years, not-for-profits have faced challenges and navigated unprecedented economic forces. Whether or not a recession lies ahead, giving by individuals and companies has a pivotal role in ensuring that not-for-profits can both continue to meet essential needs and innovate their philanthropic approach.
In so doing, not-for-profits also have a unique opportunity to enrich their fundraising approaches with new talent and leadership and to employ strategies that engage diverse donors.•
__________
Osili is professor of economics and associate dean for research and international programs at Indiana University Lilly Family School of Philanthropy. Send comments to ibjedit@ibj.com.

Click here for more Forefront columns.
Please enable JavaScript to view this content.