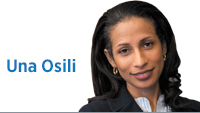 Although not as well-known in the history books, Black entrepreneurship has a vibrant and promising history.
Mirroring the national trends, Indianapolis, in the first quarter of the 20th century, witnessed the development of Black-owned enterprises and progress for Black entrepreneurs. For example, Madam C.J. Walker moved her hair and cosmetics company to Indianapolis in 1910 during an era termed the "Golden Age of Black Business."
We appear to be witnessing early signs of a New Golden Age of Black Business. Given the sizable disparity in the ways African Americans were affected in the early months of the pandemic, the surge in Black entrepreneurship is promising.
A study by the Kauffman Foundation shows that, since 2020, more new Black-owned businesses proportionate to the total population have been started than at any time in the previous quarter-century.
Black-owned businesses have also seen record growth in Indiana and the nation in the past year. Here in central Indiana, the Indy Black Chamber of Commerce has witnessed a 40% increase in new members in 2021.
Multiple factors can explain the surge in Black-owned businesses. New initiatives that encourage the awareness of Black-owned companies have grown out of the racial-justice movement in the wake of George Floyd's death. Several corporations and funders have pledged resources to support Black-owned and other minority-owned businesses. For example, Cummins has partnered with LISC Indianapolis and the Indy Black Chamber of Commerce to provide grants to Black-owned businesses in Indianapolis.
Still, key questions are unanswered. First, revenue data is not yet readily available, and it is unclear how to assess revenue prospects for these newly formed Black-owned businesses.
Second, at least in the past, Black-owned businesses have tended to have higher failure rates due to lack of access to capital, among other factors.
A closer look indicates that many Black-owned businesses formed since 2020 are often described as "necessity" startups. People started their businesses to respond to unfavorable labor-market conditions such as layoffs and unemployment.
In general, necessity startups tend to have higher failure rates than "opportunity" startups, which are more common under favorable economic conditions.
Third, technology is vital to the growth prospects of many new businesses. The pandemic has moved transactions online. Like other startups, new Black enterprises will need to innovate to meet the rising demand for online goods and services. Social media and new technology platforms will be essential to grow brands and customers.
Still, while the failure rate for Black-owned startups has been high in the past, Black-owned businesses have seen a more favorable climate. In Indiana, several efforts are underway to support Black-owned companies, including improving access to capital for current and prospective business owners and providing information and resources.
We need to bolster support for entrepreneurship in diverse communities as a bold strategy to address long-standing disparities in wealth. Ultimately, we will need to support new Black-owned startups to ensure that these businesses survive, grow and contribute to job- and wealth-creation as well as community well-being.
Supporting Black-owned businesses should be seen as a part of ensuring that Hoosier families and communities achieve economic and financial success over time. It is, quite simply, a matter of economic vitality and opportunity.•
__________
Osili is professor of economics and associate dean for research and international programs at Indiana University Lilly Family School of Philanthropy. Send comments to ibjedit@ibj.com.

Click here for more Forefront columns.
Please enable JavaScript to view this content.