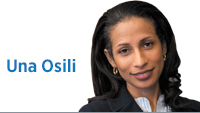 It has been more than a year since COVID-19 ushered in a vast expansion in remote work for millions of employed Americans.
As the U.S. economy navigates the shocks of the global pandemic, how we work has shifted dramatically. Before the pandemic, only 15% of workers said they worked from home all or most of the time.
Nicholas Bloom, a Stanford University professor who studies remote work, notes, "We've accelerated 25 years of a drift toward working from home in one year."
One area that has not been discussed widely is the impact on workplace campaigns.
Workplace giving campaigns generated more than $5 billion, or 25% of all corporate philanthropy, according to Giving USA 2019. Along the way, federations of charities, such as the United Way, emerged to pool donations and disburse dollars to community organizations or causes.
Many companies have adopted virtual workplace campaigns, virtual volunteering options, creative hybrid events, or small-group outdoor experiences.
However, companies also need to track the effectiveness of virtual approaches to workplace giving and identify barriers to their success.
Although technology has made it easier for companies of all sizes to give to local and global causes, it can also lower employees' engagement and ability to build trust in the not-for-profits they may support. In my research on workplace giving, I have found that employees participate and give more when they have confidence in the not-for-profit sector. This will mean more philanthropic opportunities for employees beyond monetary donations, such as employer-led service days and partnerships with not-for-profits for which employees can volunteer.
Two crucial questions face workplace campaigns in this shifting landscape. First, how can technology platforms be designed for the growing ranks of remote workers of various ages, incomes and skill levels? Companies of all sizes have the opportunity to reimagine workplace campaigns. However, they will need to build trust and confidence in not-for-profits and expand their outreach to a younger and more diverse set of workers. Second, how do we address the issue of engagement with the rise of remote work?
Economists have raised broad concerns about the impact of remote work on social cohesion, collaboration, the generation of new ideas, and implications for inequality.
Remote work arrangements appear most beneficial for older, highly educated workers, who have established networks as well as the means to develop their skills and advance their careers.
However, as workplace campaigns continue to evolve, employees have emphasized that they value opportunities to contribute and invest in their communities through their time or monetary donations. We must reimagine workplace giving in light of demographic shifts, calls for racial justice, and COVID-19 health and economic concerns.
The pandemic has offered companies and employees a new opportunity to refocus.
As we plan for the future, let's remember that our task ahead includes rebuilding community and inspiring the next generation of leaders.•
__________
Osili is professor of economics and associate dean for research and international programs at Indiana University Lilly Family School of Philanthropy. Send comments to ibjedit@ibj.com.

Click here for more Forefront columns.
Please enable JavaScript to view this content.