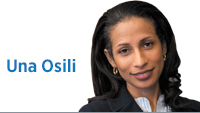 More than a year after global protests sparked by the tragic deaths of George Floyd, Ahmaud Arbery and Breonna Taylor, new racial-equity efforts have been launched in many American cities.
While there is much work ahead, it is encouraging to see some progress across Indiana and the nation.
The past year has seen the outpouring of large-scale donations from individuals, corporations and foundations, accompanied by advocacy for racial and social justice. From well-known names such as Rihanna, MacKenzie Scott and Michael Jordan to George Soros and Rodney McMullen, CEO of Kroger, many large foundations and corporations have set up multimillion-dollar funds.
President Biden's Build Back Better legislation is another vital, long-overdue step. It is historic because it concretely moves forward to close opportunity gaps only widened by the pandemic. The bill includes funding to make child care and pre-K more affordable and accessible. Although I am optimistic about this landmark legislation, Americans of all backgrounds will also need to continue to work together to prioritize and tackle deep-rooted racial and social inequities.
This is a timely question because many communities are still wrestling with the pandemic, its economic aftermath and an increased awareness of racial injustice. As I follow the giving patterns of Americans, I am also tracking how racial equity is reflected in their donation choices.
At the national level, we have witnessed a surge in giving to historically Black colleges and universities, civil rights groups, arts and cultural institutions, and criminal-justice-reform organizations.
While there has been some attention on how corporations and foundations are changing their practices, much less is known about individual giving to racial equity.
There are also encouraging signs ahead in the recent data. The 2021 Study of Giving by Affluent Americans shows that nearly a quarter of wealthy Americans gave to organizations supporting social justice and racial justice causes in 2020. And the data also shows that racial equity is a growing area of interest since 19%—nearly one in five households—said they want to learn more about supporting racial equity or social justice through charitable giving.
Among everyday donors, we have also seen that giving to social- and racial-justice causes has grown from 12.6% in 2019 to 15.7% in 2020. However, communities of color, including Asian Americans, African Americans and Hispanic Americans, are at the forefront of giving to racial-justice trends compared with their white counterparts.
Looking ahead, we need to ensure that this influx of funding to support racial equity reaches grassroots organizations. Many grassroots leaders and organizations have a long-standing commitment to social and racial justice. Funders who aim to drive change and tackle inequities can support grassroots movements and leaders within communities of color.
The past year has been filled with public commitments to racial justice and goals for inclusion equity. But pledges and statements aren't enough: Funders of all types need to track and share their progress.
More transparency and accountability will ensure that organizations can measure and share their equity and inclusion goals and how they are driving change. By tracking and sharing their objectives, leaders and organizations can hold themselves accountable for progress.•
__________
Osili is professor of economics and associate dean for research and international programs at Indiana University Lilly Family School of Philanthropy. Send comments to ibjedit@ibj.com.

Click here for more Forefront columns.
Please enable JavaScript to view this content.