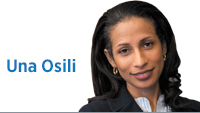 Even before the pandemic hit, the Opportunity Atlas, led by Harvard economist Raj Chetty and his colleagues, highlighted that, in comparison to the largest U.S. cities, Indianapolis ranked among the lowest in terms of economic mobility.
Three years later, during these uncertain times, it is too easy to focus only on the turbulent economy. I believe, however, that the challenges the pandemic brought have ushered in a wave of experimentation and a willingness to tackle our urgent challenges. We have seen bold experiments that emphasize economic recovery and reduce disparities. While the challenges are complex, the philanthropic sector has stepped forward with new funding models that focus on equity.
I am concerned that these gains will be forgotten with mounting recession concerns.
Here are some places to keep this positive momentum going. First, I suggest asking who is receiving funding and—equally significant—who is not being funded. Businesses, donors and funders can support the momentum toward equity by re-prioritizing the funding and decision-making processes. This might mean shifting who is making decisions about financing and the allocation of funds and involving communities of color and grassroots organizations with a track record of social change.
Here is a noteworthy example in central Indiana: In June 2020, several donors and funders joined forces to launch the Central Indiana Racial Equity Fund, committing $2.2 million to advance innovative solutions to racial inequities. Last year, the fund granted over $519,000 to 11 organizations focused on addressing disparities within the criminal justice system, unemployment, education and food insecurity. The selection process involved engagement with grassroots leaders to establish priorities. Grantees were drawn from diverse, neighborhood-based organizations, and the fund supported capacity-building for Black-led organizations.
A second critical question is: How can funders understand what levers, mechanisms and tools are required to drive change? Again, right here in central Indiana is another excellent response to this critical question. On East 38th Street, Cook Medical is building a medical-device manufacturing facility and advancing a unique funding model. The Cook Medical plan has evolved to include the construction of a $2.5 million, full-service grocery store in a food desert in northeast Indianapolis.
By working closely with community partners—including Goodwill of Central and Southern Indiana, the Indianapolis Foundation, and the United Northeast Community Development Corp.—Cook Medical will meet its workforce needs while addressing community priorities in education, health and food insecurity. This type of intentional effort has the potential to accelerate economic development in historically under-resourced neighborhoods.
A final question to consider is: How can we build trust? A sense of mutual trust is vital to strong and effective partnerships needed to tackle local and global challenges. Again, we witnessed the expansion of unrestricted and flexible funding models during the pandemic.
One such initiative was the Hispanics in Philanthropy launch of the PowerUp Fund to assist Latino entrepreneurs. The urgent needs following the pandemic led PowerUp to flexible cash grants along with technical assistance to support Latino businesses.
The past few years have offered insights into how donors and funders can deepen their commitments.
Yes, the challenges for improving Indianapolis' record on economic mobility are significant. But, as we turn the page to a new calendar year, we can build on our successes and the lessons we have learned.•
__________
Osili is professor of economics and associate dean for research and international programs at Indiana University Lilly Family School of Philanthropy. Send comments to ibjedit@ibj.com.

Click here for more Forefront columns.
Please enable JavaScript to view this content.