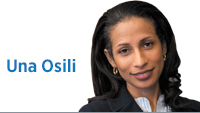 Kobe Bryant's untimely and tragic death last month—along with that of his 13-year-old daughter, Gianna, and seven other precious lives—has led to a global outpouring of grief and heartbreak. Unexpected, cataclysmic loss shakes our core beliefs and reminds us all that our days on Earth are fleeting.
Bryant was a visionary and talented superstar, an influencer, devoted father and coach, and a mentor to countless young athletes around the world. But he also shattered barriers off the court as a successful investor and entrepreneur. He was a co-founder of Bryant Stibel, a venture capital firm. Here, too, Bryant broke new ground: The venture sector is 87% white—and only 4% African American and Latino.
As the United States becomes a more racially diverse nation, Bryant's example in entrepreneurship and venture capital commands our attention.
Although startups are broadly on the rise, entrepreneurs and investors of color remain underrepresented, and there are measurable differences in outcomes for companies with founders of color.
Studies show that businesses owned by blacks and Latinos produce employment spillovers because they tend to create jobs for residents in these same communities at higher rates than non-minority companies do. Also, entrepreneurs can serve as positive role models that connect youth to business ownership.
The data show some businesses founded by people of color have vastly different paths from white-owned companies. Researchers have shed light on explanations for these disparities and emphasize industry differences. Scholars such as Rob Fairlie at the University of California Santa Cruz have also shown that black-owned businesses tend to lack access to startup capital and networks compared to their white counterparts.
Here in Indiana, we can do more to boost entrepreneurship and investments in companies with founders of color. Expanding support and commitment from the private and public sectors to address disparities in entrepreneurial opportunities should be a priority. Because initial wealth and access to credit are critical factors in entrepreneurial success, policy options to expand wealth accumulation matter. Tax credits to promote venture capital investments in businesses founded by people of color and tax credits for low-income entrepreneurs can help reduce wealth gaps.
We can also expand internships and mentoring opportunities to enable young people of color to learn more about entrepreneurship.
Programs like Junior Achievement expose high school students to startups and successful businesses run by people of color. Public schools can expand opportunities for supporting and nurturing entrepreneurship. They can expose students to opportunities within the broad range of entrepreneurial industries in today's economy.
Finally, we can look for inspiration in the legacy of Kobe Bryant. His commitment to excellence and success paved the way for people of color in the business world. Bryant often repeated that he would prefer to be remembered for his ability to support and grow businesses, rather than solely his triumphs on the basketball court.
While boosting entrepreneurship and investment opportunities in communities of color is not the remedy for all social ills, the root causes of wealth inequality have received far too little attention. If unaddressed, racial gaps in entrepreneurship will exacerbate inequality and slow economic growth.
Let us look deeply and seek to understand the specific barriers that entrepreneurs of color face.•
__________
Osili is professor of economics and associate dean for research and international programs at Indiana University Lilly Family School of Philanthropy. Send comments to ibjedit@ibj.com.

Click here for more Forefront columns.
Please enable JavaScript to view this content.