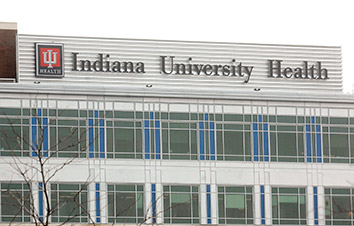 Indiana University Health, the state's largest hospital system, said Friday morning that it plans to invest $1 billion in community health initiatives to help offset the cost of health care.
The Indianapolis-based system, which has been under fire for its high prices and profits, said the investments would "complement a renewed commitment to price affordability for its patients."
IU Health made the announcement as it disclosed that operating income fell 75% last year, to $161 million, as expenses during the pandemic rose faster than revenue. Total earnings, including investment gains from financial markets, fell to $861.5 million, down from $1.11 billion a year earlier.
The health system said the funding plan, recently approved by its board, "will innovate operations and care models at IU Health and support community health initiatives and education and workforce development programs statewide, including neighborhoods around its downtown Indianapolis campus."
The $1 billion commitment will come in the form of three initiatives:
$500 million for health-related community development in the neighborhoods surrounding the downtown Indianapolis campus;
$400 million to support unspecified innovation "advancing the strategic health care priorities of IU Health and its key partners;"
$100 million for the system's Community Impact Investment Fund. IU Health said the funds will be invested "over multiple years" and it is in the early stages of partnering with outside groups to allocate the funds "in the most impactful way."
IU Health said the funding commitments are aimed at reversing Indiana's low health indicators, such as obesity, smoking and diabetes, that rank it one of the nation's least healthy states.
"The ongoing pandemic and the toll it's taken on Indiana have made IU Health's mission all the more urgent," J. Scott Davison, board chair of IU Health and CEO of insurance and financial services firm OneAmerica, said in written comments. "The funding plan will support IU Health as it responds to the critical health needs of Indiana, working closely with partners in government, education and local communities."
Dennis Murphy, CEO of IU Health, said the funding commitment will help needy Hoosiers  as they look for health care in a difficult environment, exacerbated by the pandemic.
"The new initiatives will not only reduce costs for patients, payers and taxpayers through our pricing affordability plan, but improve our communities through significant investments in public health aimed at keeping people healthier and out of the hospital," Murphy said in written comments.
He added: "…It will take working together, with our many partners, to meaningfully change the trajectory of Indiana's poor public health statistics. We will also need to focus on the other drivers of health care costs–such as low public health funding and cigarette tax rates, utilization rates of health care services, insurance costs — if we are serious about controlling healthcare costs in Indiana."
It's the latest move by IU Health to address criticisms that its prices, profit margins and cash reserves are too high, causing financial hardship for patients and employers.
The system, which charges the highest hospital fees in the Indianapolis area, said in December it would freeze prices to help get in line with national average prices for commercial insurance by the end of 2025.
It said it began the price freeze at the beginning of 2021, although it didn't announce it until a community meeting at the end of the year.
"We have completed the first year of our multi-year price affordability plan and, in spite of inflationary pressures, we remain committed to being at national average prices by the end of 2025," Jenni Alvey, senior vice president and chief financial officer, said in written comments Friday.
A study by the RAND Corp. in 2020 found that Indiana ranks sixth in the nation for hospital price disparities—ahead of New York, California, Massachusetts and other larger states with higher costs of living—when it comes to what privately insured people pay for care compared to what Medicare would have paid for the same service.
According to the study, IU Health is the most expensive hospital system in central Indiana, charging private health plans 333% compared to what it charged Medicare. Statewide, it was the second-most expensive, behind only Parkview Health System in Fort Wayne, which charged 388% compared to Medicare.
In its announcement Friday, IU Health said its new funding commitments come after a year that stretched the organization and its workforce as never before.
It said its hospitals were filled to capacity with record numbers of COVID-19 and other critically ill patients. To cope with surges in COVID-19, IU Health expanded bed and emergency room capacity. It also rolled out COVID-19 testing labs, mass vaccine clinics, masking campaigns and educational messaging.
"Against the headwinds of the pandemic, IU Health achieved first-year goals under its price affordability plan to relieve the impact of rising health care costs on consumers," it said.
IU Health said it made "significant investments" in its workforce, recruiting nurses and other workers, and offered premium pay and bonuses for critical positions, while minimum base pay was raised to $16 an hour.
IU Health said it provides more community benefit than any other health system in Indiana. In 2020, total community investment amounted to $903 million, including $81 million in charitable financial assistance, as well as education for health professionals, clinical research and outreach initiatives.
The organization set up a community impact investment fund established in 2018 with $100 million that will receive an additional $100 million recently approved by the IU Health board.
Annual grants from the fund in 2021 totaled $4.3 million in support of early learning programs, workforce training and emergency housing for at-need children and adults across the state.
IU Health said it has funded other community programs, including $8.75 million to Ivy Tech Community College to help expand its nursing program and a fellowship program with Indianapolis Public Schools to support health sciences education at Crispus Attucks High School.
IU Health rolled out its community investment plans as it disclosed that operating revenue across its 16 hospitals and dozens of clinics grew 11%, to $7.87 billion, last year. Operating expenses rose 19.6%, to $7.71 billion, driven largely by labor costs.
Please enable JavaScript to view this content.