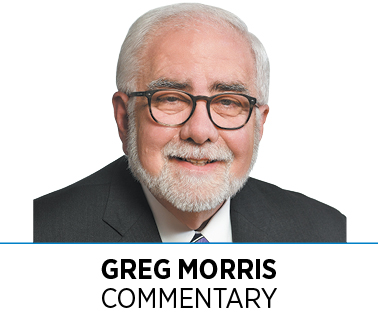 On Sept 29, 2018, in Port Canaveral, Florida, the U.S. Navy commissioned its newest, most modern and sophisticated attack submarine in the world—the USS Indiana (SSN 789).
Now, just a little more than a year later, on Oct. 26 on the shores of Lake Michigan, in Burns Harbor, a Hoosier state namesake was again realized when the Navy commissioned its ninth Freedom-class Littoral (near shore) Combat Ship–the USS Indianapolis (LCS 17). This new "Legacy of War" ship was built with many Indiana-provided materials, including about 99% of the steel.
I was honored and incredibly proud to witness this awe-inspiring event firsthand. Several thousand people attended on a very chilly and wet day, but the weather could not dampen the enthusiasm of all of us there. It was a special treat, indeed.
The ceremony in Burns Harbor was the first Navy commissioning to be hosted by the Hoosier state. And that's saying a lot considering the first U.S. Navy commissioning was held in December 1775 and every new Navy ship since then has entered active service through this ceremony.
Every ship has a sponsor. And this ship's sponsor is longtime Indiana resident Jill Donnelly, wife of former U.S. Sen. Joe Donnelly. Jill did a wonderful job performing her official duties before and during the commissioning ceremony. In fact, the first order was given when she issued the command to "man our ship and bring her to life!"
Fast, agile and mission-focused are the qualities most frequently used to describe USS Indianapolis (LCS 17). It is the fourth Navy ship to bear the Indianapolis name. The new Indianapolis could not be more distinct from its predecessors, but those that came before her served our country well.
USS Indianapolis (3865), an armed cargo ship, was commissioned in December 1918 and was decommissioned just seven months later; USS Indianapolis (CA 35), a Portland-class heavy cruiser, was commissioned in November 1932 and served until July 1945; and USS Indianapolis (SSN 697), a Los Angeles-class attack submarine, was in service from 1980 to 1998.
The USS Indianapolis (CA 35), which was used by President Franklin Roosevelt as his ship of state during peacetime, earned 10 battle stars in World War II. On July 26, 1945, she delivered the components of the atomic bomb to Tinian, an important base for Allied operations in the Pacific campaign.
Then, in the early morning hours of July 30, USS Indianapolis was attacked by a Japanese submarine and sank in 15 minutes. Of almost 1,200 sailors onboard, about 900 survived the sinking but only 316 survived several days adrift in shark-infested waters.
At last weekend's commissioning ceremony of the newest USS Indianapolis and at a reception the night before, four survivors of that 1945 tragedy were in attendance and recognized for their meritorious service. It was a tearful and extended standing ovation at both events from appreciative patriots thanking these brave souls who have lived so long to tell their stories.
Congratulations to Ray Shearer, chairman of the commissioning committee, and to all the committee members. Great job (again)! My best to Cmdr. Colin Kane and the entire crew of USS Indianapolis (LCS 17). I'll quote Gov. Eric Holcomb's address at the commissioning by "wishing fair winds and following seas" to the entire crew.
As we did with the commissioning of the USS Indiana last year, please look for the IBJ Custom Publishing commemorative USS Indianapolis Commissioning book early in 2020.•
__________
Morris is publisher of IBJ. His column appears every other week. To comment on this column, send email to gmorris@ibj.com.
Please enable JavaScript to view this content.