One of the great things about living in a city hosting a massive sports event like a Super Bowl or Final Four is the fan experience—the concerts, parties, kids' activities, the overall street fair atmosphere that envelops the area around a stadium and draws thousands downtown.
But the pandemic that landed all of March Madness in Indianapolis is also the complication that will take away some of the ambience that makes the men's basketball tournament special, even for those who don't attend a single game.
Long before the city was chosen last month as the site for the entire tournament, plans for the already-scheduled Final Four had been curtailed. Parties that typically occur along Georgia Street were canceled. The Final Four Fan Fest—traditionally packed with music, autograph booths and kids' activities—was scrapped in favor of  a statewide traveling show. And the jury is still out on whether the concert typically hosted by CBS Sports and Turner Broadcasting in Final Four host cities will come off. If it does, it will almost certainly take place outside and with limited seating.
But local officials say they are hard at work on more than a dozen other activities—many of them socially distanced and some virtual—to help the community celebrate what has turned into three weeks of playing host, from March 18 through April 5.
"What we're really focusing on is not organizing specific events, but making our spaces welcoming for people if they do want to take advantage of those spots and be outside and be engaged. It's going to look different." said Sara Myer, director of marketing and communications for the Indiana Sports Corp., which manages the local organizing committee.
Those opportunities for engagement will include walking and bike tours of public art and historic venues, pop-up artistic performances and a basketball-dribbling challenge available statewide.
Some 20,000 fans have already scored tournament-related swag through Fan Jam, which features Final Four-adorned vehicles that stop in neighborhoods and give residents the opportunity to pose with the national championship trophy and learn about the tournament in a socially distanced manner. Organizers hope to reach 50,000 people by the time the tournament concludes.
And the NCAA's Mask Madness initiative has distributed nearly 100,000 face masks across the state.
Most initiatives will be funded through a $905,000 grant from the Lilly Endowment or by the Indy Championships Fund—which raised $25 million for initiatives tied to the Final Four, 2022 College Football Playoff Championship and an NBA All-Star Game that was supposed to take place here this month but has been rescheduled and moved to Atlanta.
Fan engagement
"Whether the city of Indianapolis and the world is going through a pandemic or not, it's always our mission … to make every event that we have bigger than what's happening on the physical courts or fields," said Brett Kramer, Indiana Sports Corp. director of public relations.
"It just happens to look different and much more socially distant [this year]—the activities look a little different than what the Final Four looked like in 2015 [last time Indianapolis hosted it], but we are always striving through our events to make the community better."
Myer said the Sports Corp. is working closely with downtown businesses—restaurants in particular—to ensure they have adequate resources for whatever influx of visitors they see.
Few major sporting events have had a large in-person fan-engagement component since the pandemic began. In fact, the first large-scale fan festival since last March is believed to have come with Super Bowl LV in Tampa Bay on Feb. 7.
The host committee there planned multiple large fan events, including the NFL Experience, which brought hundreds of thousands of people to a three-mile riverside span that ran through the city's downtown corridor.
Rob Higgins is president and CEO of the Tampa Bay Super Bowl LV Host Committee. He said the group employed a variety of safety measures that encouraged social distancing and mask wearing at sanctioned events. The events limited capacity and screened all individuals who entered the area for exposure to COVID-19.
"I think the game plan that we had placed and executed in tandem with the NFL … was really strong, and I think having the right protocols in place was critical," Higgins said, adding several indoor events were converted to outdoor set-ups to make them safer.
"When you look at a Super Bowl and the thousands of decisions that have to go into it, some are big and some are small, but health and safety was the common denominator, no matter what the decision was.
"So, certainly when there were events that needed to be switched to virtual, the NFL did that and made them really special and memorable in their own right," he said.
Going digital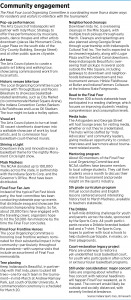 Larry DeGaris, a sports marketing professor at University of Indianapolis, said that, even though large gatherings had to be eliminated for March Madness, having activities Indianapolis residents can participate in from home or at school, or in other passive ways, is "still a benefit."
Not having a party downtown is "a big loss—it sucks," DeGaris said. "But that's where we're at; add that to the list. Next time, maybe. It's a big loss, but it's not a total loss."
For most people, "it's not a huge change, because most people just watch [the games] on TV, anyway," he said. "For the people who like to go downtown, there will be a digital substitute."
But even for events that do go virtual and expand their reach, participation will likely be lower than for the in-person version, he said. That's in part because it can be more cumbersome to participate in a virtual environment than a real one.
"You're not going to get back to 100% through digital," DeGaris said. "You'll get close, maybe—that depends on what you're doing—but it's still not a substitute for the live event."
For this year's tournament, the local host committee is working with schools across the state on a variety of initiatives, including Read to The Final Four, and a social studies and reading curriculum for fifth-graders.
The Dribble, a basketball-dribbling challenge for kids that typically occurs downtown on Final Four weekend, is also going virtual, with students across the state having an opportunity to participate. The NCAA also plans to renovate a local youth basketball court through a partnership with Degree deodorant, although the location of that renovation has not been announced.
This year's tournament will have its share of gatherings—they will just be far smaller in nature than usual.
"Anything that would even be considered a block party, or anything of that sort, is off the table now," the Sports Corp.'s Myer said.
Among them is Fan Fest, which was originally planned for the Indiana Convention Center. That event isn't happening for a handful of reasons—including the fact the venue will house practice courts and be restricted to visitors as part of the NCAA's controlled environment, Other large gatherings have also been taken off the table to limit the number of people gathering.
Even so, pop-up music performances are expected to run throughout the tournament in prominent public spots in Indianapolis, and several art displays are planned for downtown. A historic-venue bicycle tour is also in the works.
Wider impact
Michelle Perry, who ran the NCAA Women's Final Four for 10 years, said sharing community initiatives with a wider audience is a good first step in furthering the impact of events like the NCAA tournament across the state at the same time Indianapolis is welcoming thousands of visitors.
"I hope that, when we come out of this [pandemic], there continues to be a way to provide opportunities to a broader audience, whether that's virtually or whatever that looks like, because, the more young people are involved, the more people these events can impact and reach," said Perry, who now runs Indianapolis-based sports firm Gamechangers Consulting.
"This is a way for them to have an opportunity to be introduced to the game, or to have an opportunity to experience the excitement that was happening within their community," she said.
In addition to its efforts to bring the tournament experience to residents, local organizing committee members are highlighting frontline workers in a variety of fields, including those in the restaurant, health care and travel industries—along with first responders.
Several workers have already received tournament memorabilia during surprise visits to their workplaces to honor their dedication over the past several months, and others are expected to be recognized throughout the tournament.
The Sports Corp. also worked with the NCAA and a variety of local partners to distribute thousands of T-shirts, towels and other merchandise from the canceled 2020 NCAA tournament to local homeless shelters and other facilities.
And the Sports Corp. launched a mentorship program to pair IUPUI students interested in sports hospitality with members of the local organizing committee. The goal is to provide those students with an inside look at how the tournament comes together.
Kramer said that, even though this year's community components will be unusual, engagement with the tournament remains a linchpin in the city's recovery efforts.
"I know there's this big storyline about everything looking different, but no matter how it looks, it's still a win for our community, and people are still going to have positive feelings at the end of this," she said. "It's really about … how we're coming together as a community to really push forward."•
Please enable JavaScript to view this content.