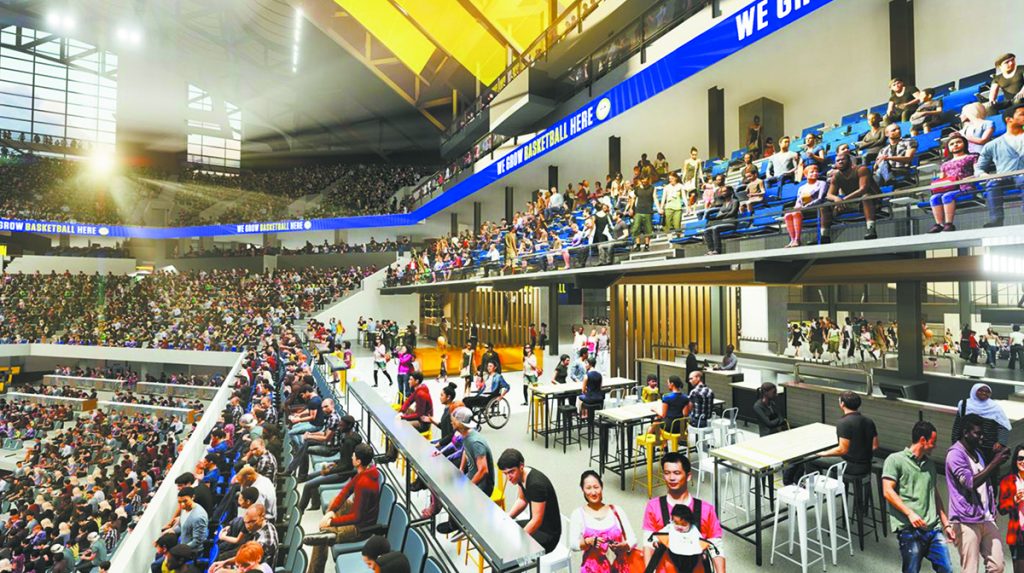 The Capital Improvement Board is significantly scaling back the first phase of a $360 million Bankers Life Fieldhouse renovation as uncertainty about working conditions and the NBA season have thrown a wrench into the construction schedule.
The agency is hammering out the details with Pacers Sports & Entertainment, which operates the fieldhouse for the CIB, with the goal of prioritizing the parts of the project that are most important—and practical—to complete ahead of the 2020-2021 NBA season.
The effort also comes in the run up to the league's All-Star Game, which the fieldhouse is hosting in February 2021.
As originally planned, the project's $130 million first phase included new suites, clubs and lounge areas as well as new locker rooms, media space and seating.
But officials are grappling with uncertainty about the coronavirus outbreak's impact on the availability of materials and the way workers can interact, as well as with a deadline to finish the first phase in October, before the start of next season.
"I think everyone in the country's observed over the last month or so a complete sense of unpredictability," said CIB Executive Director Andy Mallon. The pandemic has "really forced us to modify the construction schedule for the first phase."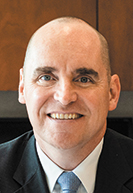 Mallon said no decisions have been made about what parts of the project will be moved to later phases, but there are plenty of options on the table. And CIB and Indiana Pacers officials last week began negotiating new work schedules with contractors.
The first phase's major components are 10 new suites and two loge boxes—which are a hybrid of a suite and a lounge area—on the fieldhouse's Key Bank level.
The phase also calls for updates to visitor locker rooms, conference rooms and the media work room; renovations to the Lightbound Courtside Club; an updated retractable seating system; two new sideline clubs; and moving the practice court up one level to make way for a new Indiana Fever locker room.
Mallon said each of those projects "needs to get done," but completing all that work on a tightened and unpredictable schedule is impossible.
"The project scope hasn't changed … we're just adding more time and changing the timelines," said Mallon, emphasizing that the modified plans call not for "a prioritized list, but a logistical list."
David Morton, a sports marketing expert who formerly ran Indianapolis-based Sunrise Sports Group, said the Pacers and CIB are in "a precarious position" as they forge ahead with trying to get the brunt of work underway.
"Nobody knows what tomorrow is going to bring," he said. "Maybe this project needs to be pushed off until after the All-Star Game."
'The money's there'
The quasi-government CIB has already secured bonds for its $270 million portion of the project, meaning the only financial impact of delaying parts or all of the renovation would come from increases in construction costs or change fees with contractors.
"That money's there, it's safe—it's not going anywhere," Mallon said. "We can't use it on anything else. As far as any financial impact, that's why we're negotiating these contracts with our various contractors to identify [what] needs to be pushed or altered and doing so in a way that minimizes the effect on taxpayers."
Other financial contributors to the project are the city of Indianapolis ($25 million for infrastructure work for a future plaza), and the Pacers ($65 million).
Morton said there would be no harm to the season or All-Star weekend fan experience if the project is delayed.
"The millions of people who watch [the game] are where the NBA makes money, and that's where that value proposition is—that global reach," he said. "I don't think that [delaying renovations] cheapens that in any way or detracts from the overall experience of what Indianapolis is going to be able to present."
Even so, Mallon said there are no plans to delay the entirety of phase one or to shift the schedule altogether. However, adding a fourth phase of construction is possible. The stages have been developed largely to fit around the NBA seasons.
He said that despite the NBA still figuring out what will become of its current season—games have been on hiatus since mid-March—construction crews still plan to start on bigger projects at the fieldhouse by May 1.
In fact, work on a few back-of-house projects began in February and is moving forward. But larger-scale work will depend on the availability of labor and supplies, as well as the adequacy of time ahead of the October deadline.
Mallon said there's "no issue with us waiting on the NBA to see which projects we're going to do or not going to do," adding that work could start earlier if the season is canceled outright.
"At some point, we'll have more information about what the NBA intends to do," he said. "And then we'll look at the next sort of step in all this—look at the overall effect of any projects that would get pushed down the timeline."
NBA Commissioner Adam Silver told TNT this week that no decisions will be made until May at the earliest, meaning the season could run into July or August if it's not canceled or fast-tracked. It also means a May 1 start date for major construction is the most likely scenario for the CIB and Pacers.
Even so, it's not clear how construction would be affected if the NBA elected to continue its season late into the summer. The WNBA's Indiana Fever already is planning to play games at Hinkle Fieldhouse for the next two seasons because of the renovations.
The NBA did not respond to a request for comment by IBJ's deadline.
"For now, we're really focused on getting stuff done that we're absolutely sure can get done this summer," Mallon said.
The Pacers are taking the lead in determining which projects will occur this year and which are held for later phases, as well as when work will begin on major components.
In a statement, the franchise said it has a group working closely with the CIB "to modify the construction schedule and ensure we complete as much of the first phase as is possible under our original 2020 construction timeline."
"We have a strong team working on this and they will continue to adapt our plans as necessary," the statement said.
Tough choices
Marc Ganis, president of Chicago-based Sportcorp Ltd., said the Pacers are "going to have to give up a bunch of things" in order to complete certain projects by October.
It's likely, he said, the suites and courtside clubs will be considered priorities because they'll be significant revenue drivers during All-Star weekend.
"They're going to want more, rather than fewer, of those premium areas," he said.
Suites often play a key role in on-site, corporate revenue at All-Star games, usually fetching hundreds of thousands of dollars for the weekend from national firms.
Thomas Wills, president and CEO at Vancouver, British Columbia-based sports consulting firm Bonham/Wills & Associates, has told IBJ the rentals will bring massive influxes of cash, even though the game is in a smaller market.
"This is a premium event for the NBA, so it naturally fetches top dollar from national partners," he said.
The Pacers and the NBA have declined to provide financial details about the suites.
Ganis said he can't see any scenario in which the city would lose next year's All-Star Game—and its projected economic impact of $100 million—to another city because of the delays, and Mallon said no one has discussed moving the game.
Pacers officials said they are "continuing to plan and work closely with the NBA and our host committee on NBA All-Star 2021, which we expect to be the best NBA All-Star in history."
But Ganis said that, even with construction permitted to continue under Indiana Gov. Eric Holcomb's stay-at-home order, the project's contractors will likely have difficulty sourcing some materials from inside and outside the state.
"As they re-jig the schedule, they're going to have to look at what sources of furniture, fixtures and equipment are available," he said. "They're going to have to look at what trades are going to be available to them, too."
The governor also might shrink the list of essential businesses in possible extensions of his stay-at-home order—although there don't appear to be plans to do so.
Mallon said that, if Holcomb or Indianapolis Mayor Joe Hogsett ordered construction to stop, "we would comply with the order and see what we could do, then adjust from there."
Mallon said conversations with contractors about the availability of materials, equipment and labor will play a key role in determining which projects move forward this summer.
Many construction projects around Indianapolis—including Bottleworks District, the Community Justice Campus and a wide slate of apartment and hotel projects—are still underway and have not yet encountered problems with sourcing, officials told IBJ.
"I'm more confident than ever [about this project's] success, given how we're approaching the construction schedule responsibly, just to make sure that any risk [of not finishing on time] that has been added to the project as a result of these really unprecedented times is taken into account," Mallon said. "We are going to end up with an outstanding project at the end of it."•
Please enable JavaScript to view this content.