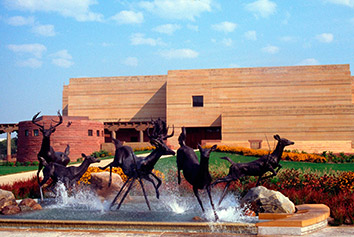 Visit Indy is partnering with five local not-for-profit entertainment venues to create the city's first multi-attraction package.
The Indy Attraction Pass—which can be delivered directly to mobile phones—launched Tuesday morning. It offers bundled access to Conner Prairie, Eiteljorg Museum of American Indians and Western Art, Indiana State Museum, Indianapolis Zoo and The Children's Museum of Indianapolis.
The single-admission passes are available in two options: a one-day pass priced at $52 for adults and $42 for children, and a three-day pass at $90 for adults and $68 for children.
The pass is expected to save visitors up to 50% on the price of admission when purchased separately. Buying separate tickets for the attractions generally costs about $70 for children and $100 for adults, although prices for some venues—such as the Children's Museum and the zoo—operate on a dynamic pricing model that can mean higher admission prices on busier days.
Passes can be purchased directly through a portal on the Visit Indy mobile website, allowing users to save the tickets to their phone's home screen for contactless entry into each venue. Each pass is valid for up to 90 days after its purchase.
Chris Gahl, vice president of Visit Indy, said the organization has tried to create a partnership with local attractions "for more than a decade," but the timing was never right. The effort was reinvigorated earlier this year because of the coronavirus pandemic.
"During this pandemic, we reignited the conversation … to come together and package entry into these five cultural icons at a discounted rate—and we were fortunate enough that all five said yes," Gahl said. "While we were unable to bring all the right partners to the table in the past, for various reasons, there was an appetite to come together now in a meaningful way and launch the Indy Attraction Pass as a key marketing strategy to recovery."
Gahl said the pass is expected to be a long-term partnership, with hopes of extending the opportunity to additional attractions.
Over the next 30 days, Visit Indy plans to spend about $30,000 to promote the new attraction pass, Gahl said. He said the rollout coincides with fall break for most school districts across Indiana and other parts of the Midwest. Marketing is expected to continue in earnest through the end of the year.
The partnership is aimed at encouraging more visitors to come to Indianapolis, while also enticing them to spend more time in the city.
"Each of these five, in their own right, are tourism drivers," Gahl said. "When you package them together … it makes it even more appealing to visitors to come spend a weekend in Indianapolis."
The effort follows the tourism bureau's $1 million You've Earned It campaign, funded by the city, to bring travelers back to the city through Labor Day weekend. That promotion led to about $1.5 million in visitor spending.
Please enable JavaScript to view this content.