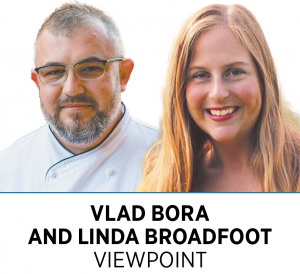 When someone is food insecure, it means they cannot get enough food to be healthy.
The U.S. Department of Agriculture defines food insecurity as a lack of consistent access to enough food for an active, healthy life. Food security is not having a full, healthy meal once in a while; rather, it's having consistent access every day.
Food impacts every part of our health. If children and adults don't have consistent access, they can't concentrate, learn or work, and their bodies can't grow properly. And whenever they can access food, is there nutritional variety at an affordable price? If not, they could face food insecurity.
Food insecurity and sudden crises impact Hoosiers more than we might realize. According to the Indy Hunger Network, 888,600 people go hungry in Indiana and 270,000 people need food assistance in Marion County, which is about 25% of the city. At the beginning of the pandemic, the need for meals went up drastically—within a month in March 2020.
Ronald McDonald House Charities of Central Indiana and Second Helpings saw many individuals needing food assistance for the first time, and they're seeing it again with rising costs due to inflation. It serves as a reminder that anyone is one emergency or crisis away from being in a very different financial situation—one where consistent, healthy food is not obtainable. For example, many families arrive for the first time at the Ronald McDonald House with just the clothes on their backs. RMHCCIN's mission is to keep families close and near the care they need, and that includes access to healthy, home-cooked meals. Families can't focus on taking care of their child if their own well-being is suffering.
For those facing food insecurity, budgets are thrown completely out the window. For some, it can be deciding to purchase more groceries for the week or paying the electric bill. For others, it can be paying for their medication or buying food for their kids. Right now, parents suffering because of inflation who might also be facing a medical emergency may have to think about how they can afford gas to get their child to a hospital far from home, or how they're going to afford their child's treatment overall—all on top of having to worry about where their next meal is coming from.
So, what can you do to help?
Donate to or volunteer at your local food bank, as many Hoosier families are turning to them for the first time due to inflation. Donating healthy, non-perishable food items is a great way to start.
Monetary donations to food banks and organizations like RMHCCIN and Second Helpings go even further, allowing the organization to first identify the specific needs of the individuals they serve.
For more information on ways to give to RMHCCIN, visit rmhccin.org/give/. To help Second Helpings fight hunger in Indiana, visit secondhelpings.org/donate/.
You can also go to in.gov/fssa/dfr/donate-to-indianas-food-banks/ for a list of Indiana food banks where you can make a donation or find a volunteer opportunity.•
__________
Bora is executive chef of Ronald McDonald House Charities of Central Indiana. Broadfoot is CEO of Second Helpings.
Please enable JavaScript to view this content.