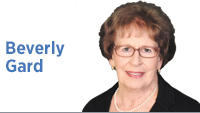 Since Indiana has been awarded $41 million as a result of a consent decree between the U.S. Justice Department, the Volkswagen Corp. and its subsidiaries, much has been written about how the funds should be prioritized. The award was the result of Volkswagen's installation and use of defective emission-testing devices in certain vehicles sold in the United States from 2009 through 2016.
In July, the 11 member VW Committee, which I chair, met and, after careful evaluation of each applicant's score, awarded a total of $9.86 million in grants for the first round of funding. The award-winning projects will result in lower emissions from 179 vehicles and engines, including the purchase of 69 diesel, 60 propane, 31 compressed natural gas and 19 electric-powered vehicles or engines. The vehicles include school buses, transit buses, refuse haulers, regional and short-haul trucks, airport ground support equipment, and tugboats. This funding is only the first round for on-road and non-road projects.
Having this much money to award for projects is not without its controversies. With this round, the fact that many awards went to replacing diesel-engine-powered vehicles with diesel-engine-powered vehicles has raised questions. But emissions from new, more-efficient diesel engines are far less than emissions from older, less-efficient diesel engines.
The U.S. Public Interest Research Group gave Indiana a poor grade in a recent report because its guidelines for awards would allow more than 15% of the money to go to projects requesting funds for new diesel engines. This group rarely gives Indiana a high grade for environmental protection. It was founded in 1971 by Ralph Nader and is a group of organizations whose goal it is to effect liberal, progressive political change. It fails to consider the demographics of states that are factors in environmental protection and are economic drivers for the states.
The Indiana Department of Environmental Management, with approval of the VW Committee, has a rigorous set of criteria used to score and evaluate applications for grant awards.
First, projects are scored against like projects, not directly against different sectors. The lifetime cost effectiveness of a project is calculated using the U.S. Environmental Protection Agency's Diesel Emission Quantifier. Second, a project's total nitrogen oxide emission-reduction potential is calculated using the DEQ. Again, projects with the highest lifetime reduction score higher.
Air-quality benefits to areas with sensitive populations or that bear a disproportionate share of the air pollution burden are scored. For instance, these demographics are calculated into the score: poverty level, total on-road nitrogen oxide emissions, the National Air Toxics Assessment diesel particulate level, the percentage of children (14 and younger) and elderly (65 and older) population and the minority population of the area.
The transformational potential of an award applicant, defined as the potential to prove or maximize effectiveness of newer technology, is evaluated. Proposals that notably change standard operating practices as part of a long-term vision through transition to a new fuel infrastructure are scored highly. While all these criteria have the potential to add significant points to the score, some criteria score fewer points but are important, nonetheless.
This first-round funding is only for on-road and non-road projects. With more than 75% of the $41 million still left to be allocated, IDEM and the VW Committee will evaluate the process and priorities and make changes where warranted.
The next round of awards is scheduled for January, with additional awards to be made later in 2020. The entire $40.9 million must be awarded by 2028. For updated information, visit www.idem.IN.gov/vwtrust.•
__________
Gard is a former Indiana state senator and chairs the Environmental Rules Board and the Indiana VW Mitigation Trust Fund Committee. Send comments to ibjedit@ibj.com.

Click here for more Forefront columns.
Please enable JavaScript to view this content.