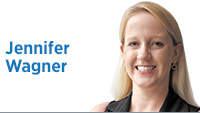 When people reach out to me about running for office, I'm always struck by how genuinely good they are and how much of a difference they want to make.
I've never met with a single potential candidate who says, "Yeah, I'm really in it for the steak dinners at St. Elmo."
Instead, they share all of their amazing ideas and the policies they'd promote if elected. They talk about wanting to give back to their communities and moving our state forward and leaving things better off for their kids.
My part always feels way more negative. I give honest odds about the chances of winning as a Democrat in most parts of Indiana, especially if the race is not for an open seat. Incumbency is often as important as the partisan breakdown. We talk about messaging in a red state. We talk about getting people to join a campaign in a state where joining things isn't our first instinct.
And then we get to the hardest part: money.
Campaign funding is not just one item on this bulleted list of topics. It's everything. And it's the trickiest one to explain to would-be candidates.
Basically, you have to raise enough money to show that you're a serious contender. Once you hit that mark, and you're able to pay for a poll that shows a path to victory, those who guard the gold are willing to give you the time of day and invest in your race.
Most of the people who are looking to run for office aren't able to self-fund or give up their day jobs, so they lean on their friends and family to get started, and they work as hard as they can to cross that financial threshold so that other money starts to flow.
Yes, there are groups out there that are dedicated to startup campaigns, but they often take their cues from the big dogs in D.C. that place candidates on target lists based on … how much money they can raise and whether they can win.
I'm not one for tilting at windmills. There are plenty of races across our state that are unwinnable for Democrats because of the way the maps are drawn. But given the current electoral mood, I imagine there are some seats that will be in play that we might not be considering—or that we'll consider too late.
As a party, we're doing solid work building our base of candidates, training up the next generation of people who can run for office or help elect others. But we still have a money problem that needs to be solved.
A decade ago, a group of prominent Democrats put together the Victory 2010 Committee, which was designed to raise funds and "elect Democratic public servants who promote Hoosier values, fiscal responsibility and progressive government."
The committee, which has been less active in recent years, made strategic investments in races that made sense. The contributions often weren't huge, but they made a difference. That's the kind of support we need to bring back—and bring back early on in each cycle.
Becoming a candidate is a difficult decision. It can put a huge strain on you professionally and personally. And you might not win. But so many incredible people nonetheless want to take on the challenge. It would be great as a party if we could give them not just training and advice but a little something in the bank to get started.•
__________
Wagner is a lifelong Indianapolis resident and vice president of communications at EdChoice. Send comments to ibjedit@ibj.com.

Click here for more Forefront columns.
Please enable JavaScript to view this content.