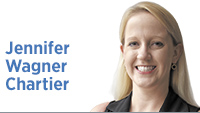 Good parenting requires a healthy dose of skill, timing and patience.
Just like politics.
One of the hardest lessons to learn in both realms: when to fight and when to know you've won.
My eldest is everything a proud mama could hope for: empathetic and smart with a sense of fairness that she routinely applies to the world around her. She is also a tween. Her prefrontal cortex is hibernating, which requires the near-constant presence of an explainer-in-chief.
Unfortunately for her, I tell stories for a living, and I've got one for every occasion.
When she recently objected to an outcome that she didn't realize was in her favor, I dug out an old favorite: the 2011 Democratic walkout.
Republicans signaled that right-to-work would be a priority during the 2011 legislative session. We (Democrats) believed the bill would result in lower wages by making it harder for workers to collectively bargain.
Democratic lawmakers called on then-Gov. Mitch Daniels—not known for shying away from a fight—to take the issue off the table.
He did, ticking off national right-to-work supporters who believed they had the votes after the 2010 Republican wave.
This might have been a decent point for Democrats to say, "This guy who never gives us anything just did what we asked him to do. Maybe we should declare victory."
But we didn't. Instead, we came back with a list of nearly a dozen additional bills we wanted off the table.
Republicans: What fresh hell is this?
It's worth noting that Daniels' decision to pass on right-to-work didn't mean GOP lawmakers weren't going to push it through. He frequently clashed with his fellow Republicans in the General Assembly. But at the end of the day, we made a demand, and he backed down.
Now, was it a bad idea for Democrats to ask for more after we got what we wanted? Not necessarily. I always remind the kids that you don't get what you don't ask for. It was our steps after the second no that didn't win us many publicity points.
Unable to do anything in the minority but break quorum, Democratic lawmakers threw down the gauntlet and walked out. They couldn't be compelled to return to work if they were across state lines.
For the next five weeks, the Comfort Suites in Urbana, Illinois—complete with a punchline-ready hot tub close to a major college campus—housed the caucus.
The headlines stacked up. Some initially were supportive, but Republicans eventually won the messaging war. Their narrative was simpler: Come back to work, and we'll negotiate.
Spoiler alert: They didn't.
While right-to-work didn't pass in 2011, it sailed through the following year.
All the other bills we objected to in 2011 passed in that session.
Oh, and something else not-so-great happened: Republican lawmakers got to draw new legislative maps based on the 2010 census. They weren't inclined to do Democrats any favors, and we've been living with those gerrymandered maps ever since.
As I explained this situation to my daughter, I made it clear that standing up for your principles is always the right thing to do, but you have to carefully think through what you're asking for before you ask for it. And if the person with whom you're negotiating gives you what you want, take the win and move on. You can come back and fight another day.
Know when to hold 'em. Know when to fold 'em. As true in politics as it is in parenting.•
__________
Wagner is a lifelong Indianapolis resident and vice president of communications at EdChoice. Send comments to ibjedit@ibj.com.

Click here for more Forefront columns.
Please enable JavaScript to view this content.