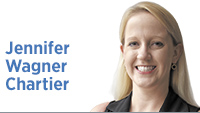 I want to love political debates, but it's becoming harder and harder to devote hours of my time to overly rehearsed one-liners and zingers—and the additional hours of commentary that follow those hours.
Who won?
Who lost?
Who had the most GIF-able facial expressions?
Whose team did the best job in the spin room afterward?
The words uttered on stage matter far less than the theatrics of the performance.
(For the record, I'm a regular commentator on one of the local Sunday shows, which makes my stance more than a little ironic.)
I think debates can have merit, but they've become so scripted and overproduced that their original purpose—to learn more about candidates' positions on the issues and to see how they interact with one another—is completely lost.
I've helped with debate prep for two statewide races, and it was a huge undertaking: multiple sessions with multiple consultants giving feedback and stand-in opponents grilling the candidate on every imaginable issue that might come up.
That's nothing compared to the prep work that goes into an appearance at the national level.
The first nationally televised presidential debate back in 1960 fundamentally changed politics in America. Vice President Nixon, the favorite going into the debate, wore no makeup and appeared exhausted. U.S. Sen. John F. Kennedy, by contrast, looked rested, tan and at ease under the bright lights. The rest is history.
It was the first time millions of Americans had the chance to see their presidential contenders up close and personal—and to judge them on factors that have little to do with politics.
Fast forward to 2016, and you can reasonably argue that the Republican debate structure allowed Donald Trump to pick off a crowded field of opponents one by one with brash statements and insults hurled into prime time.
Unlike Kennedy and Nixon, Trump also had the ability to communicate directly with millions of social media followers, effectively bypassing mainstream media while simultaneously forcing them to cover his tweets.
We've come a long way from Lincoln and Douglas debating for hours about the morality of slavery—something the American public would almost certainly not watch these days.
If we want to see candidates up close and personal for extended periods of time, the best we can hope for is a "town hall" setting where select audience members ask questions that are quasi-moderated by a cable news personality sitting with the candidate on a set intended to look like someone's living room or breakfast counter.
It's only marginally less forced, and the stakes are still pretty high. One gaffe can be the beginning of the end of a campaign. (Unless you're President Trump, who turned modern thinking about what you can and can't say into a hot mic on its ear.)
I recognize that we're probably not going back to long-form debates, and I think we should have a chance to see how candidates perform in different settings, including on television. I just wish there were a way to ratchet down the background noise so we could actually tune into the conversation.•
__________
Wagner is a lifelong Indianapolis resident and vice president of communications at EdChoice. Send comments to ibjedit@ibj.com.

Click here for more Forefront columns.
Please enable JavaScript to view this content.