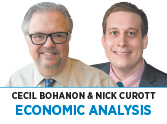 Many Christian churches encourage their members to engage in the ancient practice of tithing. A comparable practice in Islam is the zakat. At first glance, the Christian tithe—a 10% rate—appears higher than the Islamic zakat—a 2.5% rate. However, the Christian tithe is assessed on the adherent's income, while Islamic zakat is assessed on the adherent's wealth. To hone in on the essential difference, let's look at two high-rollers who live exclusively off their wealth.
Methodist Philip and Muslim Omar are both happy, debt-free, house-renting, car-leasing retired doctors living off municipal bond portfolios valued at $10 million that yield a tax-free annual income of $300,000. Philip fulfils his tithing obligation by paying $30,000, while Omar fulfils his zakat obligation by paying $250,000. Needless to say, the two rates aren't apples-to-apples.
The anomaly emerges because there's a difference between a household's income, which is an economic flow, and a household's assets, which is an economic stock. The distinction between stocks and flows is important in economic and business analysis. They are also essential to understanding the "wealth taxes" recently proposed by prominent presidential candidates.
Sen. Elizabeth Warren is proposing a 2% tax on household wealth above $50 million and a 3% tax on household wealth above $1 billion. In fact, "2 cents" has become a chant at Warren rallies. CNBC reporter Robert Frank articulated the chant's sentiments: "Who can argue that the super-rich can't afford 2 cents?"
Perhaps the rich can afford it, but the 2-cent statistic is misleading. In the example above, Omar's zakat payment is 83% of the annual income from his assets. In reality, Omar's payment would be less as the zakat permits an exemption for basic living expenses. Allow Omar a generous $150,000 living expense and his liability falls to $100,000 which is a 33% tax rate on his asset's income.
In a similar fashion, the Warren proposal taxes only wealth in excess of its stated thresholds. For example, a household with $100 million in assets would owe "only" $1 million in wealth taxes under the Warren proposal. Again, assuming a 3% tax-free return on the $100 million, this translates to a 33% tax rate on the income flowing from the wealth.
We will let the reader decide whether wealth taxes are a good idea. Just a heads-up: There is more to it than the putatively low tax rate.•
__________
Bohanon and Curott are professors of economics at Ball State University. Send comments to ibjedit@ibj.com.
Please enable JavaScript to view this content.