The former longtime executive chef of Meridian Hills Country Club has jumped from the security of that position to open an American bistro in Bargersville with the support of family members who encouraged him to take the leap.
Joe Miller, 45, worked for the upscale country club on Indianapolis' north side for 21 years—the last 16 as executive chef—before exiting in 2019 to launch a restaurant with his wife, Ginger, and his brother-in-law and sister-in-law. The pandemic slowed their plans.
They since have secured a 4,800-square-foot location on the south side of the Indy metro area and plan to open Our Table American Bistro in mid-fall.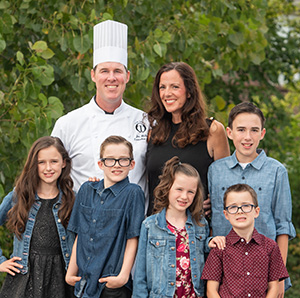 "It's something I was pushing him to do for a while, but he is very loyal," Ginger Miller told IBJ on Monday.
"It was very easy to be comfortable where I was," Joe Miller said. "There is a reason why people don't leave those positions."
However, with a brood of five children who are now between the ages of 6 and 13, they realized their window was closing on being able to make an entrepreneurial move: "We realized it wasn't going to get any easier," they said.
With Laura and Ken Fikes (Ginger's sister and brother-in-law) as partners providing a critical mass of capital for the enterprise, the Millers are bringing a relatively sophisticated dining concept to an area dominated by pubs and chain eateries. But they're planning to develop an atmosphere that's more cozy than stuffy—a melding of styles that they refer to as "Napa Valley meets Bargersville farmhouse."
"We're doing this as an American bistro," Ginger said. "[Joe's] background is French cuisine … but we wanted this to be approachable. We don't want a stuffy feeling with white tablecloths and suits. We wanted it to be a place where, if you wanted to being your kids, you could."
The menu will range from handheld fare like flatbreads and country-fried chicken sliders to steak, lamb chops and fresh seafood flown in daily. The owners have hired a baker to make all of the bistro's breads and desserts in-house.
"I feel that, if you can do you own breads, it elevates everything you can do," Joe said.
The interior will lean toward warm lighting and soft seating with fireplaces and a walnut bar. The interior will seat about 170, with another 26 seats available outdoors.
The partners initially looked for a location in the Greenwood area, but the Fikeses found a spot for lease in a newly constructed building at 5080 N. State Road 135 near their home in Bargersville.
"We feel really good about the location," Joe said. "It's central to the south side of Indianapolis."
The Millers and their co-owners declined to reveal the cost of developing the bistro.
While they hope to open the restaurant in October, the Millers plan to remain flexible as they track several potentially complicating factors—including shortages of labor in the restaurant and hospitality industries, supply chain problemsand the latest rise in COVID-19 infections.
"I think we have to be optimistic, but we're ready to pivot," Joe said.
Please enable JavaScript to view this content.