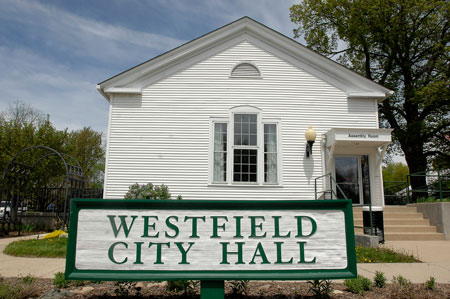 The Westfield City Council is set to consider an ordinance that would set term limits for the city's mayor, council and clerk-treasurer.
Councilor Troy Patton proposed the ordinance, which is scheduled to be introduced at Monday's council meeting. The ordinance would limit the mayor and city council members to two consecutive four-year terms and the clerk-treasurer to three consecutive four-year terms.
The requirements would take effect with elected terms beginning in January 2024, according to the ordinance. Time in office before 2024 would not count toward the term limits.
"There are plenty of good people in Westfield that can serve, and it's not just us," Patton said during a discussion about term limits at the council's meeting on Oct. 10. "There are a lot of different people with a lot of different backgrounds with tons of experience that would do just as good a job, maybe some better."
Westfield Mayor Andy Cook was elected in 2008. He has not publicly announced if he plans to run for a fifth term in 2023. Clerk-treasurer Cindy Gossard was appointed in 2001 and has been elected to four-year terms since 2003.
Five members of the Westfield City Council—Scott Frei, Jake Gilbert, Mike Johns, Patton and Scott Willis are serving their first terms. Cindy Spoljaric is serving her fourth term on the council, while Joe Edwards is in his third.
Gilbert and Willis announced this year they will run for mayor in 2023. Edwards told IBJ in August that he does not plan to run for reelection next year.
Cook said he thinks term limits are "worth much thought, not at a city council's whim."
"This proposal has long-term implications and needs to be addressed by the voters of the entire city," he said in a written statement sent to IBJ. "Citizens shouldn't be restricted from selecting the candidate they find the most qualified."
Evansville was the most recent Indiana city or town to consider term limits for some of its elected officials. However, the Evansville City Council in 2018 voted 5-4 against an ordinance that would have limited the city's mayor, council and clerk to three terms.
The mayor of Indianapolis was limited to two terms until legislation in 1982 ended term limits for the position. The new rule allowed former Mayor William Hudnut to run for a third term in 1983. Hudnut, the city's longest-serving mayor, eventually served four terms in office.
Please enable JavaScript to view this content.