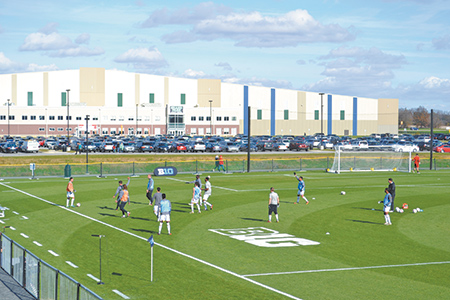 The city of Westfield on Friday announced that seven proposals are under consideration from bidders interested in acquiring Grand Park Sports Campus or operating it through a public-private partnership.
That list has been whittled from about 18 entities that initially responded to an initial request for proposals in April.
Appraisals completed last month valued the 400-acre sports campus at $85 million. Westfield officials said Grand Park cannot be sold for less than the appraised value.
Proposals still in the running came from:
– Card & Associates Athletic Facilities LLC
– A confidential client of Cushman & Wakefield
– Indy Sports & Entertainment LLC and related entity
– Ambassador Enterprises
– REV Entertainment
– Sports Facilities Companies LLC
– Anytown USA Inc.
Indy Sports & Entertainment, which does business as the Indy Eleven professional soccer team, already has a strong relationship with the park, which it considers the club's official training center. The men's senior team has trained at Grand Park since its inaugural season in 2014.
The Eleven's United Soccer League Academy teams have trained at the facility since 2021 and the club's new USL W League (senior women) is also be based at Grand Park for both training and games.
Arlington, Texas-based REV Entertainment operates Globe Life Field, home of the Texas Rangers.
Westfield Card & Associates Athletic Facilities also developed Pacers Athletic Center at Grand Park, Finch Creek Fieldhouse in Noblesville and Community Sports and Wellness in Pendleton, among other sports facilities.
Clearwater, Florida-based Sports Facilities Cos. manages dozens of sports and recreation facilities around the country, including the Space Coast Complex in Melbourne, Florida, and Elizabethtown Sports Park in Kentucky. It also offers development and advisory services.
Anytown USA is a Chicago-area-based developer that focuses on building youth sports facilities.
Ambassador Enterprises is a Fort Wayne-based private equity firm.
Westfield did not disclose additional information about the proposals. A committee of six men was formed to review the proposals and make any recommendations to the Westfield Redevelopment Commission and the Westfield City Council.
The committee consists of Brian Tomamichel: Westfield Washington Schools chief financial officer; Jeremy Lollar: City of Westfield chief of staff; Troy Patton: Westfield City Council member; Larry Clarino, Westfield Public Works and Safety board member; Dan Moyer: Westfield business owner; and Chuck Lehman: former Westfield City Council member.
Grand Park Sports Campus opened in 2014. It has 31 soccer fields, 26 baseball diamonds, two administration buildings and seven concession stands.
Please enable JavaScript to view this content.