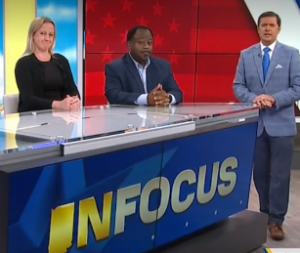 Political pundit Abdul-Hakim Shabazz's potential mayoral run has put the kibosh on his frequent role as an analyst on local TV news shows, and his job as a radio show host on WIBC will be put on hiatus if he officially throws his hat in the ring.
News directors at Fox 59 and WRTV have imposed long-standing fairness and ethics policies the prevent Shabazz from appearing as an analyst on their political segments since he announced he is considering a run for the Republican nomination for mayor of Indianapolis. Those policies are designed to prevent even the appearance of candidate bias.
Shabazz—a lawyer, editor of IndyPolitics.org and host of a weekly WIBC radio show—first announced he was forming an exploratory committee on Dec. 14. Since then, he has not appeared on Fox 59's "IN Focus" politics show or WRTV's "Political Insiders."
"The station's policy is that anyone who has announced their candidacy or formed an exploratory committee will no longer be used as an analyst in any of our newscasts, including 'IN Focus,'" CJ Hoyt, news director at WXIN-TV Channel 59 (Fox 59), told IBJ.
Maureen Jennings, news director at WRTV-TV Channel 6, said Shabazz has not and will not be included in "Political Insiders" segments since announcing his exploration of a mayoral campaign.
The policies also help the stations ensure they are following concepts set out in the Federal Communications Commission's "equal time" rule, which requires broadcasters to provide equal opportunity for each candidate to have air time. Some experts interpret the rule as only applying to federal candidates, but most stations apply it to local candidates as well.
In the case of the campaign for Indianapolis mayor, six candidates already have announced they will run. Two-term incumbent Mayor Joe Hogsett will face at least three challengers for the Democratic nomination: State Rep. Robin Shackleford, community activist Clif Marsiglio and political newcomer Gregory Meriweather. If Shabazz decides to seek the Republican nomination, he would face the Rev. James Jackson and perennial candidate John L. Couch in the May 2 primary.
At WIBC-FM 93.1, where Shabazz hosts a weekend radio show, operations manager David Wood said the "equal time" concept would come into play if Shabazz officially files his candidacy for mayor–a decision Shabazz will need to make by the state's Feb. 3 filing deadline. If Shabazz officially becomes a candidate, the station would put his show on hiatus.
"Abdul alerted us that he was considering a run for mayor. He already understood that he would need to come off the air if he became an official candidate," Wood said. "The discussions have been brief and straightforward."
IBJ also has paused Shabazz's column for its Forefront section while he ponders a run for mayor.
Shabazz noted his followers would still be able to catch his commentary on his "Issues" radio show carried by other stations in Indiana and that his video and print commentary would still appear on his website.
Anthony Fargo, a media law and policy professor at Indiana University, said WIBC's approach is in line with what he would expect from a broadcaster.
"At least in the exploratory phase, it's not really an area where it starts to raise major ethical issues at this point, or legal for that matter," Fargo told IBJ. "But once he makes the decision, things get a lot more complicated."
Scott Uecker, a University of Indianapolis professor with 35 years of experience in broadcast and positions on the Indiana Broadcasting Association and Indiana chapter of the Society of Professional Journalists boards, believes the "equal time" rule does apply to local candidates. But he agrees that it wouldn't kick into effect unless Shabazz officially files his candidacy.
"If we're going to give him access to do his talk show, it would open up a window, where if his talk show is on WIBC, the other candidates could request equal airtime," Uecker told IBJ.
Uecker said stations usually put this policy into place 45 days before a primary election or 60 days before a general election. March 18 would be 45 days before this year's primary. 
Shabazz's role covering this year's Indiana legislative session for his IndyPolitics.org website also has raised questions of propriety from the Indiana Pro Chapter of the Society of Professional Journalists.
"By becoming a partisan candidate, if he is abiding by the SPJ standards, Mr. Shabazz would forfeit access as an objective journalist to news conferences and the like, beyond that of what would be offered to an average citizen," said chapter president Lisa Renze in a statement. "Mr. Shabazz could, of course, continue providing commentary as he chooses."
Renze said this aligns with the national SPJ Ethics Committee guidance.
Shabazz told IBJ he plans to continue covering the Statehouse as usual, which typically includes him having access to the Indiana House and Senate floors. He said his exploratory campaign launch has not affected his work.
"As much as I love my friends at the SPJ, I have to remind them that I have never been a pure journalist, but a commentator who uses the things he learned in journalism school and as years as a reporter to do my job," Shabazz told IBJ in an email.
Shabazz's status as a "journalist" was the topic of a legal fight last year between him and Attorney General Todd Rokita, who denied Shabazz access to a press conference in 2021. The Indiana chapter of the American Civil Liberties Union sued Rokita last year on Shabazz's behalf to help him regain access, and the Indiana Pro SPJ chapter sided with Shabazz. The lawsuit was dismissed once Rokita agreed to let Shabazz attend future press conferences.
Some say Shabazz officially stating that he is a Republican through his exploratory committee doesn't make a difference in his coverage of state issues. Uecker, who is on the Indiana Pro SPJ board, said that Shabazz's political affiliation was clear through his previous print and broadcast work.
"I think Abdul is a known commodity. I think that because of the show and because of his publication that everyone knows where his politics lie at this point," Uecker told IBJ. "Therefore covering state politics, I don't think this changes a whole lot of that."
But Uecker cautioned Shabazz against any coverage of city issues.
"I think that he absolutely, positively for his own good needs to stay away from covering Indianapolis politics until he works out whether or not he's going to be a candidate," Uecker told IBJ.
Shabazz said when it comes to coverage of city-county government, "we're still figuring that one out."
Please enable JavaScript to view this content.